By Mark Towns 
Airto Moreira, more than any other person, is responsible for introducing non-Brazilian audiences to the world of exotic Brazilian percussion. Airto's first big splash on the jazz scene was via his appearance on Miles Davis' classic million-selling album "Bitches Brew" in 1970. The animalistic cries of Airto's cuica performances on the record were something most people had never heard, along with the various other percussion instruments he played that had seldom been seen or heard in any music outside of Brazil, including the berimbau, agogô caxixi, pandeiro, and many one-of-a-kind handmade percussion instruments. Airto (who is known professionally by his first name only, which is pronounced "eye-EAR-toe") went on to become a founding member of Weather Report and Return to Forever, two of the most seminal groups in jazz-rock history, virtually inventing the genre (as if Miles himself wasn't the inventor of the genre, but that's another story). In fact, Airto is the only musician who was a member of both of these pioneering groups, performing on percussion on Weather Report's first album, and on drums with Return to Forever's first album, along with his wife, vocalist Flora Purim. Airto and Flora Purim, together and separately, had a string of hit jazz albums throughout most of the 1970's and beyond, with each winning multiple first-place awards in the DownBeat Magazine music polls. In fact, DownBeat added the "Best Percussionist" category in their music poll in 1973 due to Airto's impact on jazz. Airto also found time over the years to perform and/or record with an impressive array of jazz and pop stars, including Dizzy Gillespie, Antonio Carlos Jobim, Freddie Hubbard, Santana, Stan Getz, George Duke, Cannonball Adderley, Paul Desmond, Astrud Gilberto, The Carpenters, Mickey Hart, Hubert Laws, Duke Pearson, Paul Simon, Stanley Turrentine, Grover Washington, Jr., George Benson, Average White Band, Chicago, Billy Cobham, Depeche Mode, Joe Henderson, Herbie Hancock, Chaka Khan, Keith Jarrett, Sergio Mendes, John McLaughlin, Joni Mitchell, Babatunde Olantunji, Hermeto Pascoal, Lee Oskar, The Manhattan Transfer, Milton Nascimento Bob James, Edu Lobo, the list goes on and on… Airto is currently facing some serious health issues. He is at his home in Brazil with no health insurance, and his medical costs are soaring. A benefit concert will be held on Tuesday, October 25, 2022 at The Lodge Room, 104 N. Ave 56, Highland Park, CA 90042. The show will feature guest performances by Alex Acuña, Byron Miller, Luciana Souza, Patrice Rushen, Pete Escovedo, Peter Erskine, Justo Almario, and more surprise artists, with a special appearance by Cheech and Chong (Airto played drums and percussion on the soundtrack to their hit movie Up in Smoke.) 100% of the ticket sales will go to a fund managed by Airto's daughter Diana Purim and his son-in-law Krishna Booker to go toward Airto's recovery, including home nurse visits, treatment for loss of hearing and vision, and physical therapy. For several months earlier this year, Airto was completely immobile and things were very touch and go. His condition has slowly improved to the point where he's now able to use a walker to get around his home, and he's gradually beginning to be able to play some percussion and sing again on a limited basis. To give you some idea of the scope of Airto's impact, I recently spoke with some top percussionists, drummers, and other musicians and music industry professionals about Airto and the influence he has had on them and on music in general.
Richie Gajate-Garcia (percussionist):
"Airto is one of the most innovative percussionists of our time. He brought to light percussion instruments and concepts that no one thought of using until he first became known."
Pete Escovedo (percussionist/bandleader):
"Airto is one of the greatest Brazilian percussionists I have ever seen. He is just an amazing, amazing percussion player and great drummer."
Hubert Laws (flutist): 
"Airto is the most inventive and innovative sound-aware percussionist that I've ever known. From a baby's rattle to the sound of wind in a hurricane, he would reproduce those and other creative percussive sounds. We worked with Chick Corea on a tour in Japan as well as many recordings during the time we were with CTI Records. A real creative artist he is."
Peter Erskine (drummer):
"Airto's percussion playing is like his drumming, which is like Airto himself: soulful, brilliant, honest, with a life-force that's as undeniable as it is clever. In other words, Airto's music represents the best of what a man can be. He can never be thanked enough for the pleasure his music has given us."
Munyungo Jackson (percussionist):
 "Airto will make a musical groove out of anything that crosses his path that has some kind of tone on it! He's one of the great pandeiro kings, and one of the first guys who played the Peter Engelhart metal percussion creations that looked great, and Airto made them sound fantastic. He's been opening doors left and right to people who've been wanting to widen their musical dreams and live a better, more creative, challenging life."
Joey DeLeon (percussionist): 
"Airto revolutionized the global percussive landscape. He made it cool to cross-pollinate musical cultures. Very few players integrated instruments as much as he did. He is first a singer, then a percussionist, then a bad you-know-what heck of a drummer. Airto is a sound. A feeling. A commitment to excellence. And he has always had the willingness to take risks in order to benefit music as a living being."
Gloria Arjona (music producer): 
"With a distinctive way of blending rhythm and voice, Airto is a respected maestro who opened the path for younger generations of Brazilian and other Latin American musicians."
Tiki Pasillas (drummer/percussionist):
"Airto opened so many doors of sound, style, and originality to so many drummers, percussionists, vocalists, and other musicians on a global scale. I was around 17 or 18 the first time I saw him perform with his group and Flora Purim at the Concord Jazz Festival, and what I saw him do and his unique way of playing completely blew my mind, as well as introduced me to new possibilities and originality. I've been truly blessed to share conversations, learn, and share the stage with him. I'll always cherish and never forget it."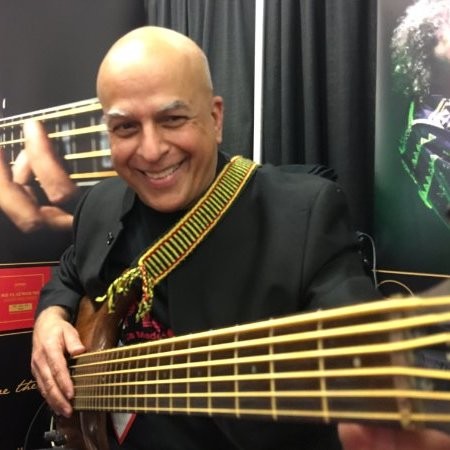 Eduardo Del Signore (bassist): 
"When my dear mentor (Brazilian composer and multi-instrumentalist) Moacir Santos passed away, I went to the church where he was laying in wake before burial, and the only other person present other than Moacir's family and me was Airto. That day, he got my respect forever."
Billy Hulting (percussionist):
"Airto showed, and constantly reminded us, that music was a joy. You can hear it in everything he plays."
Javier Arjona (bassist): 
"In 1973, I was living in Mexico City and had a progressive rock band. Our compositions were instrumental. We avoided vocals because we were not certain they would fit the style. Then the album Fingers by Airto came out, and after listening to it, we changed our approach. Here was an example that vocals could be used in other languages like Portuguese or Spanish and fit the style of progressive music we were doing. This is how Airto made an impact on us."
Leo Costa (drummer): 
Airto is one of the pioneers. He paved the way for a lot of Brazilian musicians to have a creative space on the world stage. We're all grateful for what he did."
Al Pagliuso (percussionist): 
"To create the feel and atmosphere of nature; to color a song tastefully without overpowering but making you feel it and making it a journey; using your voice not just with melody but with percussive effect; anything you put your hands on with great imagination becomes such an enhancement; these are things that just start to describe Airto. To see such natural monster talent on any instrument is very scarce in a lifetime. In any style of music, he has a masterful touch. Such dynamics!"
Jimmy Branly (drummer): 
"Airto is one of the most important musicians of our time. He has always expressed his true self through the drums. I believe his taste and natural way of playing the drums and percussion makes him stand out with a unique voice. I had a beautiful time recording and touring with both Flora and Airto and I love them both deeply."
Aaron Serfaty (drummer):
"He made it cool to play both percussion and drums, actually playing colors, and still groove like there's no tomorrow. Fearless is a word that comes to mind when I think of Airto. How so much music can fit in one body is beyond comprehension to me. I have seen him play many times and heard him on records a thousand times more. It still surprises me every single time."
Kevin Winard (drummer/percussionist):
"The takeaway regarding both his drumming and percussion playing is that it's almost like a stream of consciousness, the way he approached music. Very organic. It was primal and very spur of the moment. It's almost as if throughout his approach to music, he was channeling the Amazon."
Leo Nobre (bassist):
"Airto is one of those special entities music flows through, a vessel of some higher power, god-like. He reacts to music in the moment – all energy. Only a few humans can feel music that spiritually."
Beto Gonzalez (musician/producer):
"Airto's influence as a percussionist on jazz music was singular in its uniqueness and impact. Never before had Brazilian drumming and percussion been used so creatively in the U.S. At a time when jazz was breaking new ground and reaching new audiences, Airto performed and recorded alongside many major players who are today considered the giants of modern jazz. His work as a percussionist and vocalist is so incredibly original that I can confidently declare is inimitable. I first met Airto while a student at UCLA in 2002, where he was teaching an ensemble course in Brazilian percussion. My first exposure to Airto's music, however, came when I attended one of his performances in support of Al DiMeola Project's Soaring Through a Dream album tour in 1985. I knew very little about Airto, other than the fact that he was a Brazilian percussionist and vocalist who appeared on the latest album by one of my favorite guitarists. I convinced my Brazilian mother to take me to the show. I was 15 years old at the time and the experience was incredible and forever changed my perception about Brazilian music and percussion."
Byron Miller (bassist):
"Airto is straight fire, musically. He's like family to me. He and Flora are one of the first professional groups I played with when I first got to L.A. He' out of his mind crazy on the percussion and singing and dancing — one of the best to ever do it."
For tickets and more information about the Airto Benefit Show on Tuesday, October 25, 2022, please click here: https://www.lodgeroomhlp.com/shows/airto-moreira-tribute/
Airto Moreira was born in 1941 in the small village of Itaiopolis – south Brazil, and was raised in Curitiba. Even before he could walk he would start shaking and banging on the floor each time the radio played a hot song.
And the Ritmo Caliente goes on…By Mark Towns
Leimert Park Jazz Festival Celebrates Jazz, Community and Culture
By Ricky Richardson
Contributing Writer
Over 2,000 music aficionados, art patrons and foodies came together at the Baldwin Hills Crenshaw Plaza, southeast upper parking deck on Saturday, August 27, 2022. Attendees came to shop, dine, dance, groove and to listen to America's #1 Art form- JAZZ, and some hot Latin Jazz, on another beautiful, picturesque day in Southern California.
The occasion was the return of the popular Leimert Park Jazz Festival, Executive Produced by Diane Robertson in association with The World Stage, Dwight Trible, Executive Director. The Leimert Park Jazz Festival has already landed in the top tier of jazz festivals in Southern California in its 3rd year. Festival attendees bookmark and book their calendars in advance in order to attend this premiere, classic jazz festival. Jazz, Community and Culture was on full display throughout the afternoon.
DJ Eartha Littt and DJ Merc80 complimented the vibes of the festival with an eclectic soundtrack as people arrived for the festival and in between performances throughout the afternoon. Back by popular demand, LeRoy Downs served as Master of Ceremony. The Los Angeles jazz radio program & festival host, journalist and television producer could be heard on 89.9FM KCRW.com, hosting a weekly Sunday night radio show called "Just Jazz."
Fernando Pullum Community Arts Center Youth Jazz Band kicked off the show with an explosive big band sound as they superbly performed arrangements of "R U Chicken," "Red Clay," "Human Nature," and "Before I Let Go." These talented students are keeping the flames of jazz lit, and carrying the jazz torch forward. Fender Play Foundation was on site to host a Music Class Pop-up in partnership with the Fernando Pullum Community Arts Center. Attendees between the ages of 7-18 were able to pick-up an instrument and learn to play. No prior experience required. The Music Class Pop-up gives students an opportunity to pick-up and play guitars and ukuleles together, with hopes to inspire future engagement in music learning activities with Fender Play Foundation and the Fernando Pullum Community Arts Center. In addition to the Music Class Pop-up, the Fender Play Foundation had an info table inside the Fender Tent to use for program awareness.
Ed Magee, Fender's EVP of Operations and Co-President of Fender Play Foundation and Charmaine Jefferson, Board of Directors were on site to speak about the Fender Play Foundation, Music Class Pop-up and the importance of music and arts in education for youth. They also encourage the crowd to support Yes on 28. S.H.I.N.E Muwasi honored the spirit of the Ancestors as well as the life and legacy of community icons who have transitioned. S.H.I.N.E Muwasi Women's African Drum Circle is a group of women lead by Rene Fisher-Mims who formed the group to spread the knowledge of West African drum culture combined with healing, empowerment and inspiration.
The Leimert Park Experience featuring Dwight Trible on vocals and a stellar group of young lions from Los Angeles who have made their mark on the jazz landscape locally, nationally and internationally. Ryan Porter on trombone, Aaron Shaw on tenor saxophone, Ian Martin on bass and Lyndon Rochelle on drums. The group performed "Trust in God" by Ryan Porter with a chorus of Amen by the audience. They continued with "Isle of Love" by Cameron Graves, followed by "the Get Out of the Ghetto Blues" by Gil Scott-Heron, with Dwight Trible on vocals.
A heartfelt and touching tribute to Barbara Morrison and Derf Reflaw consisted of spoken word pieces by Conney D. Williams, "My Name in your Mouth," and "Elixir." The daughters of Derf Reklaw, Amani Walker Jackson and Monilade Walker paid tribute to their dad. Munyungo Jackson Jr., and Dwight Trible contributed a musical tribute to Derf Reklaw. Vocalist Chloe Vaught shared a memorable anecdote about how she met Barbara Morrison, followed by a beautiful rendition of "In a Sentimental Mood." Bianca also spoke during the tribute, followed by the release of white balloons and white doves into the air.
Nine-time Grammy® nominee, and award winner John Beasley brought his smashing 16-piece big band called Monk'estra to Leimert Park Jazz Festival for a rousing set. They opened their set with "Little Rudy Tootie," by Thelonious Monk, followed by "Donna Lee" by Charlie Parker, and "Minuano" by Pat Methany, with special guest vocalist extraordinaire, Dianne Reeves. You can only imagine the pure joy in the air hearing the name Dianne Reeves and the actual performance. Dwight Trible joined the band as they concluded their set with "Africa."
Kamau Daáood is a native of Los Angeles where he co-founded with Billy Higgins, The World Stage Performance Gallery, a non-profit arts institution in Leimert Park Village. Kamau Daáood and A Band of Griots (Mark de Clive-Lowe on piano, Teodross Avery on saxophone, Jeffrey Littleton on bass, and Dexter Story on drums. They highlighted Leimert Par Village, the heart of Los Angeles' African American cultural community, and several of the musical icons of the area on "Healer Suite," "Leimert Park," "Poppa" for Horace Tapscott and "A Walk with the Pharaoh" (Pharaoh Sanders).
Pete Escovedo & Family fired up the proceedings with a heavy dose of Latin Jazz marinated in piquant sauce. Pete Escovedo & Family performed "Don't You Worry 'Bout a Thing," "Mas Que Nada," La Cuna," with a nice piano intro by Jonathan Montez. Vocalist Lynne Fiddmont joined the band for "Let's Stay Together," "Ain't Nobody," and "Dindi" (pronounced Gingi). The band went out with "Whatcha Gonna Do."
The Jazz Classics featuring Patrice Rushen on piano, Ernie Watts on Sax, Marvin "Smitty" Smith on drums and Edwin Livingston on bass, followed by Munyungo's Jungle Jazz (accompanied by members of Lula Washington Dance Theater's Youth Dance Ensemble) brought the festival to a rousing conclusion in their respective time in the spotlight.
2022 Leimert Park Jazz Festival Art Competition Winner was on site to showcased her awesome artwork as well as the previous Leimert Park Jazz Festival Art Competition winners. California State Assemblymen Isaac G. Bryan, District 54, and Diane Robertson, Executive Producer, Leimert Park Jazz Festival, acknowledged the artistic and creative talents of Peighton Mercier, winner of the 3rd Annual Leimert Park Art Competition.
3rd Annual Leimert Park Jazz Festival Lineup Announced
By Ricky Richardson
Contributing Writer
(Los Angeles) The Leimert Park Jazz Festival (LPJF) returns again for a live in-person show, Saturday, August 27, 2022. Formerly known as the Sutro Avenue Summer Soiree, the Leimert Park Jazz Festival is the premiere event that music aficionados need and want to attend. The festival takes place in the heart of African American culture- Leimert Park Village.
Baldwin Hills Crenshaw South Upper Deck is the location for the event that is sure to deliver good music, scrumptious food and fun in the community.
The South Upper Deck, near Baskin Robbins, IHOP and Staples, is fast becoming a go to venue for cultural events in Leimert Park Village. Several wonderful events were held during the first 6 months of 2022. The Leimert Park Jazz Festival is just one of many outstanding events scheduled in the upcoming months. Doors open at 11:30am with performances scheduled from 12:20-8:45pm. This is a free festival; a limited number of VIP tickets are on sale now! Visit https://www.leimertparkjazzfestival.com Stay connected on Facebook and Instagram.
Leimert Park Jazz Festival is a celebration of jazz, community and cultural heritage of Leimert Park. Its mission is to build and strengthen community while celebrating and showcasing the artistic spirit of the historic Leimert Park neighborhood in South Los Angeles. LPJF continue to play an important role in ensuring the vibrant South LA community of Leimert Park remains culturally significant for years to come!
This year's lineup features nationally and internationally renowned artists to thoroughly entertain with amazing performances. Jazz lovers and music aficionados don't want to miss this premiere jazz festival.
The stellar line-up consist of The Jazz Collective ft. Patrice Rushen, Ernie Watts, Marvin "Smitty" Smith and Edwin Livingston, Smokin' set of Latin Jazz by Pete Escovedo and Family, John Beasley & Monk'estra Big Band, Munyungo Jackson's Jungle Jazz accompanied by members of the Lula Washington Dance Theater's Youth Dance Ensemble, Kamau Daaood & A Band of Griots- Teodross Avery, Mark de Clive-Lowe, Dexter Story and Trevor Ware, The Leimert Park Experience ft. Dwight Trible, Ryan Porter, Cameron Graves, Aaron Shaw, Ian Martin and Lyndon Rochelle, Fernando Pullum Community Arts Center Youth Jazz Band and a special tribute to the late great Barbara Morrison and Derf Reklaw. LeRoy Downs returns as Host/Master of Ceremony.
The Leimert Park Jazz Festival brings together a culturally diverse audience to enjoy a relaxing day while listening to America's #1 Artform: JAZZ, performed superbly by local and world-renowned musicians.
Attendees will be able to browse the Visual Arts Pavilion curated by and managed by Aziz Diagne, Visual Artist and owner of Aziz Gallerie. Congratulations to Peighton Mercier, 3rd Annual Art Competition winner for her entry "It Takes a Village." The winners and finalists from the 2020-2022 art competition will be onsite with a display of their artwork available for purchase.
An interactive, engaging Community Resource Zone Kids' Zone (sponsored by Fender Play Foundation, Fernando Pullum Community Arts Center, LA Commons, Lucas Museum of Narrative & Greetings from South LA.
Fulfill your taste buds at the various foods trucks and relax in the Beer and Wine Lounge.
The Leimert Park Jazz Festival is Executive produced by Diane Robertson in association with The World Stage. For more information visit https://www.leimertparkjazzfestival.com for festival updates, including music artist lineup, performance schedule and important information you should know before attending the festival. Follow on Facebook and Instagram.
The line snaked out from the entryway of the subterranean nightclub and wound down the block of 7th Avenue in Greenwich Village. A casual observer of our splintered, tribalized nation might have had trouble identifying the source of the line, since it defied categorization. Old and young, men and women, skin tones of all hues. They were queued up to see the first set of the
Vanguard Jazz Orchestra, at the world-famous Village Vanguard, a jazz club.
I had come to New York for three nights to see if jazz, America's gift to the world, was really the outdated, abandoned art form that most major media outlets, including my hometown newspaper, the LA Times, assumed it to be. I cannot remember the last time a live jazz event was even covered in LA, and the club scene there has dwindled with the pandemic, despite the presence of a myriad of top flight musicians, arrangers and composers.
The Vanguard doors opened at 7 PM and the crowd made its way down the rickety stairs, into the basement club, where a 15-person jazz orchestra crowded onto a stage usually reserved for trios or quartets. The Vanguard Jazz Orchestra has been doing this on Monday nights since 1966, when it was known as the That Jones-Mel Lewis Band. At a time when most large jazz ensembles still bore the legacy of segregation, Thad Jones, a Black trumpeter (and brother of drummer Elvin and pianist Hank) and Mel Lewis, a white drummer, had forged a band for all comers, and the legacy had continued uninterrupted after their passings, that is until Covid. Now the band was back featuring musicians, some of whom reached all the way back to Thad and Mel, such as tenor saxophonists Ralph Lalama and Rich Perry, and others from a new generation such as pianist Adam Birnbaum, a Julliard grad who joined the group in 2019.
Getting in line early meant we were wedged in front of the stage, where the band overflowed toward us. We could see the individual players' "books", charts as thick as a Gutenberg Bible, many of them dating back decades, but some crisp and new. The band, as is its custom, started with a Thad Jones chart, "Tiptoe," but this was not a purely a legacy performance. The joys of a big band – the raucous section playing, the blasting choruses – were augmented by tunes arranged by current and former band members, all top musicians on the New York scene. Predominant in this session were arrangements of Herbie Hancock's "Eye of the Hurricane" and Wayne Shorter's "ESP." The latter sounded especially rejuvenating, transformed from Miles Davis' second great quintet into a pulsating jazz orchestra sound.
These days if jazz is reviewed at all, and New York does have at least one full-time voice in the New York Times, it tends to be the most "progressive" versions, farthest out on the jazz spectrum, satisfying the critics' demand to "stretch the limits," starting where greats like Miles Davis and John Coltrane ended up, but ignoring how they got there. These critics tend to ignore the lyrical side of jazz, the emphasis on composition and arranging, along with the virtuosity of the musicians and their ability to connect with an audience. Feet tap. Hearts pound. The soul sighs in recognition of life's emotions, both joyful and bittersweet. The music lives and breathes.
And the audience is there.
As we departed the Vanguard, our ears ringing from the Thad Jones burner "Mean What You Say," we saw the line curled around the block for the late show. And the next night provided even more evidence. New York has a relative cornucopia of offerings, even on a Tuesday night, with spring still a rumor and the pandemic whispering it's omnipresence. Birdland had the great pianist Bill Charlap, the Blue Note featured fusion bassist Stanley Clarke in residence with pianist Kenny Barron. But I am an old tenor player, and I caught the name of Seamus Blake, lead tenor saxophonist for the Mingus Big Band, fronting a quartet down the street at Small's. He was a talent lesser known and, I assumed, the crush wouldn't be as bad on a chilly Tuesday evening in May.
I was wrong.
The line was around the block. Small's is another basement club, but without even the Vanguard's accoutrement of tables. Patrons put their drinks on metal stools that look like they were filched from old Pullman sleepers. Blake was joined by the notable drummer, Victor Lewis, who had backed my favorite, Stan Getz, in his later years, as well as pianist Dave Kikoski, also a veteran of the Mingus Big Band, and Alex Claffy on bass. The crowd skewed younger, especially if you include the couple who brought their three grade-school children. Trust me, you have never seen a happier face than on a five-year old girl in a crowd full of grown-ups when Blake struck the first notes of Luis Eca's, "The Dolphin." Blake has a robust sound on the tenor, contoured to the Brazilian rhythms of the opening tune, and the quartet tore through a collection of "standards," though you had to wonder how many in the crowd had ever heard "The Dolphin" or "The More I See You." Less so for the spirited romp on Charlie Parker's "Moose The Mooche," (no introduction necessary) which translated well from Parker's alto to Blake's tenor. But the last number, an extended run by the quartet through "Body and Soul," brought home the truth of jazz, and the soul and virtuosity of Blake. It is a tune that seems made for the tenor, testing the command of upper and lower octaves. It was famously recorded by Coleman Hawkins in 1939 and has since become a lightning rod for tenor players. Coltrane, Getz, Sonny Rollins, Dexter Gordon, not to mention the vocalese of Eddie Jefferson and the Manhattan Transfer. The jazz audience, down to the little kids, recognize the moment (if not the song), and the realization that Blake is up to it. It is a connection with musical history, not only in the performance of the tune, but in the improvisation that accompanies it, tying the musician to the standard, yet offering a chance to differentiate himself from it.
If there's a complaint it's that the set ended too soon. We got the full hour, but yearned for an encore. Alas, a sold out second set crowd congregated on the street above, the house had to be turned around, so it was back out into street, the end of night two.
If you go to New York and haven't been to Dizzy's Club Coca Cola, a part of Jazz At Lincoln Center, than you simply have to go. Pick a night, and we picked our final one. No more crowded basements. Elegant, just a bit glitzy, with the gorgeous picture window behind the bandstand illuminating Columbus Circle. We were there to see the Essentially Ellington Alumni Band, which was a prelude to an annual competition for high school bands held at JALC that weekend. For West Coasters you could draw the comparison to the Monterey Jazz Festival's Next Generation Band, and in fact I had seen at least one of the Ellington alumni, trumpeter Summer Camargo, in MJF's Women In Jazz Combo last September at Monterey. The Alumni Band skewed young, with a few more experienced musicians adding ballast to the sections. They came from anywhere and everywhere, from Miami and Tucson to New York City; the players, a mix of backgrounds, races, and genders, emphasized how jazz in 2022 has become a musical form open to anyone and everyone.
Of course, jazz has its roots in mainly Black institutions, from Southern churches and New Orleans Second Lines to Chicago honkytonks, Harlem nightclubs and LA's Central Avenue.
We were, after all, celebrating Duke Ellington.
But the very diversity of the current crop of young musicians makes it difficult for our tribalized media to pigeonhole the music. The current path to a sustainable career lead through music schools now like Berklee and Julliard and Manhattan. This underlines the reality that kids today need music in the schools, from elementary on up, and not just the affluent suburban and magnet schools that can afford it. It means that sprawling, cash-poor school systems like LA Unified need an advocate for music programs. And although it is clear from my time in NY that audiences are finding jazz, even with minimal media encouragement, the music nonetheless needs support from major institutions (are you listening, LA Times?) to thrive.
That night's program, under the direction of Todd Stoll, was dedicated to an era of Ellington's music known as the Blanton-Webster Band, a brief period highlighted by bassist Jimmy Blanton and tenor Ben Webster, that featured relatively brief (three+ minutes) Ellington compositions written for RCA 78s, many of which were unfamiliar to the audience, but included a few that became standards, such as "Harlem Airshaft." Vocals by a fine young singer, Robbie Lee, included the more familiar "Don't Get Around Much Anymore" and" I'm Just a Lucky So and So," and the set concluded with the great altoist Johnny Hodges vehicle, "Cotton Tail."
Afterwards, the audience milled around with the young musicians — the place was packed, a prelude to the weekend's competition. The audience included many of the kids who were competing and their families. We soaked it all in before heading back out onto Columbus Circle.
And so, it is back to Los Angeles. And no, I don't expect LA by some miracle to replicate the New York jazz scene. But, with a little boost from local institutions, we can do a lot better. We are still the center of the recording and film industry, filled with great musicians on every instrument, rife with composers and arrangers, with fine college programs at UCLA, USC, Long Beach and Northridge, and some great high school programs. From large ensembles like the Clayton-Hamilton Jazz Orchestra, Gordon Goodwin's Big Phat Band, John Beasely's Monk-estra and the Latin Jazz heartbeat of Pancho Sanchez, to the exquisite smaller groups of Billy Childs and the sprawling sound of Kamasi Washington, jazz endures.
We can support more than the handful of paid venues in town, and the occasional night at the Bowl.
It's time for the major media to shine their beacons on the finest musicians in the world, right here on our doorstep.
They have been dark for far too long.
Michael Katz
Copyright, 2022