By Scott Yanow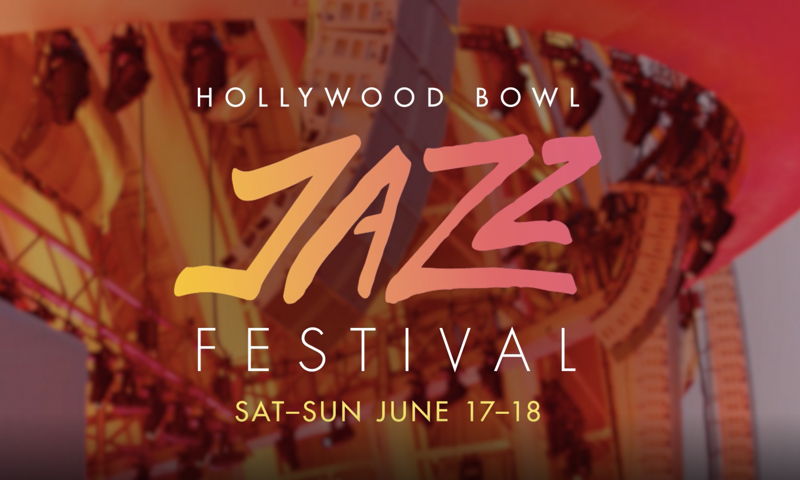 THE 2023 HOLLYWOOD BOWL JAZZ FESTIVAL
The 2023 Hollywood Bowl Jazz Festival had its good and bad points. The successor to the Playboy Jazz Festival, the two-day marathon was curated this year by Herbie Hancock and Kamasi Washington whose programming was quite eclectic. To get the bad points out of the way quickly, there was almost no jazz scheduled for the Sunday portion, making one wonder why this is called a jazz festival. For the first time ever, after 85 days of my life spent at the festival (having attended every one since 1979), I reluctantly skipped that day altogether. Fortunately Saturday was generally quite rewarding, at least until the final three groups. Two of them were completely outside of jazz so I will not mention them, while Kamasi Washington's set was similar to the one last year at the Ford Theatre. I characterized that extravaganza as "the emperor's new clothes" (much ado about nothing) and am still surprised that the tenor-saxophonist seems unable to build up a memorable solo. His sidemen were excellent with pianist Cameron Graves taking honors with his outstanding feature and bassist Miles Mosley having an impressive spot, but in general the material was so lightweight that there was not much that the musicians could do with the endless vamps.
On the brighter side, the first two-thirds of Saturday's show were well worth attending and full of musical highlights. The LA County High School Of The Arts Big Band started in adventurous fashion by ripping through Dizzy Gillespie's "Things To Come," a complex chart that still sounds a bit futuristic despite being composed in 1946. The group also performed "Mr. Carr's Blues" and accompanied the 14 singers of the LA County Of The Arts Vocal Ensemble on "I've Got A Lot Of Living To Do" and "If You Never Come To Me." The group's pianist William Schwartzman was particularly impressive, and with luck he will have a great future in jazz.
The Herbie Hancock Institute of Jazz Performance Ensemble was filled with young talents and played some of the most adventurous and avant-garde music of the day. The octet was comprised of singer Darynn Dean, clarinetist Matthew Stubbs, altoist Devin Daniels, tenor-saxophonist Art Baden, trumpeter Julien Knowles, pianist Javier Santiago, bassist Emiliano Lasansky, and drummer Benjamin Ring. In addition to performing four originals by band members (including "Blues For BM" which was a tribute to pianist Brad Mehldau), the ensemble played a reimagined version of "Say A Little Prayer." Most impressive were the adventurous clarinetist Stubbs who took the music a bit outside on his "The Destroyer," and altoist Daniels whose passionate playing recalled Jackie McLean and Kenny Garrett. Singer Darynn Dean has potential and served well as both a soloist and as part of the ensemble, but she needs to put away her Dianne Reeves records before she gets typecast. Overall the band, despite its different instrumentation, at times made one think of the Herbie Hancock Sextet of 1970, not a bad group to emulate this early in their careers.
The duo of singer Gretchen Parlato and guitarist-singer Lionel Loueke was delightful. With Loueke's fluent guitar work functioning both as a soloist and the entire backup band, the voices of Parlato and Loueke blended together quite well (oddly enough sometimes recalling Jackie and Roy), consistently inspiring each other. In addition to their originals, they performed Stevie Wonder's "I Can't Help It," the heartfelt love ballad "I Miss You" and Herbie Hancock's "Butterfly." Parlato's husband percussionist Mark Guliana guested on one number.
Poncho Sanchez and his Latin jazz band always put on a crowd pleasing show, getting listeners dancing with their spirited music. There were plenty of fine horn solos (particularly from trombonist Francisco Torres) and "Watermelon Man" was the set's highpoint.
Aziza, an all-star quartet comprised of bassist Dave Holland, Chris Potter on tenor and soprano, guitarist Lionel Loueke, and drummer Eric Harland, performed post-bop explorations, sometimes with avant-funk grooves. The passionate interplay between the musicians and the inventive solos made for a stimulating hour of music. Essentially ending the jazz part of the jazz festival (even though there were still three more groups to go on Saturday not to mention all of Sunday) was Samara Joy who was joined by a four-horn septet. Although I had seen her perform just a few months earlier, much of her repertoire was different this time including an uptempo Betty Carter song ("Don't Let Him Go"), and a version of "No More Blues" that she sang in both Portuguese and English. Clearly thrilled to be making her debut at the Hollywood Bowl, Samara Joy told colorful autobiographical stories between songs, her voice was quite outstanding (really belting out the high notes with power), and she was always inventive during the wide-ranging set. Highlights included the complex "Sweet Pumpkin," the uptempo "Linger Awhile," her lyrics to Fats Navarro's "Nostalgia," "Nica's Dream," and her dramatic rendition of "Guess Who I Saw Today" which included Stevie Wonder's "Lately."
Hopefully next year, the Hollywood Bowl Jazz Festival will have jazz music of this quality on both days.
As she showed during her recent performance at Catalina Bar & Grill, Gunhild Carling is in a class of her own. A very good singer with a strong sense of humor, she is also a talented swing-based soloist on trumpet and trombone. She led a hard-swinging big band that not included four trumpets, four trombones, five saxophones, piano, bass and drums but several members of her family. The show began with her on trumpet coming out of the audience, leading family members on "You Rascal You." The audience was excited from the start and things never slowed down for long during her high-powered show.
Ms. Carling sang her "Jazz Is My Life," playing a growling solo on trumpet and then taking an equally stirring solo on trombone. Other songs found her singing purposely like Cab Calloway (leading the audience on a call and response) and sometimes like Billie Holiday, dancing when the big band played, emulating Tommy Dorsey's muted playing on one number, swinging with the orchestra on "You Are The Music," being featured on recorder over the big band on "The Lady Is A Tramp," playing blues harmonica, changing her colorful costumes several times, and featuring her daughters Idun Carling (who played trombone, sang, and danced) and clarinetist Viggo Blome (who sang well on "I Can't Believe That You're In Love With Me"), in addition to her son on Django Reinhardt-inspired guitar. As if that was not enough, Gunhild Carling played three trumpets at the same time on a blues and featured her bagpipes (!) on one number.
While her big band was excellent and there were guests along the way, it is fair to say that Gunhild Carling put on quite a show by herself. See her when you can; there is no one like her!
During the past 30 years, Ken Poston has produced a series of remarkable all-star three-day conventions that salute various aspects of 1950s West Coast jazz. Recently with his Los
Angeles Jazz Institute, he organized what he says is his final multi-day event (although he will continue with individual concerts). Since Poston's Stan Kenton tributes have been among his most popular weekends and one of his earliest successes was a Kenton convention, this was a final chance to gather together the surviving alumni (mostly from the 1970s) for a marathon of music (15 concerts), films and panel discussions.
I attended part of the festival, seeing two sets by a big band headed by Al Yankee that paid tribute to Stan Kenton's Concert in Miniature Orchestra of 1952-53 and his Contemporary Concepts music of the mid-1950s. Those were two of Kenton's most swinging periods and, while there are no alumni left from that era (other than Bill Holman who has not played tenor in years), the musicians managed to recreate the Kenton sound despite only having a short period to rehearse.
Among the classic charts that were revived were "Youngblood," "Portrait Of The Count" (featuring trumpeter Clay Jenkins), "There's A Small Hotel," "Frankly Speaking," Gerry Mulligan's "Swing House," "23 Degrees North, 80 Degrees South," "Theme And Variations," a well-disguised Holman chart on "What's New," "Yesterdays" (featuring tenor-saxophonist Doug Webb), "Stella By Starlight" (one of several numbers with outstanding alto playing by Bruce Babad), and Holman's reworking of "Stompin' At The Savoy." With its outstanding trumpet section comprised of Brian Swartz, Mike Vax, Clay Jenkins, Ron Stout and Mike Price, the band did justice to Stan Kenton's legacy.
Thank you Ken Poston for organizing so many great and memorable concerts.
A MAJOR BOOK ON CHICK WEBB
It must have been quite a daunting task for Stephanie Stein Crease to write a full-lengthy biography on drummer Chick Webb (1905-39). Almost no one alive at this point (or even ten years ago) knew Webb and none of the few interviews that he gave during his lifetime were definitive. Webb is only known to have appeared on film twice (briefly in the 1929 movie After Seben and in a 1937 newsreel) and, while he recorded fairly frequently from late 1933 up until the radio broadcast of May 4, 1939, his impact on the jazz and music worlds is difficult to ascertain. While he apparently took exciting solos during live performances, his studio recordings find him rarely soloing and for not very long. While considered a major drummer and an important bandleader during the second half of the 1930s, Webb has since been overshadowed in the jazz history books by Gene Krupa and is today chiefly remembered for having given a forum for his young singer, Ella Fitzgerald.
Despite the obstacles, Rhythm Man is a surprisingly comprehensive book on Chick Webb that will hopefully restore his important place in history. Stephanie Stein Crease uses quotes from earlier interviews with Webb's family members and fellow musicians, and she includes the very laudatory opinions of drummers who were either touched directly by Webb or were later beneficiaries of his innovations. The quotes from drummers are often remarkable with Buddy Rich saying, "I think the greatest drummer that ever lived was Chick Webb." Gene Krupa, Jo Jones, and Max Roach made similar statements while Kenny Clarke and Art Blakey were among the many drummers who Webb directly taught and encouraged.
However the most important aspects to this book were gained by digging into the articles and reviews of the black press of the time. Chick Webb's engagements and musical progress was written about on a steady basis starting in 1926 and Ms. Crease makes extensive use of this generally overlooked resource to piece together the Chick Webb story.
While quite young, Chick Webb suffered from tuberculosis of the spine, resulting in him having a lump on his back and only growing to be four feet tall. However he had a strong will power and was very focused on making it in the music business as a drummer and a bandleader. It was said that he had no hobbies and thought about music 24 hours a day. A friendly and often-gentle personality, Webb knew early on what his goals in life were and, despite his physical handicap, he proved to be a musical giant.
It did take Chick Webb a bit of time to make it big. Stephanie Stein Crease, who through some digging came up with Webb's actual birthdate of 1905 (it had previously been said to be 1909), traces his slow climb and struggles in the 1920s. Throughout the book, she not only gives readers Webb's story but covers his life and times, including a lot of information about relatives, associates in the music business (such as the owners of the Savoy and manager-writer Helen Oakley Dance), his competitors, and important sidemen. While Webb started leading his own band in 1926 shortly after he moved to New York, and he became a familiar figure in the Harlem jazz scene (playing at the Savoy Ballroom soon after it opened), his orchestra did not have steady work and a little bit of security until late-1933. Before then, promising engagements alternated with periods of inactivity and scuffling. The drummer often lost his better sidemen to other outfits; Johnny Hodges and Cootie Williams were with Webb before they joined Duke Ellington. However Webb was never bitter about his situation, he encouraged his players to take the better-paying jobs, and he was friends with most of the other bandleaders. His kindness along with his virtuosic musicianship and work ethic inspired loyalty even when money was nearly nonexistent.
Prior to Dec. 1933, Chick Webb only led two record dates although he and his group served as Louis Armstrong's backup band for a few months and recorded with him in Dec. 1932. All of that changed during 1933-34 when, in addition to becoming the house band at the Savoy where his music excited some of the world's best dancers, they performed regularly at the Apollo, went on tours, and appeared often on the radio. With altoist-arranger Edgar Sampson contributing such compositions as "Stompin' At The Savoy," "If Dreams Come True," "Don't Be That Way," and "Blue Lou," the Chick Webb Orchestra was featured on high-quality swing records. Even though each of those songs became bigger hits for white bands, the recordings along with the broadcasts helped Webb become a household name beyond Harlem and the Savoy.
Most importantly, in 1934 Ella Fitzgerald became Chick Webb's vocalist. Although her style was in its early stages, she was a strong attraction from the start. Ella was so popular that, by 1937, she was featured on the majority of Webb's recordings. While some in the jazz world criticized the de-emphasis on hot jazz as the band's repertoire moved more towards ballads, novelties, and dance band material, Webb's orchestra gained a large audience, one that grew even more in 1938 when she recorded "A-Tisket, A-Tasket." The Chick Webb Orchestra was still powerful enough during that era to defeat Count Basie's in a historic "battle of the bands." But tragically Webb's always-shaky health declined that year and, just when he was achieving many of his goals and dreams, he passed away on June 16, 1939 when he was only 34.
While Ms. Crease sometimes overstates the case for Chick Webb's greatness, Rhythm Man has only a few minor errors. Eddie Durham is listed as the regular guitarist with Count Basie's orchestra rather than Freddie Green. Wayman Carver was not the first jazz flute soloist to record; Alberto Socarras took a notable flute solo with Clarence Williams in 1927. Also, Webb was not the first drummer to lead a jazz band or take a major solo. Ben Pollack (who started leading his orchestra in 1925 and recorded with his 13-piece outfit in late-1926) preceded him as did James T. Lent, who took a drum solo on a recording of "The Ragtime Drummer" in 1904!
But otherwise, Rhythm Man is highly recommended. The 346-page book (available from Oxford University Press at www.oup.com) is very well written, holds one's interest throughout, and has an extensive bibliography, a selected discography that is pretty complete, and 24 pages of photos, some of which are rare.
I have a new book that is available from amazon.com. Life Through The Eyes Of A Jazz Journalist. It is subtitled My Jazz Memoirs and is my 12th book and first in a few years. I discuss in an often-humorous fashion my early days and discovery of jazz, my period as the jazz editor of Record Review, the story behind my involvement with the All Music Guide, and I reminisce about some of my adventures as an amateur musician. Included are vintage interviews with Freddie Hubbard, Chick Corea, and Maynard Ferguson, encounters with Clint Eastwood, summaries of the Monterey and Playboy Jazz Festivals (including a full-length review of the 1985 Playboy Festival), memories of other events (such as the IAJE Conventions), and brief snapshots of many memorable club and concert performances. There is also background information about my other books, evaluations of the jazz critics who inspired me early on, and my thoughts on jazz criticism which includes advice to up-and-coming jazz journalists. Rounding out the book is a chapter on how the jazz writing business has changed over the past 50 years, and appendixes that include the jazz greats of the past, 86 jazz giants of today, 21 young performers to look for in the future, jazz books and DVDs that everyone should own, and a dozen enjoyable Hollywood jazz films.
Life Through The Eyes Of A Jazz Journalist, a paperback book, sells for $26 through Amazon.com Signed copies (which will take 2-3 weeks) are also available for $30 (which includes free postage) by sending the money via Pay Pal to scottyanowjazz@yahoo.com and by sending your mailing address to that E-mail.
Every jazz musician needs a well-written press biography, every CD deserves informative liner notes, and important events benefit from press releases. I write all of these and more at reasonable rates. Contact me (www.scottyanow.com) at 661-678-3542 or scottyanowjazz@yahoo.com for further information about my services. .
My latest book, Jazz Through The Eyes Of A Jazz Journalist (My Jazz Memoirs) is available at amazon.com.