By Scott Yanow
WILLIE JONES III.
The Jazz Bakery recently presented a concert by drummer Willie Jones III.'s quintet at the Kirk Douglas Theater. One of the most swinging drummers in the modern straight ahead jazz field, Jones first came to fame in Los Angeles as a member of Black Note. He has since worked with such notables as Horace Silver, Milt Jackson, Arturo Sandoval, and for eight years with Roy Hargrove. Jones moved to New York in 1997, founded his WJ3 label in 2000, and has often led his own groups.
With tenor-saxophonist Ralph Moore, altoist Justin Robinson, pianist-keyboardist Sam Hirsh, and bassist Mike Gurrola, Jones headed an impressive unit. The night began with a drum solo that was well constructed in a manner reminiscent of Max Roach, leading into an exciting rendition of Jimmy Heath's "C.T.A." Each of the musicians took fine solos along the way. The group also performed Cedar Walton's "Hindsight," Robinson's "At First Light" (highlighted by the composer's conversational solo a la Jackie McLean and an intense statement from Moore), the altoist's feature on a modernized "Embraceable You," and an uptempo version of Gary Bartz's "Libra."
While there was a lack of interplay between the two saxophonists (they should have traded off along the way) during the all-too-brief concert, there were plenty of inventive solos heard throughout the night (including from Jones), with Sam Hirsh consistently making rewarding statements. Any time that Willie Jones III. comes to town, his stirring music is well worth catching.
BENNY BENACK III.
While jazz is a serious business, particularly the countless hours of practicing one's instrument and developing an individual style, there is no reason that live performances should not be fun and entertaining. Trumpeter-singer Benny Benack III. certainly believes that. His playing and singing are full of joy, humor, and infectious swinging. When listening to him perform, it is obvious that he knows his jazz history yet, even with nods to his historic predecessors, he has his own musical identity.
At Sam First, one of Los Angeles' top jazz clubs, Benack led a quartet that also featured the great pianist Christian Sands, bassist Alex Frank, and drummer Joe Peri. Starting with an unaccompanied intro on trumpeter, Benack performed an exciting version of "In A Mellotone" that included two spectacular choruses (hinting at both Harry "Sweets" Edison and Clark Terry), some fine singing, and colorful piano and bass solos. The momentum continued during a highly enjoyable set that included "I'll Never Fall In Love Again," Benack's original "Catch Your Drift" (which found the versatile group playing 1960s modal jazz a la John Coltrane), an adventurous minor blues, a happy revival of "Gary, Indiana" from the Music Man (taken as a duet with Sands), and the heartfelt ballad "Thank You For The Heartbreak."
Throughout the night, Benny Benack III. put on a fast-paced yet relaxed show. He made it all look easy, until one realized how few jazz performers are this versatile, consistently joyful, and expertly balances creativity with entertainment.
SAXOPHONE COLOSSUS – THE LIFE AND MUSIC OF SONNY ROLLINS
Sonny Rollins is one of the all-time great saxophonists, ranking with his idol Coleman Hawkins, Lester Young, Charlie Parker, and John Coltrane. Aidan Levy's massive 772 page book Saxophone Colossus is just the type of biography that Rollins deserves.
The tenor-saxophonist was such a major part of the jazz scene, from his first recording in 1949 until his reluctant retirement in 2012, that even during his three periods off the scene, Rollins generated headlines in the jazz world. His musical career is well known. Born in 1930, he first made a strong impression in 1949, recording with Babs Gonzalez, J.J. Johnson, and a superb session with pianist Bud Powell and trumpeter Fats Navarro. Rollins was playing with the top jazz artists when he was still 18. Although drug problems plagued him for a few years (he gave it up altogether by 1955), he was already rated high and was notable for constantly practicing and having a very strong work ethic. Rollins worked and recorded with Thelonious Monk and Miles Davis, led his first sessions and then, after taking time to permanently kick his bad habits, he was a member of the Clifford Brown-Max Roach Quintet. During 1955-58 he led a long series of classic albums: Worktime, Sonny Rollins Plus Four, Tenor Madness, Saxophone Colossus, Plays For Bird, Tour De Force, Sonny Rollins, Way Out West, Sonny Rollins Vol. 2, The Sound Of Sonny, Newk's Time, A Night At The Village Vanguard, Freedom Suite, And The Contemporary Leaders. If he had never played again after 1960, he would still rank at the top of his field.
The leading young tenor-saxophonist (he was still only 28 in 1959), Rollins was dissatisfied with his own playing (he always found fault with his recordings) and dropped out of the music world during 1960-61 although he continued practicing nearly nonstop. He returned in 1962, led a pianoless quartet with guitarist Jim Hall, and then played music in the 1960s that was sometimes quite free, even utilizing Ornette Coleman's trumpeter Don Cherry for a time. After recording underrated sets for RCA and Impulse, Rollins again took time off (not making any studio albums during 1967-71) until returning in triumph. While not all of the recordings during his final 40 years of playing are essential, many are quite excellent. And at any time in concerts, Sonny Rollins was capable of creating remarkable marathon solos.
All of this is covered in Saxophone Colossus, but there is a great deal of other lesser-known information. Rollins' childhood and early days of playing music are covered in great detail including his upbringing in Harlem, his early friendships with Thelonious Monk and Bud Powell, his playing with the Counts Of Bop (a group of young musicians that included altoist Jackie McLean and drummer Art Taylor), details about his drug addiction, his gradual rise to fame, and the many negative reviews of his early recordings including by Nat Hentoff. Rollins' relationships with Hawkins, Young, Parker, Coltrane and Miles Davis are covered, each of which are quite revealing. In addition to lots of information about his records and his travels, one learns what his daily routine was like during his 1960-61 retirement, his constant quest for musical perfection along with his gradual realization that his music was not going to change the world, the ideas behind his 1970s and '80s recordings, his brief association with the Rolling Stones, and Rollins' continually evolving philosophy of life.
While his later years whiz by very fast (just 100 pages cover his life and career after 1980) and the book concludes a bit sadly with Rollins' situation after his reluctant retirement, the extensive narrative never loses one's interest. While not an autobiography, Sonny Rollins cooperated with Aidan Levy and occasionally discusses incidents from his past. In addition to
doing a great deal of research, Levy interviewed every musician and Rollins associate he could find (including nearly all of his sidemen), many of whom are no longer around.
The result is not only a definitive work but makes for a fascinating read that includes a great deal of previously little-known information and stories. Saxophone Colossus (available from Hachette Books and www.amazon.com) cannot be recommended highly enough.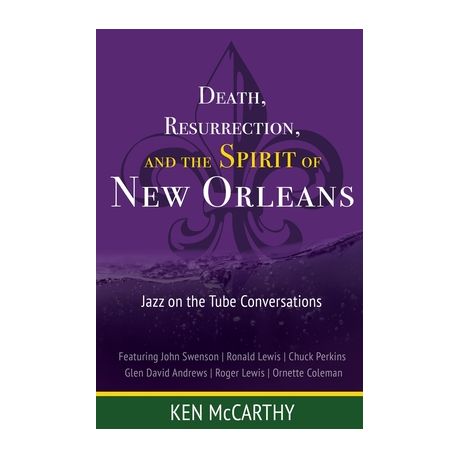 DEATH, RESURRECTION, AND THE SPIRIT OF NEW ORLEANS
Ken McCarthy, an innovator in utilizing the Internet, has been a radio show host, a concert producer, and worked for a record label. In 2008 he founded Jazz On The Tube (www.jazzonthetube.com), a free service that provides subscribers with jazz videos from You Tube on a daily basis.
He is also a skilled interviewer and an author who recently came out with his self-published book Death, Resurrection and the Spirit of New Orleans. The main topic of this soft-cover 112-page work is post-Katrina New Orleans. One learns in the book that the main damage done to the Crescent City was not from the 2005 hurricane itself but from the failure of the New Orleans levee system, caused by engineering competence and decades of neglect. The tragedy could have largely avoided if the local government had cared.
The book itself is not downbeat and instead celebrates the contributions of the local musicians who were among the first to return to New Orleans and uplift the spirits (and the economy) of the survivors. Included is a lengthy interview with the late John Swenson whose book New Atlantis: Musicians Battle For The Survival Of New Orleans spotlights both the cause of the damages and the importance of the returning musicians, Also in McCarthy's book is a speech made by Glen David Andrews in 2007, discussions with Ronald Lewis about New Orleans culture and what it was like to grow up in the Lower Ninth Ward in the 1950s and '60s, a chat with altoist Ornette Coleman about his period living in New Orleans, and the script written by McCarthy for a 2008 film about Katrina.
Death, Resurrection, And The Spirit Of New Orleans is an intriguing book filled with intriguing information about the national tragedy and the city's comeback. It is available from www.jazzonthetube.com.
I have a new book that is available from amazon.com. Life Through The Eyes Of A Jazz Journalist. It is subtitled My Jazz Memoirs and is my 12th book and first in a few years. I discuss in an often-humorous fashion my early days and discovery of jazz, my period as the jazz editor of Record Review, the story behind my involvement with the All Music Guide, and I reminisce about some of my adventures as an amateur musician. Included are vintage interviews with Freddie Hubbard, Chick Corea, and Maynard Ferguson, encounters with Clint Eastwood, summaries of the Monterey and Playboy Jazz Festivals (including a full-length review of the 1985 Playboy Festival), memories of other events (such as the IAJE Conventions), and brief snapshots of many memorable club and concert performances. There is also background information about my other books, evaluations of the jazz critics who inspired me early on, and my thoughts on jazz criticism which includes advice to up-and-coming jazz journalists. Rounding out the book is a chapter on how the jazz writing business has changed over the past 50 years, and appendixes that include the jazz greats of the past, 86 jazz giants of today, 21 young performers to look for in the future, jazz books and DVDs that everyone should own, and a dozen enjoyable Hollywood jazz films.
Life Through The Eyes Of A Jazz Journalist, a paperback book, sells for $26 through Amazon.com Signed copies (which will take 2-3 weeks) are also available for $30 (which includes free postage) by sending the money via Pay Pal to scottyanowjazz@yahoo.com and by sending your mailing address to that E-mail.
Every jazz musician needs a well-written press biography, every CD deserves informative liner notes, and important events benefit from press releases. I write all of these and more at reasonable rates. Contact me (www.scottyanow.com) at 661-678-3542 or scottyanowjazz@yahoo.com for further information about my services. .
My latest book, Jazz Through The Eyes Of A Jazz Journalist (My Jazz Memoirs) is available at amazon.com.