Ian Dogole
Quinta Essentia
(Global Fusion Music)
Ian Dogole is a veteran percussionist based in Northern California who has long been involved in blending jazz with aspects of World Music. Equally inspired by John Coltrane, Miles Davis and folk music from various areas of the world (including China, Japan and South America), Dogole has mastered a wide variety of percussion instruments and has led such groups as Global Fusion, the Sultans of Swatch, and Hemispheres.
On Quinta Essential, Dogole plays such instruments as the djemebs, hand drum, ankle bells, splash cymbal, udu (a Nigerian clay pot), shakers, kalimba (a thumb piano from East Africa), maracas, cajon, heck stick, sun drum, and the talking drum. Despite the exotic nature of some of his instruments, this is very much a jazz project, one with a lot of variety but a unified sound.
Quinta Essential begins with "Togo," a traditional rhythmic piece originally adapted by Ed Blackwell. The rousing number has fine solos from three excellent horn players who are heard throughout much of the set: tenor-saxophonist Sheldon Brown, trumpeter Henry Hung, and Richard Howell on soprano. "Sun Song" is a Leon Thomas song that has a vocal from Howell that hints at Thomas. It goes on a bit at ten minutes but mostly holds one's interest. Completely changing the mood, "Svoboda" is a duet by Dogole on kalimba and cellist Moses Sedler that is dedicated to Ukraine. Sedler's passionate cello playing is haunting and memorable.
The Indian-flavored "Nubian Dreams" has vocals and chanting by Yassir Chadly with Howell contributing some intense playing on soprano. Randy Weston's "The Gathering" depicts a Moroccan street procession and includes particularly inventive solos by Brown, Howell, and pianist Frank Marin over the danceable and infectious percussion. "Trane Tracks" is a solo performance by Dogole on the Hang, a Swedish melodic percussion instrument that sounds a bit like the steel drums. It hints at John Coltrane's "Ole" before becoming "Equinox." The set concludes with the relatively straight ahead "Reflections By The Bay (Window) which features bassist Fred Randolph, Brown on bass clarinet and trumpeter Hung, a duet on "Quince y Quatro" by Howell on tenor and Dogole on the Sundrum (a percussion instrument from Sweden), and "United." The latter, which is in 6/4 time, has a catchy melody and energetic solos from Brown (soprano), pianist Martin, Howell on tenor, and bassist Randolph.
In addition to its spirited ensembles, creative solos, memorable melodies, and lively rhythms, Quinta Essentia is filled with a group spirit that gives one the impression that this group and in particular Ian Dogole can play anything. This recording is highly recommended and available from www.iandogole.com.

Jane Bunnett and Maqueque
Playing With Fire
(Linus Entertainment)
Throughout her career Jane Bunnett (who is equally skilled on flute and soprano sax) has done a great deal to help Cuba's jazz music and its musicians. She has made it possible for many Cuban musicians to play elsewhere (often in her bands) and has accomplished quite a bit behind the scenes in addition to helping supply Cuban music schools with instruments.
Her latest project, Maqueque, is an all-female group that she originally formed ten years from recent graduates of a Cuban conservatory. The band is quite exciting and is currently comprised of its leader, the brilliant pianist Danae Olano, violinist Daniela Olano, bassist Talin Marrero, drummer Yissy Garcia, percussionist Mary Paz, and singer Joanna Majoko (who is from Zimbabwe). In addition, all of the instrumentalists other than Bunnett and Garcia sing, and guitarist Donna Grantis guests on five of the ten songs on their recent recording, Playing With Fire.
While Jane Bunnett composed six of the selections, Maqueque also transforms Bud Powell's "Tempus Fugit" and Charles Mingus' "Jump Monk" into stirring Afro-Cuban jazz. Bunnett takes consistently inventive solos, there are spots for improvisations by the Olano sisters on piano and violin, and the rhythms are both infectious and creative. The singing generally functions as part of the ensembles and the emphasis is on the instrumental skills of the musicians and their modern jazz explorations while joined by stirring polyrhythms.
Maqueque is one of the top bands in today's Afro-Cuban jazz scene and Playing With Fire will appeal to anyone who enjoys this genre. It is recommended and available from www.linusentertainment.com.

Pierre L. Chambers
Shining Moments
(Dash Hoffmam Records)
Pierre Chambers, the son of the great bassist Paul Chambers, makes his recording debut as a solo singer on Shining Moments. Previously he had been heard with the vocal trio Chambers, Herbert and Ellis, but he really comes into his own on this well-conceived recording.
Chambers has a warm and expressive voice, displaying subtlety, the ability to scat when it is called for, and a sensitivity to all of the lyrics that he interprets. Joined by guitarist Dori Amarillo, pianist Karen Hammack, bassist Henry Franklin (who has a prominent role), drummer Clayton Cameron, and (on Neal Hefti's ballad "Lonely Girl") flugelhornist Jeff Kaye, Chambers does a fine job on such standards as "Work Song," "The Nearness Of You," "Paper Moon," "My Shining Hour," and his father's "Dear Ann." He also pays tribute to both of his parents on the spoken word pieces "This Mother" and "My Father."
Shining Moments is a highly enjoyable set of swinging music that features Pierre Chambers at his best. It is available from www.pierrelchambers.com.

Steve Rawlins
Solo Piano
(Self-Released)
Pianist Steve Rawlins has been long known as a very valuable and tasteful accompanist and arranger for singers. He has arranged music for such notables as Smokey Robinson, Bette Midler, Chaka Khan, Steve Mach Torme, and Benny Goodman (the clarinetist's 40th Anniversary Carnegie Hall concert), for television (including the Academy Awards), and for a countless number of vocalists. His only previous album as a leader was 1985's Step Right Up which featured him on his other instrument, the trumpet,
Solo Piano is a set of pretty music with the emphasis on ballads. Other than a slightly modernized "I'm In The Mood For Love," the repertoire is comprised of melodic originals, all of which were composed or co-written by Rawlins. While there are some individual standouts, particularly the warm jazz waltz "Afternoons With You," the 14 songs lead logically from one to another, staying in the same thoughtful and romantic mood while introducing a set of beautiful melodies. Such pieces as "Listen To Your Heart," "This Time It's Real," "My Gentle Love," and "Let's Take The Afternoon Off" accurately give listeners an idea as to the tone of the music.
Although obviously planned in advance, the performances throughout Solo Piano sound very much like Steve Rawlins is thinking aloud at the piano. The results can be considered both high-quality background music, and melodic playing that rewards close listening. Solo Piano makes for an enjoyable listen and it is available from many of the streaming services.

Marina Pacowski
Inner Urge
(Summit)
Listening to Marina Pacowski sing throughout her memorable set, it is difficult to believe that she began her career as an award-winning classical pianist. However the French-born performer always loved jazz and singing. When she settled in Los Angeles in 2018, she made a very strong impression, including on trombonist Scott Whitfield who became one of her biggest boosters and mentors.
Inner Urge is the vocalist's debut recording as a leader. Joined by pianist Josh Nelson (Mark Massey and Bevan Manson are on two songs apiece) and usually bassist John Clayton and drummer Roy McCurdy plus some notable guests, Marina Pacowski proves to be an outstanding jazz singer. While she performs 13 jazz standards, she never coasts or sings the predictable.
The first three numbers set a very high standard. Joe Henderson's "Inner Urge" is a song very rarely sung and for good reason. Its complexity makes it almost impossible to vocalize yet Pacowski includes an equally difficult countermelody and somehow sounds very confident throughout in her wordless singing. Joel Frahm contributes an exciting tenor solo to that track. Clare Fischer's "Pensativa" is not exactly an easy song either but the singer handles its wide intervals effortlessly. She also takes "Solar" at a perfect medium-slow tempo.
While "My Foolish Heart" (a duet with pianist Jon Mayer) is taken more conventionally although with sincere feeling, Pacowski scats up a storm on "Donna Lee" and swings well in 5/4 time during "On Green Dolphin Street." Other highlights include "East Of The Sun" (with a medium-sized combo), "La Vie En Rose," and the late great trumpeter Carl Saunders' guest appearance on "Up Jumped Spring."
But in reality, all 13 selections are memorable in their own way. Taken as a whole, this is one of the finest jazz debuts of recent times, making one look forward to Marina Pacowski's future projects. Inner Urge is available from www.summitrecords.com.

Dexter Gordon
Copenhagen Coda
(Storyville)
Tenor-sax great Dexter Gordon (1923-90) spent a very important part of his life living and often playing in Copenhagen. When he moved overseas in 1962, he was making a comeback from drug addiction and wanted a stable home and to work steadily. During the years before he returned permanently to the U.S. in 1974 (where he was welcomed back with a remarkable amount of publicity and acclaim), Gordon was greatly appreciated in Europe and rewarded listeners with some of the most exciting playing of his career.
By the early 1980s, Gordon's health was beginning to decline due to emphysema although he continued to tour and perform. On Feb. 2, 1983 he made his final appearance at the legendary Jazzhus Montmartre in Copenhagen where he had had many musical triumphs in the 1960s and '70s. The previously unreleased Copenhagen Coda consists of four lengthy selections from that night.
Joined by pianist Kirk Lightsey (whose solos are consistently tender and thoughtful), bassist David Eubanks, and drummer Eddie Gladden, Gordon stretches out on an uptempo "It's You Or No One," two of his originals (a swinging "Hanky Panky" and a slow and rather downbeat "More Than You Know" which is not the standard), and an obscure medium-tempo blues ("Backstairs") credited to Hoagy Carmichael but never recorded by the composer.
While this is not an essential release, Dexter Gordon is heard in fine form for one of the last times on record. Other than a bootleg from two weeks later with the same group in New York, and another bootleg from a live performance in 1987, the tenor's only other recordings would be for the 1986 film Round Midnight. Copenhagen Coda (available from www.storyvillerecords.com) shows that, after 42 years of excellent recordings, Dexter Gordon was not quite through yet.

Smoking Time Jazz Club
6 Blues, 5 Joys & A Stomp
(Self-Released)
One of the most exciting New Orleans jazz albums of recent times is the Smoking Time Jazz Club's 6 Blues, 5 Joys & A Stomp. In addition to their excellent musicianship and the group's irresistible spirit, the players in Smoking Time did a superb job of picking out and interpreting a fresh and lively repertoire from the 1920s and '30s. Only a handful of the 13 songs on their new CD (which is at least their tenth release) would be considered standards and, even then, the group does not feel compelled to repeat the past. They are consistently creative within the genre of classic jazz and blues, creating their own versions of the vintage material.
On this set, the group consists of trumpeter Jack Pritchett, the always-rambunctious trombonist Charlie Halloran, Jory Woodis on clarinet and alto, bassist John Joyce, drummer Mike Voelker, singer Sarah Peterson and, on various tracks, Brett Gardner, Hunter Burgamy and/or James McClaskey on banjos with Gardner and Burgamy doubling on guitar and McClaskey switching to alto-sax for two numbers. In addition, McClaskey and Joyce take one vocal apiece.
The singing of the versatile and bluesy Sarah Peterson is always rewarding, the individual solos are full of personality, and the ensembles never fail to be rousing. Highlights include Clarence Williams' "Dreamin' The Hours Away," "My Slow & Easy Man," Jelly Roll Morton's "Kansas City Stomp," "Am I Blue," "Come & Get Me Papa Before I Faint," and Blind Boy Fuller's "Step It Up & Go."
If you love 1920s-type jazz, do not even hesitate about picking up this exhilarating release which is available from www.smokingtimejazzclub.com.

Joanne Brackeen
Snooze
(Candid)
The Candid label is back for its third time. Originally a subsidiary of the Cadence label, Candid was originally run by writer Nat Hentoff who during 1960-61 recorded a dozen albums, most of which are now considered classics. Among those featured were Otis Spann, Charles Mingus, Clark Terry, Phil Woods, Max Roach, Cecil Taylor, Booker Little and a few others at their best. Unfortunately Cadence went out of business at the end of 1961 and the Candid recordings were out of print for the next couple of decades although some questionable labels reissued the music illegally.
In the late 1980s producer Alan Bates, who ran Black Lion, acquired Candid, reissued the earlier recordings, and recorded over 300 new jazz albums featuring many top artists. In 2019 Bates sold the label to Glen Barros who has relaunched the company as a subsidiary of Exceleration Music. In addition to bringing back the early sessions and a sampling thus far from the Bates years, Candid has been releasing new recordings including by Eliane Elias, Stacey Kent, the Count Basie Orchestra, and what is possibly the last documented session of Wayne Shorter.
From the Alan Bates period comes the reissue of pianist Joanne Brackeen's Snooze. A brilliant pianist who had already spent time playing with the bands of Joe Henderson and Stan Getz and as the only female member of Art Blakey's Jazz Messengers, she was more than ready to record her own album in 1975 when she recorded Snooze. Leading a trio with bassist Cecil McBee and drummer Billy Hart, Brackeen (who was 26 at the time) already had her own sound which sometimes found her playing quite percussively, a little reminiscent of McCoy Tyner.
Snooze begins with adventurous versions of Wayne Shorter's "Nefertiti" and Miles Davis' rarely recorded "Circles." Brackeen also performs three originals full of percussive dissonance, miraculous bass solos from McBee, and consistently adventurous playing. The trio switches gears on the date's lone standard, "Old Devil Moon," showing that they could swing conventionally and creatively within the tradition. The colorful set concludes with the passionate jazz waltz "Snooze."
Joanne Brackeen would continue to grow and develop as a pianist in the decades since, but Snooze shows that she was a giant from nearly the start of her career. Snooze is highly recommended and available from www.candidrecords.com and www.amazon.com.

Chet Baker
Blue Room
(Jazz Detective)
After becoming quite popular as a trumpet and a romantic singer in the 1950s, Chet Baker went through some hard times in the 1960s and was nearly inactive altogether by the latter part of the decade. But against all odds, he made a comeback during the first half of the 1970s.
Baker's physical appearance had deteriorated and his singing remained an acquired taste but, during his final decade before his death in 1988, on his better days he played some of his finest trumpet solos.
Blue Room is a two-CD set comprised of a pair of previously unreleased studio sessions from Holland. The first seven selections are from Apr. 10, 1979 with Baker joined by pianist Phil Markowitz, bassist Jean-Louis Rassifosse, and drummer Charles Rice. The emphasis is on slower material with Baker letting the music breathe and making creative use of silence on such numbers as Wayne Shorter's "Beautiful Black Eyes," a slow 16-minute rendition of "Blue Room," the Miles Davis blues "Down," and 'Nardis." He also performs "Oh You Crazy Moon" (which has his only vocal of the date), "The Best Thing For You," and a dramatic "Blue Gilles."
The second session is from Nov. 9, 1979 features Baker with a European rhythm section (pianist Frans Elsen, bassist Victor Kaihatu, and drummer Eric Ineke) performing two vocal numbers ("My Ideal" and "Candy") plus "Luscious Lou" (based on the chord changes of "Jada") and "Old Devil Moon." Once again, the focus is on relaxed and slower tempos.
Although not quite essential, Blue Room finds Chet Baker in solid form, it is enhanced by a 24-page booklet (which includes interviews with Ineke, Markowitz, Rassinfosse, Randy Brecker, Enrico Rava and pianist Enrico Pieranunzi), and the recording quality is excellent. Chet Baker fans will definitely want this twofer which is available from www.elemental-music.com and www.thejazzdetective.com.

Alyse Korn & Robert Kyle
Tuesday's Child
(Dark Delishious Music)
On Tuesday's Child, pianist Alyse Korn and Robert Kyle (best known for his tenor playing but also heard here on soprano, flute, surdo, and guiro) are very much equal partners. Kyle wrote six of the songs and Korn contributed three. The co-leaders are featured in a group with drummer Kevin Winard and, on two of the numbers, either Hussain Jiffry or Ahmet Turkmenoglu on bass.
The focus is on slower, introspective and melodic material with such songs as "Gratitude," "Distance Between Us," "Winter," and "What If" conveying the idea behind the song titles in the music. While the music is thoughtful and warm, there are moments in which the playing is unpredictable, quietly explorative, melancholy, and wistful.
The music on Tuesday's Child is generally relaxing (although "Vivian's Danzon" has its stirring moments) but also contains an inner heat that keeps it from being merely background music. Alyse Korn and Robert Kyle have succeeded at creating an atmospheric set of originals that rewards repeated listenings. Tuesday's Child is available from www.robertkyle.com.

Gina Zollman
Anywhere With You
(Self-Released)
A fine vocalist with an appealing voice, Gina Zollman's singing style falls between 1950s-type jazz and cabaret. A song stylist who has plenty of experience in the theatre, she
brings out the warmth of the lyrics that she interprets throughout her debut recording, Anywhere With You.
The singer is joined by either Steven Applegate (her musical director) or Steve Rawlins on piano, bassist Jennifer Leitham, and drummer Dave Tull on the majority of the selections. "You Don't Know Me" has her joined by three horns while "I Get Along Without You Very Well" (which shows off the beauty of her voice) is a duet with guitarist Terry Wollman. Cellist Merek Szpakiewicz is an asset in the background on three numbers.
Gina Zollman begins the set with her original "An Hour Or So In The Dark" and otherwise mostly performs standards including a heartfelt version of "Someone To Watch Over Me," "Small Day Tomorrow," "How Are Things In Glocca Morra" (a duet with Applegate), and "Mountain Greenery." The singer, who includes the pop song "I'll Never Find Another You," generally sticks to the lyrics and the melody of each tune, uplifting the music with her appealing phrasing and her attractive voice.
While I would like to hear her stretch herself more in the future with some improvising, Anywhere With You is a charming set that serves as an excellent introduction to the accessible and personal singing of Gina Zollman. It is available from www.ginazollman.com.

Emilie-Claire Barlow
Spark Bird
(Empress Music)
One of Canada's top jazz singers, Emilie-Claire Barlow grew up around musicians (including both of her parents), sang on radio and television commercials from the age of seven, and has thus far recorded at least 13 albums as a leader including Spark Bird.
This relatively brief 36-minute CD has eight songs that Ms. Barlow dedicates to birds. While the connection of "Over The Rainbow" to birds might be a little obscure, the inclusion of "Skylark," Stevie Wonder's "Bird Of Beauty," and "Little Jazz Bird" makes perfect sense. The singer is joined on various tracks by guitarist Reg Schwager (a major asset throughout), several different rhythm sections, and a revolving cast that includes the fine tenor-saxophonist Kelly Jefferson. "Skylark," which is beautifully sung, includes violin and cello along with guitar and bass and is the set's highpoint. Some of the other songs are of more recent vintage but it is the older ones, particularly "Skylark" and a delightful version of "Little Jazz Bird," that are most memorable.
Emilie-Claire Barlow, who performs one song apiece on this set in French and Spanish, is a jazz singer well worth discovering. Spark Bird, which is available from www.emilieclairebarlow.com, gives listeners some excellent examples of her artistry.

Sharon Sable & Joe Holt
Once Upon A Summertime
(PBJ Music)
Sharon Sable began her career singing and recording pop music, often supporting and opening shows for major acts. However she eventually tired of that lifestyle and wanted to
perform more subtle music. She settled in South Jersey, began singing jazz, and has been developing a fine career ever since.
Pianist Joe Holt has been a fulltime professional musician for over 45 years and is heard at his best in swing settings. He is perhaps best known for his longtime association with the Midiri Brothers with whom he has performed at many jazz festivals.
On Once Upon A Summertime, Sharon Sable and Joe Holt (with bassist Amy Shook added on seven of the numbers) play a dozen songs associated with Blossom Dearie. Since Dearie was equally skilled as a singer (where she had a high little-girl's voice) and as a sophisticated and swinging pianist, it was the task of Sable and Holt to bring back her spirit without copying her too closely, and they succeed. In fact, their shared purpose and musical compatibility is so strong that they often sound like a single pianist-singer rather than two individuals.
This set features such Blossom Dearie staples as "You Fascinate Me So," the uptempo "Down With Love," "They Say It's Spring," "Gentleman Friend," and "I Like You, You're Nice" with Holt taking "Surrey With The Fringe On Top" as a solo piano feature. Sharon Sable's sensitive singing on "Once Upon A Summertime" (which contrasts with the hard-swinging "Down With Love") makes the title cut one of the set's highpoints.
Blossom Dearie fans and those who like first-class interpretations of lyrics will certainly enjoy Once Upon A Summertime which is available from www.sharonsablemusic.com.

A great way to celebrate National Jazz Month and International Jazz Day is with BMG's nine album collection of live recordings from Switzerland's long-running Montreux Jazz Festival. Created in 1967 by Claude Nobs, the jazz festival is widely recognized as a premiere international gathering showcasing incredible, sometimes one-of-a-kind performances by the best artists on the planet, spanning, jazz, blues, world music and rock.
An offshoot of the festival is the legacy of its landmark live recordings, beginning with Bill Evans Grammy-winning, At the Montreux Jazz Festival in 1968. Since then, there have been more than 400 Live at Montreux oriented records. Visionary founder/promoter, Nobs passed away in 2013 and over the years amassed a beyond belief private collection of recordings by the performing music luminaries, previously unavailable to the general public.
Nine remastered in superlative audio compilations called The Montreux Years derived from his cache have been curated. Much like the MJF's lineups the recordings encompass a variety of artists and genres. Among them are Etta James, Nina Simone, John McLaughlin, Monty Alexander, Chick Corea, Michel Petrucciani, Muddy Waters, Paco de Lucía and even Marianne Faithfull.
However, unlike many live recordings, these albums are not chronologically or even locationally organized. Therefore, tracks for each of the artists jump around in terms of time, stages/arenas and band configuration. Instead, it seems that impact and musicianship, according to Nobs are the deciding factors. Contrarily, if each set by the artists were kept in tack the Montreux Years collection would be well over 50 albums and far too overwhelming (and expensive), except for the most ardent and dedicated collectors. Recordings of that nature do exist on other labels, and also are represented through bootlegs.
In terms of mainstream jazz, pianists Petrucciani and Alexander's anthologies are the truest to the genre. French wizard Petrucciani masterfully interprets timeless standards in the newest of Montreux collection, such as "Autumn Leaves," "My Funny Valentine" and "Summertime," along with originals "Rachid" and "You Are My Waltz." Jamaican-born Alexander also ventures into high flying blues and reggae intermingling occasionally through "Night Mist Blues," "No Woman No Cry/Get Up Stand Up Medley" and "A Nod to Bob (Marley)."
Corea ingeniously takes eclecticism up several notches with remarkable tributes "Bud Powell" with his Freedom Band and "Dignity" for his mother supported by the New Trio. From a fusion standpoint are "Interlude" through the Elecktric Band and "America (Continents Pt. 4)" with The Bavarian Chamber Philharmonic Orchestra.
McLaughlin dived deeper into fusion by way of "Radio Activity" and "Nostalgia" with his celebrated and groundbreaking Mahavishnu Orchestra. "Acid Jazz" with The Heart of Things and "El Hombre Que Sabia" with The 4th Dimension are more nuanced. While "David" and "Florianapolis" with flamenco guitar icon Paco de Lucía are resounding acoustical gems. Also new to the Montreux Years collection is de Lucía, with liner notes by McLaughlin, for an extraordinary and unadulterated flamenco/classical guitar assemblage.
Simone and James, both personal favorites of Nobs are given the double-CD treatment, and Simone has comparatively 29 tracks to James' 21. Nonetheless, both singers have a wealth of material that profoundly displays their artistry and development. Idiosyncratic Simone is notably the only artist from The Montreux Years collection to have a full recording of a set showcased (debut in 1968). That alone makes the album a must-have, while the other tracks fully reveal the singer's depth and volitivity.
James one of the most influential and impactful blues singers of all time is at ease and in command throughout all her songs and sets. She shows that a consummate "Blues Queen" can be gritty, soulful, tender and also let her band wail away when the time is right. That included Nobs himself playing harp for a couple of songs that additionally riled up the audience.
The "Architect of Modern Blues" Waters' assortment of performances from 1972 to 1977 is almost like his "Greatest Hits." The tunes that aren't by him seemingly become his upon being rendered. Ultimately, it reinforces the singer/guitarist/songwriter's domination of the genre and how so many of his songs are blues standards and prerequisites for any upcoming blues singer or musician. Unquestionably, the Chicago-based icon was truly in his element and audiences witnessed concerts of a lifetime.
Diverging strongly from jazz, R&B, blues and classical/flamenco is Marianne Faithfull, considered one of Rock's 100 Greatest Singers by VH1. Her edgy original songs sometimes detailed her sometimes tempestuous and tragic life, with others related to involvements and connections with rock luminaires. Among them were her hit "Broken English," Van Morrison's "Madame George," John Lennon's "Working Class Hero," "Song For Nico" (Velvet Underground singer/songwriter), Rolling Stones "Sister Morphine" and Ellington/Billie Holiday's "Solitude."
Overall, nine CD-set The Montreux Years encompasses a wide range of incredible concerts and artists, meticulously recorded/engineered and attractively packaged to be nearly as treasured as being at the festival. For more info go to: www.bmg.com
JAZZ APPRECIATION MONTH:
CD'S CAPTURE THE HAUNTING EXCELLENCE OF LEGENDARY JAZZ PLAYERS
By Dee Dee McNeil
APRIL 16, 2023
We lost the great Ahmad Jamal this Jazz Appreciation Month and I celebrate him with this review.
AHMAD JAMAL – "EMERALD CITY NIGHTS/LIVE AT THE PENTHOUSE (1963 – 1966) – Jazz Detective/Deep Digs Music Group
Just a few days ago, I was searching my amazing album collection for an Ahmad Jamal record to enjoy. I found a recent album by Mr. Jamal, one of the world's great pianists and composers, but the newly arranged "Poinciana" tune on that album did not satisfy me the way the original composition and arrangement did back in the late 1950s. So, I was thrilled to receive a double set album release of Ahmad Jamal's Trio performing 'Live' in Seattle at The Penthouse recorded from 1963 to 1966. My favorite song, "Poinciana" was on that CD, the second disc, Track #4, and it was satisfaction for my ears! There is something so hypnotic about that drum lick and that bass line that it makes me pause and just soak up this Jamal arrangement, also featuring his dynamic piano playing. Of course, the 'live' rendition is not exactly like the one on my old licorice pizza album of yore and recorded in 1958 "Live at the Pershing," but it is close and I found great satisfaction listening to music that I grew up with in the 1960s. These recordings take me back in time to 1963 through 1968, when a series of performances at The Penthouse, located not high up in the air but inside a club on the ground floor of the Kenneth Hotel in Seattle. This project was being recorded 'live' for KING-FM radio.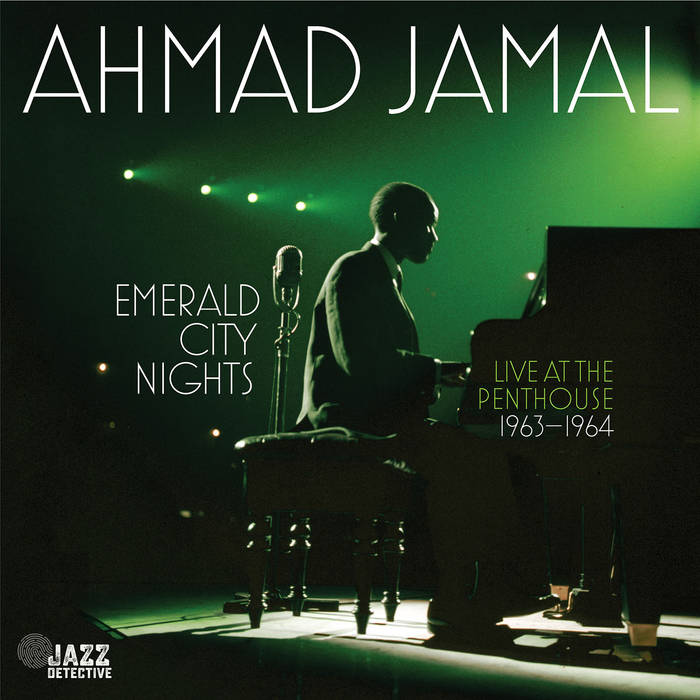 Ahmad Jamal – (born July 2, 1930, died April 16, 2023)
The concerts were hosted by famed disc jockey, Jim Wilke. At that time, Charlie Puzzo Sr., was the owner of the Penthouse and engineered these recordings. Currently, his son, Charlie Puzzo Jr., keeps his father's precious and historic jazz tape collection safe and archived. Thankfully, Mr. Jamal was happy with these recordings and approved their current release.
Born July 2, 1930, Jamal was referred to as a child prodigy. He was trained in both European and American classical music by respected singer and educator, Mary Caldwell Dawson. She founded the Negro Opera Company. Meantime, by fourteen, Ahmad Jamal was playing all around Pittsburgh and was a card-carrying member of the local Musician's Union. Ahmad left home in 1948, touring with the George Hudson Big Band and consequently settled in Chicago, Illinois. He garnered deep respect from his peers, as well as those following in his esteemed footsteps. In fact, Miles Davis wrote in his autobiography:
"All my inspiration comes from Jamal, He knocked me out with his concept of space, his lightness of touch, his understatement and the way he phrased notes and chords and passages … I loved his lyricism on piano," the great Miles Davis praised the jazz pianist.
On records, Miles Davis proved his appreciation for Ahmad Jamal's talents by recording songs Jamal made notable like, "A Gal in Calico," "The Rhumba" and "The Surrey With the Fringe on Top."
Ahmad had his own view on the music he was playing. Quoted in his liner notes of this CD he said, "I studied Ravel, Debussy, Duke Ellington and Art Tatum along with all my other European works, Czerny and so on. So, I never called it jazz. I called it American classical music. I started playing American classical music at three years old … Now, I'm ninety-two," Jamal said.
I can let greater voices than mine speak for Ahmad Jamal's historic and intriguing music. When they asked Ramsey Lewis for his opinion on the iconic pianist he said:
"He uses the whole 88-keys on the piano. With many jazz piano players, the left-hand comps and the right hand does a lot of work. … Ahmad is one of the 'both-hands' piano players. Left hand, right hand. Ahmad can take care of business," Ramsey Lewis sang Jamal's praises.
Jon Batiste said, "When you hang with Jamal, you realize he's a spontaneous composer, in the same way that someone would improvise a solo. He has the ability to compose at that level of hyper speed."
Kenny Barron, an icon in his own right, said, "The first time I heard Ahmad, I was in high school. I was getting ready to go to bed and I had the jazz station on. This was in Philadelphia, where I'm from, of course. And this song came on, "Music! Music! Music! (Put another Nickel in)" which I remembered from having heard Theresa Brewer do it. So, it was a song I knew and somebody was playing piano on it. As I was listening, I was asking myself, "Who the hell is that?" Because it was just so unbelievable. The radio announcer said it was Ahmad Jamal, whom I'd never heard of before. It was on Ahmad Jamal's album, "Ahamad Jamal Trio at the Pershing/But Not for Me." Theresa Brewer's record was a hit when I was in junior high school. And then I heard Ahmad Jamal's version on the radio and the piano trio, and I just couldn't believe it. I immediately went out and bought the record the next day, because it was just so fantastic. And I've been an Ahmad Jamal fan ever since then," Barron affirmed.
That's one thing Mr. Barron and I have in common. Ever since I heard that "Live at the Pershing" album, I've been a solid fan myself!
* * * * * * * * * * * * * * *
CHET BAKER – "BLUE ROOM" – Jazz Detective
Chet Baker, trumpet/vocals/composer; Phil Markowitz, piano; Jean-Louis Rassinfosse, bass; Charles Rice, drums.
Nearly thirty-five years after his passing, people still revere and search for music by trumpeter, Chet Baker. In 1979, possibly at one of the peaks in his illustrious career, Baker recorded at VARA Studio 2 in Hilversum, the Netherlands. Some forty-four years later, thanks to Frank Jochemsen of the Nederland's Jazz Archief, Zev Feldman stumbled across these pristine tapes. With partners Jordi Soley, Carlos Agustin and Elemental Music, Zev has released a double set album of this historic music under the banner of "Blue Room – the 1979 VARA Studio Sessions in Holland." One disc was recorded in 1978 during November and December, while the other was recorded in March and April of 1979. In the 1970s, Chet Baker was particularly prolific and toured non-stop, blazing a trail of recordings across Europe and even when playing the same tunes in concert, they were never identical. Baker continued to surprise his audiences with his creativity and stellar, sold-out appearances. On this album you will hear American pianist, Phil Markowitz, (twenty-something at the time) and he must have been thrilled to be touring with Baker. On bass, Chet invited Jean-Louis Rassinfosse from Belgium (another twenty-eight-year-old) and old-timer Charlie Rice on drums, who had been his drummer in New York in 1964 and 1965. He had recorded the popular "Baby Breeze" album in 1965 with Charlie, after spending a poorly spent year-and-a-half in a Lucca Italian prison for drug use.
Although most of his adult life Chet Baker fought for sobriety, a heroin habit is difficult to break. Still, his artistic fortitude and God-given talent prevailed and is clearly visible on this album. His music hangs, like precious diamond earrings, sparkling on my ears. On the Burke/Van Heusen tune "Oh, You Crazy Moon," Chet's warm vocals are like butter. He sings and scats and plays his horn in an easy, uninhibited way. Baker's interpretation of the Miles Davis tune "Down" is stellar.
Chet Baker
The second disc continues with the same quartet on Chet Baker's "Blue Gilles" composition that lasts nearly eleven well-played minutes. It begins with Baker's solo horn telling its story in crisp, clear tones. When the band members enter, the tune moves from ballad to slow swing. The second tune is the familiar "Nardis" composed by Miles. The bassist, a musician who worked with Baker from 1976 to 1985. recalls playing with the gifted trumpeter on this particular project.
"He was in very good shape. He had good chops on these recordings … being able to record with Chet Baker was an honor. I learned half of what I know in music through Chet Baker," Rassinfosse said.
After the first two tunes on Disc #2, the personnel changes. Frans Elsen takes over at the piano and brings a more bluesy approach to his jazz accompaniment. Victor Kaihatu mans the bass and Eric Ineke is on drums. This group begins with Chet Baker singing Candy in his own inimitable way. They then take a "shuffle" groove on the tune "Luscious Lou" and you hear how blues fused Frans Elsen is, as Chet perhaps turns back the clock to 1956 when he first played this tune with his band and featured tenor saxophonist Phil Urso, who (by the way) composed this song. I thoroughly enjoy this arrangement.
There's a booklet included in this double disc package that gives outstanding, historic information about these various studio sessions. With this new trio of musicians, Chet Baker had no chord changes documented. Like many of the American Jazz musicians, he expected these new players to hear his melodic phrasing and improvise, but it wasn't that simple. The European rhythm section had to figure out what the trumpet player wanted and that took more time than the musicians who were more familiar with his work. You won't notice this, because the playing is smooth and well connected. Baker sings "My Ideal" with his warm, horn-like-vocals and then they close the album out with "Old Devil Moon" played at an up-tempo speed where Victor Kaihatu walks his bass briskly beneath the Eric Ineke swinging drums.
Born in 1929, Chet was christened Chesney Henry Baker Jr. and lived, as an only child, on a farm outside Yale, Oklahoma. His mom had him when she was eighteen and worked at a local perfumery, while his dad was a part time Country/Western musician and jack-of-all-trades to make ends meet. The enclosed booklet tells wonderful and insightful stories about Chet Baker, his history and his musicianship. There are in-depth antidotes given by the various musicians on this historic studio taping. Chet Baker made his tragic transition on May 13, 1988, when he toppled from his second-floor hotel room window to the street below. His legacy is captured in numerous books, recordings and films, and this newly released CD entitled "Chet Baker Blue Room" is another piece of a complicated but beautiful jazz puzzle.
* * * * * * * * * * * * *
SHIRLEY SCOTT – "QUEEN TALK: LIVE AT THE LEFT BANK" – Reel to Real Recordings
Shirley Scott, Hammond B3 organ; George Coleman, tenor saxophone; Bobby Durham, drums; Ernie Andrews, voice.
Since April is Jazz Appreciation Month, here is an archival treasure that Zev Feldman and Cory Weed stumbled upon. Recently, they ran into tapes revered and protected by the Left Bank Jazz Society and former LBJS president, John Fowler. Immediately, the two jazz producers recognized their find as an amazing piece of jazz history. It was August 20, 1972, when the concert was recorded 'live' at the Famous Ballroom in Baltimore, Maryland. Now, here's a double disc set that captures a very special space in time. Shirley Scott was the queen of organ and was a respected musician by the jazz men of that era. In the liner notes, George Coleman remembered Shirley as a talented musician.
"She was great, man. She was wonderful, very intelligent and very knowledgeable about harmony and stuff. She played a lot of different little things that I embraced, like some of the triads that she would play on some of the 13th chords. I was very happy playing those things with her, 'cause she was really great with the harmony, man, and, you know, she could swing, as you can hear on the album. We played together with Johnny Hartman too. She was really wonderful. I miss her a lot," George Coleman sang Shirley's praises.
They open with John Coltrane's famed "Impressions" tune and the trio is hot and swinging. Shirley lets George Coleman strut his stuff first and he shines on tenor saxophone. Bobby Durham is dynamite and lightening quick on drums. When she enters on organ, the spotlight is all hers. Scott's energy blasts through my speakers and her talent is formidable and unforgettable. Shirley Scott was awe-inspiring!
On the "Never Can Say Goodbye" tune, Bobby Durham cuts loose and his solo is absolutely dynamic and vibrant. What a talent on those drums! George Coleman said he was an excellent singer too. I didn't know that about Bobby Durham. Speaking of singers, a wonderful addition to this band was Ernie Andrews. George Coleman said he wasn't a regular part of the band, but from time to time he would sit-in and he did gigs with them occasionally. Whenever Ernie Andrews took to the stage, he lifted the musical experience up a notch. The vocalist was a showman and the audiences loved him. He is featured on "You Don't Mess Around With Jim" with a great lyric and blues melody by Jim Croce. Ernie knows how to sell a song! He follows this with "Girl Talk" and a mixed bag "Blues."
Saxophonist Tim Warfield reflected on hearing Ernie Andrews sing.
"What can I say about Ernie Andrews? I've heard him many times, but I got the chance to play with him at a jam session in Harrisburg, Pennsylvania in my early years. He sang 'All Blues.' I'll never forget the feeling that I got hearing Ernie Andrews for the first time and how intense and beautiful it was. There's a certain sort of life wisdom that comes through in his vocal delivery that is unmatched. He was just very soulful, man, you know? There was a lot of conviction in what he would do. I used to just watch how the audience would respond," Warfield told his story in the album liner notes.
Ernie Andrews, Dee Dee McNeil & Henry Franklin at the historic Maverick Flats in Los Angeles. (2015)
About Shirley Scott he said, "Sublime! … It's really difficult to describe Shirley in one word. There was an honesty in her playing. There was a soulfulness. …. Joyful! Yeah, if I were to use one word, that's probably what I would use. Joyful! Maybe even communal because there were certain consistencies that I just found fascinating. I've never seen people respond the way I saw them respond to Shirley. … Shirley was a sweetheart. She was a nurturer. I don't know if that was her intent, but it's certainly who she was. … She was an elder. She was like my aunt," the saxophonist said.
I've not heard an arrangement quite like the one they play on Jimmy Webb's "By the Time I Get to Phoenix." It's just full of excitement and I feel like when I get to Phoenix there's going to be a big party, for sure. Bobby Durham opens a version of "Smile" with a flurry of drum sticks and a solo that sets the tempo out the gate, like a horse on fire. I have surely never heard Charlie Chaplin's tune played like this before and it's awesome! From beginning to end, this is first class, high energy, unrelenting, honest and Straight-ahead jazz at its best. It is "Queen Talk: Live at the Left Bank."
* * * * * * * * * * *
WALTER BISHOP JR. – "BISH AT THE BANK" – Reel to Real Recordings
Walter bishop Jr., piano; Harold Vick, tenor & soprano saxophones/flute; Lou McIntosh, bass; Dick Berk, drums.
Walter Bishop Junior's group opens with a powerhouse, speedy arrangement of "Secret Love" using the opening verses to feature Harold Vick on tenor saxophone. These are tapes from 1966 and 1967, protected and treasured by the Left Bank Jazz Society, founded in 1964. The group used to put on concerts at a local bar called the Club Owl hole. It drew perhaps one hundred to a hundred-and-fifty people max. The jazz concerts became so popular that they expanded to a dance hall called the Famous Ballroom, on Charles Street in Baltimore, Maryland. At that point, the capacity increased to twelve or thirteen hundred people. The only drawback was that the club was on the second floor, with no elevator, so the musicians hated climbing those stairs to the venue. None the less, once the music began, everybody was happy.
The third track is their rendition of the familiar "Days of Wine & Roses" played as a swing arrangement. On August 28, 1966, Walter Bishop and his talented New York band made their debut appearance for the Left Bank Jazz Society first, at The Madison Club. Luckily, someone was on-hand to record this historic performance. Later, the band would also perform at the Famous Ballroom. Bishop's reputation proceeded him as a bebop pianist with close ties to such icons as Miles Davis and Kenny Dorham who he recorded with, along with Percy Heath and Philly Joe Jones. The Junior of his respected ASCAP songwriting father, Walter Bishop Sr., (from Barbados) seemed destined to pursue music. It's no wonder that a young Walter fell in love with jazz when he first heard Charlie Parker in 1944 at a St. Nicholas Arena jam session. After spending two years in the Air Force, he plunged into the Harlem jazz scene and hung out with Sugar Hill folks like Sonny Rollins, Arthur Taylor and Jackie McLean, who were also young brothers coming up in the music business. By 1948, the great Art Blakey picked Bishop out to join his Jazz Messengers recording session for Blue Note and by 1950, Walter Bishop Jr. was a New York first-call pianist. He was a lover of Bud Powell, and like Powell, Bishop brought dynamic and emotional attacks to the piano keyboard.
"I started out copying Bud lines, and I got to a point where I learned how to think in those terms, so I didn't have to rely on copying any more. One night, Bud paid me a hell of a compliment. I think I was working with Miles and Max and Tommy Potter at the Three Deuces, and he was there. He said, Man – – that was weird. It's like hearing myself play, but you weren't playing the same notes. Bud wasn't quick with compliments. He was telling me that I had branched off on more or less my own path," Walter Bishop Jr. recalled in his liner notes.
This is a two-disc-set that keeps you entertained and mesmerized through every single song. You'll hear gems like "If I Were A Bell" by Frank Loesser and Miles Davis's "So What" and the Davis composition "PFrancing (No Blues)". They interpret "Willow Weep for Me" as a jazz waltz with Bishop's two-fisted approach both dynamic and inspired.
Walter Bishop Jr., died in 1998, but left behind a trail of amazing recordings to affirm that he was here. When he played piano, he brought something fresh to the stage, proficient in style and technique on his instrument. He was one of the first beboppers of his generation to explore jazz fusion before it became super popular. He also wrote poetry and some of that is included in the liner-note booklet that's part of this classic CD release. All you collectors out there need to scoop this historic album up. It is a piece of music excellence you will enjoy playing over and over again.
* * * * * * * * * *
SONNY STITT – "BOPPIN' IN BALTIMORE – LIVE AT THE LEFT BANK" – Jazz Detective
Sonny Stitt, alto saxophone/composer; Kenny Barron, piano; Sam Jones, bass; Louis Hayes, drums.
First of all, I was thrilled to receive this historic album by one of my all-time favorite saxophone players, the great Sonny Stitt and his all-star quartet. What a blessing to hear Kenny Barron on piano, Sam Jones on bass and Louis Hayes on drums. Stitt is a 'take no prisoners' kind of guy. When he walks onto any stage, he intends to burn it up with energy, technique, creativity, and genius. He's like a human asteroid streaking across space. Like Johnny Griffin once said:
"If Sonny Stitt was in town, saxophone players tended to go into hiding."
This recording is from a 1973 performance, a time when Stitt had returned to his all-acoustic performances. For a while, he had incorporated electronics into his work, employing the Varitone attachment on both his horns. I heard that Stitt had appeared at the Left Bank Jazz Concert with Gene Ammons earlier that year and I wish I could get my hands on that recording, if there is one. Ammons is another favorite of mine. On that date, his pianist was Cedar Walton, and L.A.'s own drum treasure, Billy Higgins, with Sam Jones on bass.
Getting back to this recording, although for some time (mostly in the 1940s) Sonny Stitt was compared to Charlie Parker, that was early in his career. Even though he obviously idolized 'the Bird,' on this recording he has clearly mastered his own sound and perfected his outstanding style. The quartet opens with "Baltimore Blues" that's just pure Straight-ahead goodness, like a Sunday morning brunch in the church basement. It is hearty, delicious, and packed with flavor. Sam Jones walks his double bass underneath the relentless and beautiful horn solos. Louis Hayes pushes the piece forward, holding the up-tempo tune in place masterfully on drums and Kenny Barron thrills me with a piano solo that bursts on the scene after Stitt stops playing and matches the leader's intensity. This is energetic, invigorating music that swings harder than a Joe Louis punch. This is how Disc One of this two-Disc set begins, and it never calms down or wavers in offering us the absolute best of jazz. They play "Star Eyes" and then woo the listener with "Lover Man," a song Sonny Stitt has played hundreds of times, yet it is always different and always perfect. They close this set out with "They Can't Take That Away from Me." I slide disc two into my sound system and wait with great anticipation. They open with "A Different Blues" that's another Stitt original composition, like the opening tune on Disc One, "Baltimore Blues." Next comes the popular "Stella by Starlight" with Sonny Stitt's saxophone sounding like a storyteller, rich with range, textures and voicings. Sonny Stitt lights up every composition with his own, multi-colored spotlight, engaging us with his saxophone interpretations. This quickly becomes one of my favorite Sonny Stitt albums.