By Scott Yanow
Due to being pretty swamped this month with assignments from seemingly everywhere (liner notes, bios, press releases, historical articles, and many CD reviews), this column is shorter than normal. But I do want to wish every reader a HAPPY NEW YEAR!
With the gradual lessening of the COVID pandemic, live jazz is making a full comeback. Be sure to support the artists who you enjoy. After what the world went through during 2020-2022, it should be obvious that one should never take them for granted.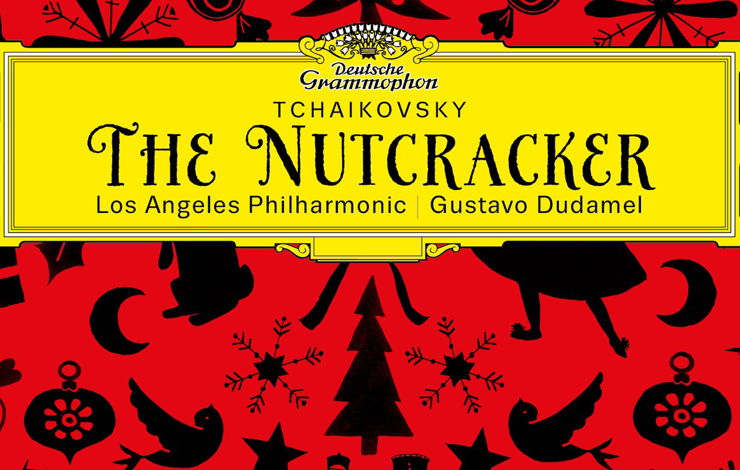 TWO TAKES ON THE NUTCRACKER SUITE
The Los Angeles Philharmonic at Disney Hall performed two very different versions of Tchaikovsky's Nutcracker Suite. The idea was an ambitious and intriguing one, with the orchestra dedicating the first half of the evening to a straightforward classical rendition, and the second half emphasizing the Duke Ellington/Billy Strayhorn big band version of 1960.
Conducted by the colorful and enthusiastic Gustavo Dudamel, the Los Angeles Philharmonic was typically flawless during the first half, performing the nine-part suite with flair. It was particularly enjoyable getting to watch the 84 musicians up close, especially the flute and clarinet players, the many bassists, and the three percussionists. One of the latter played tympani throughout while the other two mostly sat and waited patiently for their turn to contribute drum rolls and cymbal crashes. Near the end of the suite, 35 young vocalists came out to sing one of the main themes wordlessly as the music reached its climax.
The second half of the night was a different matter altogether. It started with great potential as the orchestra managed to swing joyfully on the Ellington/Strayhorn transformation of "Dance Of The Reed Pipes." There was a brief transition and then some fine playing on "Waltz Of The Flowers" and "Dance Of The Sugar Plum Fairy." Jeff Tyzik's arrangements were largely successful during these parts. An unidentified saxophonist sounded a bit like tenor-saxophonist Paul Gonsalves in spots and one of the clarinetists soloed like the adventurous cool-toned Jimmy Hamilton. There were also some other brief improvisations and it was unusual to see the Philharmonic's brass using plunger mutes. But, as if to hedge their bets, the orchestra soon shifted back to playing a classical adaptation, Ellington was forgotten, and swinging was discarded in favor of playing it safe. While one never expected the Los Angeles Philharmonic to sound like the Duke Ellington Orchestra, its abandonment of the Ellington/Strayhorn conception was a bit disappointing.
The end result was that the music was generally enjoyable but the great potential in contrasting two very different ways to interpret the Nutcracker Suite was lost along the way.
MICHAEL OLETTA'S JAZZ IN THE MOMENT
A veteran commercial photographer who loves jazz and has taken photos of many greats during the past 40 years, Michael Oletta recently came out with his photo book Jazz In The Moment. It has 135 pages of black and white photos (mostly one to a page) dating from 1987-2018 along with two from the early 1980s. Most were shot on the West Coast (including the Monterey Jazz Festival) although there are also some photos from the North Sea Jazz Festival and New York clubs.
The book has a page of background by Oletta and a forward and poem by Jim Merod (a longtime friend of Oletta who has recorded a countless number of live sessions). Otherwise the book consists of the photographs (most of which capture its artist during a performance) and a quote from each of the subjects who are documented in alphabetical order. Starting with Joey Alexander and ending with James Zollar, Michael Oletta caught each of the musicians at a memorable moment; timing is everything in jazz photography. The 135 artists form a wide cross section of the who's who of jazz, ranging from immortal veterans to a few lesser-known but talented local players, One gets to see "new" photos of the likes of Mose Allison, Dave Brubeck, Dorothy Donegan, Stan Getz with Dizzy Gillespie, Eddie Harris, Freddie Hubbard, Charles Lloyd, Mark Murphy, Red Rodney and Hiromi to just name ten.
All of the proceeds from this valuable collection will be contributed to jazz education. Jazz In The Moment, a large photo book, is highly recommended and available from www.michaeloletta.com.
Every New Year begins with bright hopes and plans. Certainly the schedule of major jazz events taking place during the early part of 2023 has limitless potential.
Disney Hall hosts the Monterey Jazz Festival All-Stars On Tour on Jan. 20. Imagine seeing Kurt Elling and Dee Dee Bridgewater together, not to mention the fiery altoist Lakecia Benjamin and a rhythm section led by pianist Christian Sands. This is a must-see event.
There are also many other performances that I highly recommended all jazz fans see. Catalina Bar & Grill hosts Sharon Marie Cline (Jan. 6), Peter Cincotti (Jan. 7), Roberto Gambarini (Jan. 20-21), Kari Kirkland (Jan. 25), and Karrin Allyson (Feb. 3-4). Vibrato features the Yuko Mabuchi Trio (Jan. 4), Betty Bryant (Jan. 10), and Teka (Jan. 21). UCLA's Royce Hall has Cecile McLorin Salvant (Jan. 26) while in March the Broad Stage in Santa Monica hosts the Maria Schneider Orchestra (Mar. 3) and Bria Skonberg (Mar. 10).
The Soraya has organized a rather remarkable jazz series for February with Christian McBride's The Movement Revisited (Feb. 2), Vince Giordano & The Nighthawks (Feb. 4 – don't miss this superb 1920s jazz orchestra!), Melissa Aldana (Feb. 8), Joel Ross (Feb 10), and the Clayton Hamilton Orchestra with Samara Joy (Feb. 11). In addition they will feature Charles Lloyd's 85th Birthday Celebration on Mar. 18.
These events, along with a constant flood of new jazz recordings, gives jazz fans a real reason for optimism in 2023.
I have a new book that is available from amazon.com. Life Through The Eyes Of A Jazz Journalist. It is subtitled My Jazz Memoirs and is my 12th book and first in a few years. I discuss in an often-humorous fashion my early days and discovery of jazz, my period as the jazz editor of Record Review, the story behind my involvement with the All Music Guide, and I reminisce about some of my adventures as an amateur musician. Included are vintage interviews with Freddie Hubbard, Chick Corea, and Maynard Ferguson, encounters with Clint Eastwood, summaries of the Monterey and Playboy Jazz Festivals (including a full-length review of the 1985 Playboy Festival), memories of other events (such as the IAJE Conventions), and brief snapshots of many memorable club and concert performances. There is also background information about my other books, evaluations of the jazz critics who inspired me early on, and my thoughts on jazz criticism which includes advice to up-and-coming jazz journalists. Rounding out the book is a chapter on how the jazz writing business has changed over the past 50 years, and appendixes that include the jazz greats of the past, 86 jazz giants of today, 21 young performers to look for in the future, jazz books and DVDs that everyone should own, and a dozen enjoyable Hollywood jazz films.
Life Through The Eyes Of A Jazz Journalist, a paperback book, sells for $26 through Amazon.com Signed copies (which will take 2-3 weeks) are also available for $30 (which includes free postage) by sending the money via Pay Pal to scottyanowjazz@yahoo.com and by sending your mailing address to that E-mail.
Every jazz musician needs a well-written press biography, every CD deserves informative liner notes, and important events benefit from press releases. I write all of these and more at reasonable rates. Contact me (www.scottyanow.com) at 661-678-3542 or scottyanowjazz@yahoo.com for further information about my services. .
My latest book, Jazz Through The Eyes Of A Jazz Journalist (My Jazz Memoirs) is available at amazon.com