Hermeto Pascoal
Miles Davis called Hermeto Pascoal "one of the most important musicians on the planet." If you're not familiar with Pascoal's work, think instrumental Frank Zappa with rhythmic Brazilian grooves. And if you are already familiar with him, you'll be at the Mayan Theatre in L.A. on Thursday, June 8, 2023 to take advantage of this rare opportunity to experience a musical genius presenting an unforgettable evening of extraordinary sonic magic.
Known as O Bruxo (the Sorcerer), Pascoal often incorporates unconventional objects into his music, including teapots, children's toys, and animals (including famously playing a live pig on his 1977 Warner Brothers debut album Slaves Mass). Combined with his virtuosity on conventional instruments including keyboards, accordion, melodica, saxophone, guitar, flute, and various folkloric instruments, Pascoal's innovative approach to music has expanded the boundaries of Brazilian Jazz, and he shows no signs of stopping. Hermeto Pascoal is a musical visionary who continues to prove that music has no boundaries.
The concert at the Mayan Theater will not only be a chance to witness Pascoal's unparalleled musicianship, but also to delve into the rich cultural heritage of Brazil, offering a captivating journey through its sounds and flavors. As a living legend, Pascoal's performances are a rarity, making this event all the more special. His influence on the Jazz and Brazilian music scenes is immeasurable, and witnessing his artistry firsthand is a privilege. Don't miss the chance to be part of an unforgettable night featuring the brilliance of one of the greatest living icons of Brazilian Jazz.
###
For tickets and more information about the Hermeto Pascoal Show, click here: https://ticketstripe.com/events/1033711
And the Ritmo Caliente goes on…By Mark Towns
By Mark Towns
This edition of Ritmo Caliente looks at the new book, Life Through The Eyes of a Jazz Journalist My Jazz Memoirs by Scott Yanow
Scott Yanow should probably be in the Guinness Book of World Records for the title of Most Jazz Records Reviewed, as well as Most Jazz Shows Attended, or maybe just World's Biggest Jazz Fan. Whether he's recognized by Guinness or not, let's just say that Scott Yanow is obsessed with jazz. By his own account, he's written over 20,000 record reviews and is still writing. He's probably writing another review at this very moment. In his autobiography, Yanow recounts how he got into jazz at an early age, how he was able to see some of the biggest names in jazz, and how he got into writing for the (free) records, accumulating a collection which now numbers over 63,000. In addition to recounting his early life, the book includes some of his favorite interviews, including insightful exchanges he conducted with Freddie Hubbard (in 1979), Chick Corea (in 1978), and Maynard Ferguson (in 1979). Yanow describes highlights of attending 41 straight years of the Playboy Jazz Festival at the Hollywood Bowl, starting in 1979. Apparently, the statute of limitations has expired, as he now admits that he is the culprit responsible for the barrage of beach balls that have famously been tossed about in the audience at the festival, including one time when he smuggled in more than 100 balls. Guinness World Records, please take note Most Beach Balls Snuck Into a Festival? Yanow may be the world's leader in number of acts seen at the Monterey Jazz Festival as well, having attended 32 years worth and counting. To hear Yanow describe some of the highlights of both the Playboy and Monterey festivals, one feels as if they were there.Life Through the Eyes of a Jazz Journalist offers insightful tips for aspiring music journalists, serves as a valuable resource for music historians, and offers a rare peek inside the life and mind of one of the most prolific music critics of all time.###And the Ritmo Caliente goes on…
By Mark Towns 
Airto Moreira, more than any other person, is responsible for introducing non-Brazilian audiences to the world of exotic Brazilian percussion. Airto's first big splash on the jazz scene was via his appearance on Miles Davis' classic million-selling album "Bitches Brew" in 1970. The animalistic cries of Airto's cuica performances on the record were something most people had never heard, along with the various other percussion instruments he played that had seldom been seen or heard in any music outside of Brazil, including the berimbau, agogô caxixi, pandeiro, and many one-of-a-kind handmade percussion instruments. Airto (who is known professionally by his first name only, which is pronounced "eye-EAR-toe") went on to become a founding member of Weather Report and Return to Forever, two of the most seminal groups in jazz-rock history, virtually inventing the genre (as if Miles himself wasn't the inventor of the genre, but that's another story). In fact, Airto is the only musician who was a member of both of these pioneering groups, performing on percussion on Weather Report's first album, and on drums with Return to Forever's first album, along with his wife, vocalist Flora Purim. Airto and Flora Purim, together and separately, had a string of hit jazz albums throughout most of the 1970's and beyond, with each winning multiple first-place awards in the DownBeat Magazine music polls. In fact, DownBeat added the "Best Percussionist" category in their music poll in 1973 due to Airto's impact on jazz. Airto also found time over the years to perform and/or record with an impressive array of jazz and pop stars, including Dizzy Gillespie, Antonio Carlos Jobim, Freddie Hubbard, Santana, Stan Getz, George Duke, Cannonball Adderley, Paul Desmond, Astrud Gilberto, The Carpenters, Mickey Hart, Hubert Laws, Duke Pearson, Paul Simon, Stanley Turrentine, Grover Washington, Jr., George Benson, Average White Band, Chicago, Billy Cobham, Depeche Mode, Joe Henderson, Herbie Hancock, Chaka Khan, Keith Jarrett, Sergio Mendes, John McLaughlin, Joni Mitchell, Babatunde Olantunji, Hermeto Pascoal, Lee Oskar, The Manhattan Transfer, Milton Nascimento Bob James, Edu Lobo, the list goes on and on… Airto is currently facing some serious health issues. He is at his home in Brazil with no health insurance, and his medical costs are soaring. A benefit concert will be held on Tuesday, October 25, 2022 at The Lodge Room, 104 N. Ave 56, Highland Park, CA 90042. The show will feature guest performances by Alex Acuña, Byron Miller, Luciana Souza, Patrice Rushen, Pete Escovedo, Peter Erskine, Justo Almario, and more surprise artists, with a special appearance by Cheech and Chong (Airto played drums and percussion on the soundtrack to their hit movie Up in Smoke.) 100% of the ticket sales will go to a fund managed by Airto's daughter Diana Purim and his son-in-law Krishna Booker to go toward Airto's recovery, including home nurse visits, treatment for loss of hearing and vision, and physical therapy. For several months earlier this year, Airto was completely immobile and things were very touch and go. His condition has slowly improved to the point where he's now able to use a walker to get around his home, and he's gradually beginning to be able to play some percussion and sing again on a limited basis. To give you some idea of the scope of Airto's impact, I recently spoke with some top percussionists, drummers, and other musicians and music industry professionals about Airto and the influence he has had on them and on music in general.
Richie Gajate-Garcia (percussionist):
"Airto is one of the most innovative percussionists of our time. He brought to light percussion instruments and concepts that no one thought of using until he first became known."
Pete Escovedo (percussionist/bandleader):
"Airto is one of the greatest Brazilian percussionists I have ever seen. He is just an amazing, amazing percussion player and great drummer."
Hubert Laws (flutist): 
"Airto is the most inventive and innovative sound-aware percussionist that I've ever known. From a baby's rattle to the sound of wind in a hurricane, he would reproduce those and other creative percussive sounds. We worked with Chick Corea on a tour in Japan as well as many recordings during the time we were with CTI Records. A real creative artist he is."
Peter Erskine (drummer):
"Airto's percussion playing is like his drumming, which is like Airto himself: soulful, brilliant, honest, with a life-force that's as undeniable as it is clever. In other words, Airto's music represents the best of what a man can be. He can never be thanked enough for the pleasure his music has given us."
Munyungo Jackson (percussionist):
 "Airto will make a musical groove out of anything that crosses his path that has some kind of tone on it! He's one of the great pandeiro kings, and one of the first guys who played the Peter Engelhart metal percussion creations that looked great, and Airto made them sound fantastic. He's been opening doors left and right to people who've been wanting to widen their musical dreams and live a better, more creative, challenging life."
Joey DeLeon (percussionist): 
"Airto revolutionized the global percussive landscape. He made it cool to cross-pollinate musical cultures. Very few players integrated instruments as much as he did. He is first a singer, then a percussionist, then a bad you-know-what heck of a drummer. Airto is a sound. A feeling. A commitment to excellence. And he has always had the willingness to take risks in order to benefit music as a living being."
Gloria Arjona (music producer): 
"With a distinctive way of blending rhythm and voice, Airto is a respected maestro who opened the path for younger generations of Brazilian and other Latin American musicians."
Tiki Pasillas (drummer/percussionist):
"Airto opened so many doors of sound, style, and originality to so many drummers, percussionists, vocalists, and other musicians on a global scale. I was around 17 or 18 the first time I saw him perform with his group and Flora Purim at the Concord Jazz Festival, and what I saw him do and his unique way of playing completely blew my mind, as well as introduced me to new possibilities and originality. I've been truly blessed to share conversations, learn, and share the stage with him. I'll always cherish and never forget it."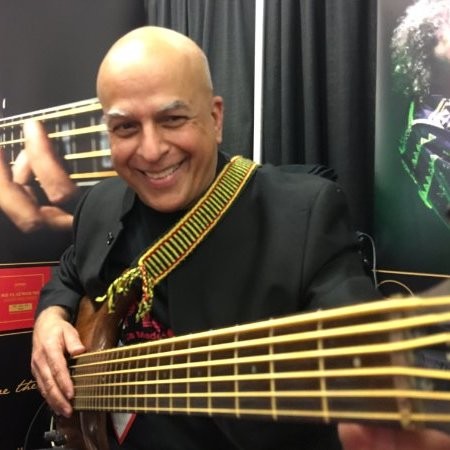 Eduardo Del Signore (bassist): 
"When my dear mentor (Brazilian composer and multi-instrumentalist) Moacir Santos passed away, I went to the church where he was laying in wake before burial, and the only other person present other than Moacir's family and me was Airto. That day, he got my respect forever."
Billy Hulting (percussionist):
"Airto showed, and constantly reminded us, that music was a joy. You can hear it in everything he plays."
"In 1973, I was living in Mexico City and had a progressive rock band. Our compositions were instrumental. We avoided vocals because we were not certain they would fit the style. Then the album Fingers by Airto came out, and after listening to it, we changed our approach. Here was an example that vocals could be used in other languages like Portuguese or Spanish and fit the style of progressive music we were doing. This is how Airto made an impact on us."
Leo Costa (drummer): 
Airto is one of the pioneers. He paved the way for a lot of Brazilian musicians to have a creative space on the world stage. We're all grateful for what he did."
Al Pagliuso (percussionist): 
"To create the feel and atmosphere of nature; to color a song tastefully without overpowering but making you feel it and making it a journey; using your voice not just with melody but with percussive effect; anything you put your hands on with great imagination becomes such an enhancement; these are things that just start to describe Airto. To see such natural monster talent on any instrument is very scarce in a lifetime. In any style of music, he has a masterful touch. Such dynamics!"
Jimmy Branly (drummer): 
"Airto is one of the most important musicians of our time. He has always expressed his true self through the drums. I believe his taste and natural way of playing the drums and percussion makes him stand out with a unique voice. I had a beautiful time recording and touring with both Flora and Airto and I love them both deeply."
Aaron Serfaty (drummer):
"He made it cool to play both percussion and drums, actually playing colors, and still groove like there's no tomorrow. Fearless is a word that comes to mind when I think of Airto. How so much music can fit in one body is beyond comprehension to me. I have seen him play many times and heard him on records a thousand times more. It still surprises me every single time."
Kevin Winard (drummer/percussionist):
"The takeaway regarding both his drumming and percussion playing is that it's almost like a stream of consciousness, the way he approached music. Very organic. It was primal and very spur of the moment. It's almost as if throughout his approach to music, he was channeling the Amazon."
Leo Nobre (bassist):
"Airto is one of those special entities music flows through, a vessel of some higher power, god-like. He reacts to music in the moment – all energy. Only a few humans can feel music that spiritually."
Beto Gonzalez (musician/producer):
"Airto's influence as a percussionist on jazz music was singular in its uniqueness and impact. Never before had Brazilian drumming and percussion been used so creatively in the U.S. At a time when jazz was breaking new ground and reaching new audiences, Airto performed and recorded alongside many major players who are today considered the giants of modern jazz. His work as a percussionist and vocalist is so incredibly original that I can confidently declare is inimitable. I first met Airto while a student at UCLA in 2002, where he was teaching an ensemble course in Brazilian percussion. My first exposure to Airto's music, however, came when I attended one of his performances in support of Al DiMeola Project's Soaring Through a Dream album tour in 1985. I knew very little about Airto, other than the fact that he was a Brazilian percussionist and vocalist who appeared on the latest album by one of my favorite guitarists. I convinced my Brazilian mother to take me to the show. I was 15 years old at the time and the experience was incredible and forever changed my perception about Brazilian music and percussion."
Byron Miller (bassist):
"Airto is straight fire, musically. He's like family to me. He and Flora are one of the first professional groups I played with when I first got to L.A. He' out of his mind crazy on the percussion and singing and dancing — one of the best to ever do it."
For tickets and more information about the Airto Benefit Show on Tuesday, October 25, 2022, please click here: https://www.lodgeroomhlp.com/shows/airto-moreira-tribute/
Airto Moreira was born in 1941 in the small village of Itaiopolis – south Brazil, and was raised in Curitiba. Even before he could walk he would start shaking and banging on the floor each time the radio played a hot song.
And the Ritmo Caliente goes on…By Mark Towns
By Mark Towns Ritmo Caliente features news, reviews, and interviews from the rich worlds of Latin Jazz, World Beat, Fusion, Psychedelia, and more.Bob Stane has an amazing track record of cultivating artists and providing quality entertainment in a string of successful venues, going all the way back to 1958 with his beatnik coffeehouse The Upper Cellar in San Diego. His experience running "San Diego's Most Successful Coffeehouse" led to him, in 1960, to author the book How to Run a Coffeehouse (which sadly is long out-of-print). Stane paid $350 in installments to run an ad for the book in the August, 1960 issue of Playboy magazine. That ad and the book "changed my life," recalls Stane, as it led to him working for The Playboy Clubs, Inc. in Chicago as their Director of Management Communications. "It gave me a lot of power and prestige when I returned to California to resume my co-ownership of The Ice House in Pasadena." Stane ran The Ice House from 1961 to 1978, a venue which most comedians, folk music fans, and countless musicians and performers recognize as the place where "everyone started." Indeed, The Ice House is where Stane was instrumental in helping to launch the careers of many performers who went on to become some of the biggest names in comedy and music, including Steve Martin, David Letterman, Tom Waits, The Nitty Gritty Dirt Band, The Association, Jay Leno, Mason Williams, The Smothers Brothers, and numerous others.That tradition continues today with his current venue, The Coffee Gallery Backstage in Altadena, launched in 1998, which consistently features a fabulous mix of music including Jazz, Folk, Roots/Americana, Classical, Flamenco, and more.I recently spoke with Bob Stane about music, comedy, and his amazing career as a presenter and cultivator of some of the world's top entertainers.
MT: I remember asking you once at The Coffee Gallery, after hearing you delight the audience with your own humor and witty remarks while announcing the band, whether you had ever been a performer yourself, and you had a great quote. I don't know if it was off the cuff or not, but you said, "I know which side of the stage I belong on." BS: Oh, yeah, that's my standard answer on that. Especially if I happen to be particularly funny that day when I'm making my announcements. People will say, "What did you do on stage?" I say, "Nothing, I know which side I belong on." MT: You're working on a new book? BS: I'm picking away at my memoirs right now but it has to be a lot longer. It needs to be like 200 or 250 pages and I'm only at about 20 pages now. And I don't know if I have 200 pages to write about myself and my adventures. MT: You probably do. BS: I've done a lot of stuff over the years. All of them were quite funny and quite original and got a lot of attention. Anyway I pull that sort of thing but making it all into a book, which would be both entertaining and maybe like a manual on marketing, is something else. MT: Have you ever thought about bringing back some of your unique coffee drink creations or food delicacies from the Upper Cellar (Chocolate-Covered Caterpillars, Anise Coffee, Cafe O'Rum, Chocolate-Covered Baby Bees, etc.) to sell at the Coffee Gallery? BS: No, not really. They were kind of borrowed recipes. They really weren't very authentic. And, to tell you the truth, we didn't have the equipment then to make a really good coffee drink. The only thing that could be duplicated would be the cider drink and there's one drink that was apple cider with a little pat of butter in it and we added some cinnamon. Also we had rum flavoring and put a drop of rum flavoring. It was a pretty good drink. I don't think it would be particularly commercial right now and I don't even know of anybody at coffee houses who even serves cider anymore. MT: Was that Stane's Rum and Butter Coffee? BS: Uh huh! MT: Yeah. BS: Rum and Butter Cider, I think it was. I don't think I ever made it into a coffee although I could have. I don't know. MT: What about the chocolate covered ants, bees, caterpillars and grasshoppers? BS: Yeah, well that's part of the stunts I used to pull because I would get in the newspapers all the time for having that stuff around. I don't even know if it's available but it used to come in little cans. And I don't know where I bought it. It could have been in an Armenian market or something like that. MT: So these days, you don't really need to do promotional stunts for Coffee Gallery? BS: Oh yeah, I do need to. That's what The Fork in the Road was all about. <The Fork in the Road is an 18 foot tall wooden fork/guerilla art piece which appeared at the intersection of Pasadena Ave. & St. John Ave. in November, 2009.> It got a huge amount of coverage. It was covered in the LA Times. It was covered in the Star News. And then I combined the coverage with the Idaho Potato Council who had a six ton potato they hauled around on an 18 wheeler and that got an enormous amount of publicity. It was even on The Today Show out in New York briefly. About ten seconds worth. The Idaho Potato Council just spent an enormous amount of money campaigning this potato around and so I had them come in town on their way south or something like that and so we had pictures of the fork and the eight ton potato side-by-side and we had some little skits that we did. That was on all of the television stations in town. And then they said that the publicity we gathered for them was the most that ever had in any city in the United States. MT: Wow! BS: So, those things really pay off pretty well. MT: You seem to have been born with a natural eye for talent and good entertainers. What do you attribute that to? BS: I really don't know, because I have few other talents. I'm certainly not artistic and musical, but I kind of noticed even when I was in high school, the various talent shows around, that I immediately seemed to pick up on what acts were really good and what people were reacting to. And I really can't say why. My relatives, my forebears were all musical, but I'm not. I think what it is, is that I judge with the mind of my audience. That I just consider myself an audience of one. And I just do what is good. And at the Ice House, I used to audition people. I auditioned like Jay Leno and David Letterman and Steve Martin. MT: Were those private auditions? BS: Oh, no. I'd do them in front of people. MT: You mean you just brought them on stage and that was their audition? BS: Yeah, they would just ask me, "Hey, can I do an audition?" And I'd say, "Well, on Wednesday I've got half an hour between the end of the first show and the beginning of the second show and I'll put you on then." And I did that with like Tom Waits, who I'm sure a lot of people turned down. But I just knew that he was good, as was David Letterman. And you can say, "Yeah, well of course. Those people were stars. How can you not book them?" But the thing is, they were not stars when I auditioned them. They were just young people like me. And I would listen to my audience also and if I got a good response from the audience that would help me make my decisions. But I auditioned 20,000 acts during my career and never missed one that made it big. MT: Cool! How long of a set would you give them as an audition? BS: Usually 20 minutes. They'd have plenty of time to show their wares. MT: That's a long time. BS: It wasn't like one song or anything like that. I'd say, "Go up and do a regular show. I want a regular show in 20 minutes." MT: How important do you think the college crowd was to the whole scene back then? BS: Oh, back then it was enormous. It was almost everything. I would say older high school and college was 99 percent of my audience. That age group, I would say between 17 years old and 25 years old was a majority of my audience. MT: What do you think has happened to audiences in general since then? BS: I don't know. I still have the some of the same people who came to the Ice House at 18 years old who are still my audience at the Coffee Gallery. The very same people. But I don't know how deep I want to get into this, but I really don't think there's much music in the scene today. I think it's just words hanging in the air and they don't mean anything. I can't even understand the lyrics when they're on the end of The Tonight Show or something and they're singing. I can't hear the lyrics and if I can't, they don't mean anything. They're just repetitive words. They don't really have any tunes at all. And for some reason or other the younger audience is accepting that. That's what they grew up with. At least comedy now is becoming more and more apparent as the years go on. I would say probably if The Beatles were to come on the scene right now they wouldn't get any attention. Like, it's grim. The music business is grim. And the music business knows it, by the way. They're not stupid. They know that music is in a terrible condition. It's just a desert. Music is just a desert out there now. MT: In comedy, did you always have a good sense of being able to tell what would work and what wouldn't work? BS: Oh, yeah. You mean whether a comedian was good or not? MT: Yeah. Was there a certain area, or a certain subject, or a certain technique or something that they'd do that you could tell wouldn't go over well? BS: No, No. They'd just get up and do 20 minutes for me and these are guys like Gabe Kaplan and Gallagher. I'm sure you know who Gallagher is – the apple and the watermelon. These are guys that… well of course I would listen to the audience, but I also knew what was going on as far as good comedy goes. The thing is, with Gallagher and Gabe Kaplan and so forth, when they would deliver their lines, people would laugh for like 45 seconds minimum. I had many times when literally the show would stop. There was just so much laughter going on that we couldn't continue. And that doesn't happen nowadays. The laugh now maybe lasts for three seconds. MT: Was there anybody in particular that you can remember who you think should have made it but didn't? BS: The answer to that is yes but I don't think I can remember their names right now. Oh, who should have made it big time was Belland and Sommerville. That was David Sommerville of The Diamonds and Bruce Belland of The Four Preps. They were a duo and they were amazing. They not only could sing but they were extremely funny – extremely funny. And they would literally stop the show. The laughter would just go on and on and on. And they were on their way, they were starting to get television gigs and then their manager – who was a female manager – her husband evidently objected to the fact that she was spending so much time with these acts. And so, she quit the business and they never got anybody who could continue with them but they should have been big time. The Dillards were probably the best act I ever had. But, they were just a club quartet. They were on The Andy Griffith Show one time but not as The Dillards, I think they were The Darling Brothers. But they should have been huge. They should have been really, really big time but they just could never break through. MT: Did you ever give notes to any of the performers? Tips? Suggestions? BS: No, no. I never said, "Hey, do this. Hey, do that." If I felt they were doing something wrong, I would say, "You know, guys, I kind of think this is over the top." Or, "You shouldn't do that." I always tell 'em they should do clean. I didn't want any foul language on my stage at all. They wouldn't object much but they'd say, "Why not?" And I'd say, "Look, we're not trying to have evenings that are tame in here. I'm training you to be on television and I don't want some producer coming in to see you and you're using foul language and that producer to say 'Well, they're pretty good but can we clean 'em up enough to put em on stage?'" I don't ever want them to have a reason to turn you down. MT: Did what happened to Lenny Bruce have anything to do with that attitude? BS: Not really. I didn't have anything to do with Lenny Bruce. I knew his mom pretty well. We used to always be around the same places and we talked and had a good time. I saw Lenny Bruce at The Interlude, I think it was, in Hollywood. And I sat on a bar stool and saw him do 45 minutes of absolutely clean material, 45 straight minutes, and he was fantastic. He didn't have to do off-color stuff at all. He was a star doing completely clean comedy. No, I don't think so. I had that situation we're clean even in San Diego in 1957 when I just had a small coffee house. MT: You have any good heckler stories? BS: No, not really. MT: Was that ever a problem? BS: No. No, I was a very stern disciplinarian. If anybody was even talking during the show they got a warning and if they couldn't shut up they were thrown out. MT: That's good. What do you think about instrumental music? Can that be entertaining? BS: Oh, absolutely! Absolutely! Flamenco guitar. I have Incendio which is strictly guitars and bass. They were a big act for me, filled the show every time. And yeah I have mostly instrumental and completely instrumental classical or Flamenco or Spanish, Latin oriented music especially. I don't think I have anyone that was like that in Hawaiian music… Oh sure, straight instrumental is great. Grace Kelly <not the movie star>, who is a fantastic jazz saxophonist, used to do just saxophone and now she's starting to write music and sing as well. But she was a star just playing saxophone with her band. MT: Do you think audience's attention spans have shortened over the years? BS: You know, I really can't comment on that because I don't go to places where I don't consider the music real music so I have no idea. I know that the younger audiences just respond to that and nothing else, so I would say probably their attention span is a little bit shorter. But I don't pay much attention to that. MT: They respond to what and nothing else?
###And the Ritmo Caliente goes on…

BS: Non-music. MT: What made the Ice House different? BS: Well, we put on good music for one thing and it was carefully monitored and searched so it continually had good music. And, as I said before, we were very strict with our audiences. We made sure they didn't talk or carry on. And the entertainers loved that. I'm sure you, as an entertainer yourself, like being paid attention to rather than people eating and drinking and not paying attention to you at all. MT: Oh, sure. BS: And, I've even had an act at the Coffee Gallery, an act who has not been there before comes off stage and they'll say, "That was weird. They just sat there and looked at me. And listened!" And I said "Yeah, that's what we do here. They just sit and watch and listen. They come to see the music and hear the music. They come to see the musicians and hear the music. They don't come to drink and talk."
By Mark Towns
Jacques Lesure is not only one of the world's top guitarists, he is an astute observer of the human condition via his philosophical missives on his "Lesure Lesure" Facebook page and on his own web site, and has thus become known as "The Guitarlospher." Born in Detroit, Michigan in 1962, Jacques moved to California in 2003 and now resides in Inglewood. Jacques has performed with many notable music artists including Jimmy Smith, Stanley Turrentine, Wynton Marsalis, Gregory Porter, and others, and can be heard performing in the Academy Award-winning film La La Land. He currently holds down the host spot of the Monday night jam at the world-famous Lighthouse Cafe in Hermosa Beach, and teaches at UCLA in the Global Jazz Studies Department. I recently spoke with Jacques about music and his insightful "Guitarlosophy."Mark Towns: I really enjoy your Guitarlospher posts. How did those come about?
Jacques Lesure: I've always been on a spiritual journey. Music, to me, has always been a spiritual endeavor. So, besides just playing music I've always been interested in things like love, harmony, spirit, and how we operate as spiritual beings and what drives all this stuff. So, it's nothing that really came about per se. It's something that I've been a part of all my life. I grew up in church, which is one form of organized religion. But then as I strayed away from organized religion, I realized that music… when I listened to Coltrane and people that they were operating from somewhere else. So, it's just been a part of me and my daily spiritual practice. So, I just share what comes to me with people and if it helps somebody it's there for them. It starts with me. It always helps me first. Anything you see me post was a message to me first. And then I'll share it with someone else.MT: Cool. Yeah, along those lines, when I interviewed Chick Corea I asked him this next question and I'll tell you what he said after you answer.JL: Ok.MT: I asked him: is there a spiritual element to the art of improvising on an instrument?JL: Definitely I would say there is one. See, first of all, music existed long before I did. So, even though I study things and I know codified information when I'm up there at this point in my life. And when I was younger it wasn't. It was more the self conscious trying to prove something. But now, I kind of let myself get out of the way of it and allow something else bigger than me that is controlling all of this and it's controlling the energy, you know? It's all energy so I try to say "Ok, I've done the work. I know how to play this instrument. Now I'm going to sit back and see what can come through me." And I don't even try to hold it. You know, a lot of guys say they're a vessel. I say I'm a pipeline because vessels hold things. Pipelines let it run through. So, I'm just a pipeline. So, I just let it come through. And you know if it comes through and registers and resonates with something that I already know then that's cool. But my ultimate goal is to have something come through that I had no idea was gonna come through. That's my ultimate goal.MT: Awesome! When I asked Chick Corea that, he immediately said, "There's a spiritual element to everything."JL: Correct. Everything is spiritual. Every endeavor, every encounter because spirit and energy are the same. So, there's an energy, you know? When you go to a club or something there's an energy in that club, there's an energy. That's very important to me with bandmates. Just because the guy is a super player doesn't mean that his energy and his spirit resonates well with mine. So, I only pick guys that I really love and like, who I want to be around off the bandstand.MT: Right. Kind of a related question: as far as where we are today in the music world, do you think technique has overshadowed emotional communication in jazz?JL: I think maybe it's the chops that have overshadowed, not technique. Because you only need enough technique to play what you're hearing and play what you're capable of and what you want to play, you know what I mean? But chops is the thing we've looked at that people develop. But, it's not really technique, it's chops. For instance, BB King had an excellent technique. Grant Green had an excellent technique. You know how I know? Because they were able to express themselves when they felt something and the communication came off clearly. Now, did BB have the chops of Yngwie Malmsteen or Satriani? By no means. But music didn't resonate nearly as well as BB King playing one note as Yngwie playing 20 sweeping arpeggios. So, I think technique is not overshadowing it. I think people are confusing technique with chops. That's what's really going on. So, people are working toward chops versus technique.MT: To me, it seems like everything has been done. Of course, there will always be something new. But, it seems like it's gotten to the point where to try to get anybody's attention it's gotta be a freak show.JL: Yeah, I got you. I know what you're saying. I think that's with the advent of social media and a certain generation of players. They really haven't connected the dots to everybody because everybody that I like to really listen to were not really freak shows. I'm very close to George Benson and I understand his process and everything and it's not really a freak show. George hears and is able to execute all of that. He's not just doing it for the sake of doing it. I mean, that's part of who he is and most of the time if you listen to it, it's very rhythmic. It's about rhythm more than it's about the notes. We like George because of how he rhythmically plays those notes. Not necessarily the notes. So all the people that I like to listen to: Kenny Burrell, Grant Green, George Benson, Joe Diorio, Larry Coryell, Jim Hall.. I like a certain kind of player. And none of them were like monsters with chops. Wes Montgomery! They were all good and had plenty of technique, very great technique, but their music touched me. What they were playing versus how they were playing it. So, I think that nowadays, to answer your question more directly: the music business, or the proposed music business, gives the illusion that this is important. But I see kind of a cyclical thing where it's coming back around to people that aren't playing like that, you know? YouTube makes it easy for everybody to show off. But let's keep in mind – everybody is only showing their actual best take. They're not showing the takes where they couldn't do it.ML: One of the best recorded guitar solos of all time in my opinion is "Machine Gun" on the Band of Gypsys album by Jimi Hendrix, but, although it was a live recording, the great version that ended up on the album was pieced together in the recording studio.JL: Exactly. So, over the years we've always wanted to shine and be our best, you know what I mean? So when we see these videos, I just look at them and say "Wow! This guy actually took the time." But then my question is: Why did you even want to record it in the first place? Why did you want to show it? Why? You can do it. What was the point of going to YouTube to show us? Folks post practicing videos. I've just never understood it. Practicing was such an intimate time period for me, so I don't know why I would want to show that.MT: Do you teach guitar lessons?JL: Yeah, I teach at UCLA and I also teach privately at home.MT: What do you find that many guitarists that come to you for lessons are most deficient in?JL: Understanding rhythm. Rhythm and an understanding of the endless sea of possibilities of harmony. Because, I think guitar players… we learn things in chunks. So, if we learn a chord shape, we learn that chord shape and then we call it a certain thing. But, we don't always know its ultimate functions. You know, for instance we don't understand that G minor 7 and B flat 6 are the same thing. I was blessed to be around Barry Harris, people like that who were able to show me the functionality of a chord and not just make it a static thing. And therefore I was able to have more movement. So, I would say to answer your question: rhythmic understanding and movement. A lot of guitarists think they don't have any movement. We kind of give it up and default to piano players as being geniuses, but that's not really the truth. We're really the ones that have the greater palette of color because of the way our instrument is laid out. But, we don't understand that a lot of the time. Just because of the way we learn. That's just what it is.MT: Why do you think so many guitar players aren't great readers?JL: I think it's just the way we learn the guitar. The guitar is a very accessible instrument. Everybody has one in the house even if they can't play it. I mean how many people have a guitar? "I have a guitar. I bought a guitar." And we see it on TV, we see people holding it, singers with it. And I think the way we learn, we learn the the chordal approach first, to accompany singing. It just starts that way because unless you're a classical player you're not really going to get that traditional thing that a horn player has to go through. And there are a lot of horn players who are also not good readers but because of their opportunities – they play in ensembles and they play in big bands so they have to develop their reading. We don't necessarily have to do it. Kenny Burrell is a great reader, but Grant Green, George Benson, Wes Montgomery – none of them can read.MT: How would you describe your work to someone who is unfamiliar with it?JL: I'm rooted in tradition but forward thinking. So, I love the traditional sound and methods of the jazz guitar, but I'm always looking to expand the language so I can communicate to someone today. And I'm very much into… I'm one who I consider myself, at this point in my life, I'll be 60 in December, I'm a bridge. I can remember life before technology, but I'm very much entrenched in technology now. So, I think I'm a bridge between the younger people and the old masters who don't really deal with all that stuff. I think my function right now is to be one that understands tradition but is open to new possibilities. So, I understand Coltrane and I understand Kanye.MT: Did you come from a musical family?JL: I came from a musical appreciative family. My father dabbled in music as a kid himself and things of that nature but none of them really played music after that. They were music appreciative but not a musical family.MT: Do you think musical ability is hereditary?JL: I think it's somewhat.. I won't say.. It can be genetic, the ability. A good example is: I have twins, a boy and a girl, and when I gave them instruments they had great tone. One tried to play the clarinet, the other tried to play some other kind of horn. And they were both very good at the natural proclivity towards it but they just weren't interested in it to go any further. But the teacher talked about it in school how great their tone. So, there might be something in there genetically that comes down the pipeline of genetics. I think most times it's desire and practice.MT: Why was guitar your instrument of choice?JL: It wasn't the first one. My original instrument was trumpet, and then I went to bassoon. Guitar came about because I went to a church, a fundamental Pentecostal church, and guitar was a very prevalent instrument in the church. Electric bass, electric guitar, drums. Actually the whole concept of the rhythm section I got in church. So when I was 10 years old and I wanted to be a full participant of what was happening in church, the guitar was the instrument of choice. The bassoon wasn't gonna make it over the noise.MT: What non-musical jobs have you done in your life?JL: Let me see… non-musical jobs… As a teenager, I sold shoes. I also had a hypnotherapy practice for a while. That's pretty much it that were non-musical. I've worked in music stores but that was musical. I would say my hypnotherapy practice was probably the main thing.MT: Who have been your favorite stars to work with?JL: People know I love working with Pharoah Sanders. He's just a beautiful person, he's just a beautiful cat. And my good friend Greg Porter. We're more like friends than, you know, like working relationship. We were buddies for a long time so Gregory Porter. I loved playing with Jimmy Smith because he taught me so much. And I learned about him and the jazz life from him and what this was about and how to really engage an audience and those kinds of things. I learned that from Jimmy Smith.MT: Pharoah sat in with a salsa band that I was playing with in the early 80s. He had a girlfriend in Houston and so he was hanging out in Houston for a while. He hung out with a sax player that was in the salsa band and he brought him out to one of our gigs and he played a whole set with us and I recorded it. I didn't even know he was going to be there but I happened to have my reel-to-reel there that night and recorded it.JL: Wow! That's beautiful. Pharoah, I learned a lot about spirituality from Pharoah. He's just a great guy and, like I said, Jimmy Smith, Gregory Porter. I just enjoy playing with everybody I ever played with. James Brown was great. I played with James. He was a great person to be around and to learn from. The history. I'm kind of into history so I like to just sit back and listen and take in what the older guys have to say.MT: Do you go out and hear live music much these days?JL: I try to, as much as possible. I work a lot. But when I'm not working I try to go hear certain people. Yes, for sure. I really do.MT: Why do you think Jazz's popularity declined and where do you think it's heading?JL: I think it's gonna go where it's gonna go as far as where it's heading. I think it just is. I don't think it has to head anywhere. I think it'll just be what it is. But I think as far as.. I don't think it was ever super over popular. I don't ever think it was just like the most popular thing but I think the understanding of it has declined. Not necessarily it's popularity. The understanding of what it is and what it means and the importance of it. And I think that has a lot to do with education in schools. The other day I was in a restaurant watching some people play and a young person in their 20s with a girlfriend… they didn't know what to call the upright bass. They didn't know what it was. They didn't know if it was a cello. They didn't know and they were sincerely not knowing. And I fault the education. And these were two people that were very well off and opulent, I could tell. But the educational system that they were under growing up… it didn't give them the tools they needed to be culturally astute. They didn't know. When you and I were coming up we learned the four instrument groups. And they didn't learn that. I've been in studios with rappers who didn't know the trombone from the trumpet. I think the education and the understanding has declined but not the music.MT: I've seen from my playing in Latin bands for so long that many people erroneously call congas bongos. As musicians, many of us forget that at least half of the people out there can't tell what they're hearing when they're watching a live band. They can't actually separate the instruments in their head. They can't tell what sound is coming from who playing what on stage.JL: Exactly. And that's why it's imperative for us. They don't really have to know. I think a lot of times we get bent out of shape because they don't know. To answer your question again, part of the other problem is that when we're on stage in front of people, they're there to be entertained. They're giving us their time. They're giving us time out of their life, and possibly their money, to come see us. Time they'll never get back. You don't get the time back. You'll get some more money. But that time, they decided I'm going to sit here for two hours and watch these people do their craft, is very important so I try to honor that. And not by being silly. I mean entertaining doesn't mean being a clown or being silly but you present yourself in a spiritual entertaining manner where they want to be part of it. I think you saw us doing that the other night (at The Lighthouse Cafe). When we're on stage, we're trying to entertain those people. And people feel when you're genuinely trying to look out for them. People understand that. When you're really about them. Not just about yourself. And I think that's another reason jazz has declined is because the self-centered nature of groups. They're on stage reading. You know, we got stands all over the stage and are playing these hard tunes that are not sing-able, not relatable and that's fine but that's not for your general record buying public. That's something you do for your niche fans who really want to hear you and are into that kind of thing. But when you're in a regular club, in a regular situation, this guy worked 40 hours a week. He's ready to get out , have a good time, have some beers. He's got other dilemmas and problems and he doesn't need you to give him a lecture on this recital. He doesn't want to go to a recital. He wants to go have a good time. So, we can't forget that. So, as much as we want to play "Countdown," that might not be the tune for right now. And I'm fortunate because usually when I play, I can play "Countdown." That's because I play something they want to hear beforehand. And now they're interested.MT: Is there a jazz culture today?JL: Yeah, it's one I'm not very proud of. It's the academic jazz spin-off culture. A lot of these guys out here today are playing the music because of academic prowess. It's not the same culture of guys that were playing this music because they fell into it from the street. It's because now it's kind of a manufactured thing and I'm part of it. I teach. But I try to be honest. I think I'm there because I do know the street's music. So yeah there's a culture of jazz academia, because between the teachers and the students we get these guys and they have these degrees in jazz and now they're jazz musicians and that's the culture. It's not the same as it was 50 years ago. It's manufactured.MT: So there's no style?JL: Well, the style is academic.MT: I mean like clothes, the lingo…JL: No, no. That's pretty much gone. And it's interesting because jazz – we were the trend setters. And now the hip hop artists have that taken over. The hip hop artists are the trend setters now. Hip hop and rock. It used to be that the rock cats were the trend setters but now it's pretty much hip hop is the trend setter for fashion. And I don't see the interest. And that's another part of the problem with the decline because when people come, it's like you said, they see you before they hear you. So, when guys come on stage, come into a club, you gotta keep in mind there's women. Ladies, they like to romanticize about who these guys are on the stage. All sorts of things. And, you know, look at these guys: they're cool, they're hip, they're slick. That's part of the music, you know what I mean? So yeah, that's part of it too. People come in here and see a bunch of guys half dressed like they just walked in off the street. The little nonchalant don't care, you know? Also, I was told when I was coming up: never let anybody in the audience be dressed better than you.MT: What has surprised you the most in music since you started playing?JL: Where it can take you and the people you can meet. Man! It's unbelievable. I've been in some situations… if it wasn't for music there's no way that this experience would have ever happened. It's like there's no way this experience would have ever happened if it wasn't for music. So, I'm so thankful for where music has taken me. I've been to parts of the world where I would never have gone on my own. The most important thing has been where music will take you and the experiences it will give you.MT: Anything else you want to add?JL: I'm glad you didn't ask me who my favorite guitar players are and all that because that's just too much. A lot of the good ones are my personal friends.MT: I always tell people my favorites have always been Kenny Burrell, George Benson, and Pat Martino.JL: Well those are my grand masters, but I love my friends and my peers. I love my man Russell Malone, he's my buddy. Rodney Jones is like a brother to me. I love him. Bobby Broom is like a brother to me. I love him. Peter Bernstein, you know? And there's some other main guys like Kevin Turner who is a great guitar player out of Ohio, the Akron/Columbus area. So these guys are all like my personal friends. A guy in town here, Jack Reardon who just moved in from the bay area. Great guitar player! I love those guys.
And the Ritmo Caliente goes on…By Mark Towns
By Mark Towns
Rene Camacho is the first-call bassist for virtually every L.A. Salsa and Latin Jazz bandleader — if they can get him. Currently, he's on the road most of the time with the legendary band War. Prior to joining War, he was bassist for many years with Poncho Sanchez, after having stocked up on big-name gigging credits performing and/or recording with Celia Cruz, Tito Puente, Sergio Mendes, Ry Cooder, Michael Bublé, Oscar Castro Neves, Michael McDonald, Tipica '73, Robben Ford, Angelique Kidjo, Linda Ronstadt, Draco Rosa, Jose Alberto "El Canario", Raul Malo (The Mavericks), Rickie Lee Jones, Juan Gabriel, The Fifth Dimension, The Pointer Sisters, Kevin Eubanks, Oscar Hernandez, and the ubiquitous "Manny Others."
Rene is one of the nicest cats you'll ever meet in the music industry. His Salsa swing is impeccable and his reading chops are top-notch, a skill developed reading bass clef on trombone as a youngster in his hometown of Tuscon, Arizona. Rene switched to bass while at The University of Arizona, where he received a Bachelor's Degree in Trombone Performance and Jazz Studies, and the world has been a better place, bass-wise, since.
I spoke recently with Rene, aka "The West Coast Badass of the Bass," about the current state of Latin Jazz and more.
Mark Towns: Who are some of the artists you've worked with or gigs that you've done that stand out in your mind as being the most memorable or satisfying?
Rene Camacho: A few of those gigs come to mind but an artist that really stands out is Celia Cruz. I worked with her the last 5 years of her life. She was an amazing performer. Her work ethic was incredible! She was on the road more than 200 days out of the year and always gave 100% in every show! She really taught me to never take work for granted and to always respect the music that I perform.
Towns: How do you define Latin Jazz?
Camacho: To me, Latin Jazz is a combination of Latin American rhythms mixed with harmonies found in many styles of music. I would say that the origins come from Africa by way of Cuba and other parts of the Caribbean such as Puerto Rico. Latin Jazz can combine anything from traditional Jazz to Blues and Funk with Latin American grooves. At present time there are so many amazing musicians playing this genre of music that anything is possible. There really aren't any musical boundaries in Latin Jazz, just as in Modern Jazz, which I think is good for the genre to evolve to keep it interesting.
Towns: How do you balance tradition with innovation in your playing?
Camacho: I feel that it is important for me to have a proper understanding of my instrument, the evolution and the function of my instrument within the rhythm section, as well as within the music that I am performing. Without that knowledge, there is no progression in my playing or in my music. I think that many of today's musicians believe that in order to be innovative, trying to find your voice or contributing new ideas, you have to have ample knowledge of where your instrument began — who made it popular in that style and how did it evolve before you.
Towns: What advice would you give to someone who is just starting out in music and wants to learn to play Latin Jazz?
Camacho: I always tell my students to listen to plenty of music! Listen not only to the Latin Jazz greats of yesterday and today, but to ALL styles of music! It doesn't matter what style it is. Music has no boundaries. All styles can be incorporated into what you decide to play! When I was a kid I would listen to everything from Miles Davis and Bird to Led Zeppelin and Van Halen. Then I would listen to Eddie Palmieri and BB King. To this day, I listen to everything! All music helps me find ways to improve myself as a musician.
Towns: Do you think Latin Jazz will ever reach a larger audience? What would it take to increase the audience for Latin Jazz?
Camacho: I feel that the current state of the music industry is really hurting the more "independent" genres. Traditional record companies don't know how to conform to the whole streaming thing yet, with the exception of Pop music, and smaller labels willing to sign a Latin Jazz artist don't have the power to publicize and push their talent. Slowly, radio stations that play Latin Jazz are dying off, and the affect is that the genre is not sufficiently heard by the younger generation who download music. It also doesn't help that a club owner now expects the musicians, who spend their time trying to perfect their craft, to do ALL of the promotion for their performance and music! These issues and many more that I have not mentioned will always be the cause of Latin Jazz staying "under the radar." BUT there is still hope with the younger musicians finding ways to push forward and finding bigger audiences.
Towns: Do you think there is an inverse relationship between musical complexity and music popularity?
Camacho: I feel that musical complexity is strictly for other musicians that are fans of that vibe! I remember growing up and always talking to my other musician friends and saying that we should play music that would bring out the girls! If girls would come to our show, then that would bring out more guys! Pretty soon the club would be packed! When was the last time you walked into a Jazz club and saw a lot of girls digging the music? There is a way to combine the two situations, but it takes a lot of work and understanding between the musicians.
Towns: Do jazz artists have a responsibility to entertain, or should the music speak for itself?
Camacho: I feel that now-a-days, we have to do both. I'm not saying to let the music suffer with your entertaining the crowd, but we have to put some element of entertainment in the show. People's attention span now is very short, so you have to find ways of keeping them engaged when you're throwing a lot of information at them. Then, our music has a better chance of keeping them interested.
Towns: Is there a particular artist, genre, or composer who inspires you?
Camacho: I love listening to other bass players. There are so many players out there that are incredible at what they do! But I will take time away from listening to those musicians in order to listen to other instrumentalists and vocalists. Lately, I have really enjoyed listening to many vocalists! I really like listening to their phrasing and use of space. I have always been a huge fan of Dinah Washington and Nancy Wilson. They both use space amazingly. I also think that way about Aretha and Gladys Knight. I have also gotten into listening to Gregory Porter and Kurt Elling.
Towns: How important is the "clave" in Latin music?
Camacho: Wow, that can be a loaded question! There are many opinions out there! For me, the groove and the melody tell me where to feel the clave. I try not to get caught up in the clave craziness. I'm not a member of the clave police.
Great music is out there. Seek and ye shall find
And the Ritmo Caliente goes on….
Mark Towns is an LA Jazz Scene staff writer and columnist. You can contact him at
http://marktowns.com/writer
By Mark Towns
There are many great jazz artists. There are only a few truly phenomenal jazz giants. And then there are only a handful of those who are universally venerated as the top elite of all time, so revered that even the giants are in awe of them. Pianist Herbie Hancock is one of those top tier jazz icons. The best of the best. A giant among giants. Jazz royalty.
None other than Miles Davis said in his autobiography, "Herbie was the step after Bud Powell and Thelonious Monk, and I haven't heard anybody yet who has come after him."
I spoke with some of L.A.'s top pianists/keyboardists, who shared their thoughts about Herbie Hancock and what he means to them and to jazz.
Carmen Staaf: "Herbie Hancock is not only a master musician, he is a deep thinker and an incredibly compassionate human being. When we toured together while I was a student at the Herbie Hancock Institute (then called the Monk Institute), he always made me feel like I belonged on the piano bench just as much as he did (even if I struggled to feel that way!). His playing encompasses the history of the instrument and of jazz: his touch flows effortlessly from percussive to lyrical, his harmonies from Ravel to the blues. Of course he made history not only with his masterful playing, but with his sophisticated yet catchy tunes, and with his expansion of the sonic palette through his use of synthesizers. As a high school student, I was in love with his solo on "Driftin'." I just couldn't get over how swinging it was. I never could have imagined getting to one day study and even share a stage with him. I feel incredibly lucky. I'm inspired by how he continues to play so well and to keep growing. Just this weekend, I heard him at Newport and he sounded better than ever at 79!"
Sunnie Paxson: "Herbie Hancock for me is the most prolific and highest ranking jazz pianist of all time. His brilliant compositions and astounding harmonies have been my biggest musical influence."
Stephane DeReine: "What I find amazing with Herbie Hancock, beyond the fact that he became a true legend of jazz, is that his music travels through time. He adapts himself constantly to the present time. Even more, he is a true pioneer as he has the ambition to do something new, to create some music we haven't heard yet. He is a true precursor."
Scott Kinsey: "To me Herbie Hancock is the perfect example of what it looks like to be a limitless and fearless musician and human being. It's inspiring because you get the sense that, for him, the music is much deeper than his specific note choice. You hear humanity first."
Hans Zermuehlen: "I first heard Herbie when I was about 15. I'm still pulling my hair out of my head trying to play like him. His piano solo on "Actual Proof" should be entered into the national archives – the best stuff I've heard in my life. And I've heard a lot!"
Alberto Salas: "From Jazz to Fusion to World Music to Hip Hop and everything in between, Maestro Hancock has to be the most versatile musician walking the planet. He has remained relevant in every decade of his illustrious almost 60 year career, and still continues to do so. A true innovator."
Theo Saunders: "Herbie Hancock continues to inspire, not only my generation of jazz musicians, but also those who continue to follow a path without blinders on, all the while excelling in his genre-defying magic act."
Oscar Hernandez: Herbie Hancock was very inspirational to me as a young musician and pianist when I started learning about jazz. I first became aware of him with his amazing work with Miles Davis and later as a leader with Maiden Voyage and from then on, all the incredible work he has been involved with as a leader and producer. He's one of the seminal musicians of all times."
Otmaro Ruiz: "Herbie Hancock found his own signature sound so early in life, raising the bar of harmonic and rhythmic explorations in improvisation, while constantly renewing his composition concepts, staying always hip and current for the last 5 decades!"
Herbie Hancock appears at the Hollywood Bowl on Wednesday, August 21, 2019 at 8:00 p.m. along with R+R=Now and Phoelix.
Speaking of Hollywood Bowl, one of the highlights of this summer's Playboy Jazz Festival on June 8 & 9 was the standout performance by the all-star band convened to celebrate the life of drummer Ndugu Chancler, billed as "Celebrating Ndugu Chancler" featuring Patrice Rushen (keyboards and musical director), Ernie Watts (tenor saxophone), Alphonso Johnson (bass), Terri Lyne Carrington (drums), Doc Powell (guitar), Munyungo Jackson (percussion), Rayford Griffin (drums), Alexis Angulo (keyboards), Josie James and T.C. Carson (vocals), plus special guests performers Byron Miller (bass) and Sheila E (percussion).
Ndugu, who passed away from prostate cancer in 2018, was one of the world's most in-demand drummers, performing with everyone from Miles Davis to Santana to Weather Report to George Duke. His many achievements included playing drums on Michael Jackson's "Billie Jean," co-writing "Let it Whip" by Dazz Band, not to mention his being just an all-around nice guy. He is greatly missed.
I spoke with Ndugu's long-time friend and musical brother, percussionist Munyungo Jackson, about Ndugu, as well as about his own adventures of late.
Mark Towns: When did you and Ndugu first perform together?
Munyungo Jackson: Man, it goes way back. My mother wrote a rap tune. We're talking about in the late 60s, early 70, mid 70s. He played drums on it, and I played percussion. It's called What About You (in the World Today). The artist was called the Co-Real Artist. My mother, Genie Jackson put that together. This was one of the first rap tunes ever, back in 1974. On this track, Ndugu played drums and I played percussion, plus rappers – my sister Denise Jackson, a guy named Gordon Jackson, Anthony Green, and Denise Jackson. It was originally a rap demo my mother wrote for a musical called Life. My mother was a writer. She wrote a lot of plays, songs, musicals. Gordon Jackson (no relation) was the guy who would perform this live in the play. So, my mother had to record it.
Towns: Is your Mom still with us?
Jackson: No, she left about 20 some years ago.
Towns: What other music highlights did you share with Ndugu?
Jackson: We did some things with Patrice Rushen. The main thing Ndugu and I did together was the Day of the Drum Festival. That happens at the Watts Towers on the last weekend of September every year, on the last Saturday of September every year. And then the next day is the Watts Towers Jazz Festival. So the Day of the Drum Festival – I book the acts for that with different cultures, with drums from different countries every year. Ndugu was the emcee of that. Then on Sunday it's the Jazz Festival, with different types of groups like Blues, Gospel, some Latin stuff. And we would end that day with Patrice Rushen's band, and Ndugu played drums on that.
Towns What year did that start?
Jackson: I'd have to say it was 30-40 years ago. It's been going on for quite a while. Ndugu, under another director, would book it. And then the director changed back to Rosie Lee Hooks, and I would book the groups for her. Ndugu was the emcee on the Day of the Drum.
Towns: Ndugu brought a lot of great energy to the music world.
Jackson: Ndugu was a great songwriter, drummer, and instructor. Ndugu played with a bunch of people, he taught a lot of people a lot of different things about drumming and the business, and was a mentor to a lot of people. He was very strong in personality and in pushing and making things happen. That's what he had a habit of doing – making things happen, producing, songwriting. He did a lot, he acquired a lot, had a nice house. He was very positive on a lot of things, and he pushed forward in a lot of ways.
Towns: What else have you been up to lately?
Jackson: I just played this weekend at the New Orleans Jazz Festival with Miss Diana Ross (Saturday, May 4, 2019).
Towns: Cool.
Jackson: Yeah, I should put some of this stuff on my Facebook. I've been so busy doing a lot of things, that I don't have time to put it on Facebook, which is what I need to do.
Towns When I saw Diana Ross a few years ago, Richie Gajate Garcia was on percussion. He doesn't play with her anymore?
Jackson: No, Ron Powell was playing percussion with Diana Ross, and I was subbing for him, because he also plays with Kenny G. So when I did that gig, they offered me a bunch of dates on the tour starting in June and July, and I told them, "I can't do it. I'm out with Stevie" (Stevie Wonder, Munyungo's "regular" gig). This past weekend was my first time playing with her, and first time meeting her, and first time playing the Diana Ross music. She goes off stage and changes about three or four times. The band is kicking. The band grooves. It's funky. I said, "Shoot! I'd do this again just to play the music." The band is a good band. The grooves are tight. I really dug it musically.
Towns: I remember Richie playing a lot of tambourine on her gig.
Jackson: Yeah, a lot of the old Motown stuff is tambourine (for the percussionist). She lets people groove. It's not about playing a bunch of solos, even though we had a couple of solos that we played, too. Like, for instance, check this out – the MD (musical director) is a guy named C.C. (bassist C.C. Thomas). He was telling me, "Toward the end of the show, during the last tune, she
introduces everybody, and you just play a little thing, like a little four or eight bar solo." And he said, "Man, I want you to pick up your shekere and play that. You know, pick it up and flip it like you do with the shekere." Right? Now, Diana Ross and I hadn't met. We didn't meet beforehand. First time seeing her, period, live, is when she comes on stage. We're playing, they introduce her, and she comes on stage. That's my first time looking at her live. And we're playing, and she looks over at the monitor engineer and does her hands like she's playing congas and saying like "I need more congas up here." She's wanting him to turn up the congas in the monitors. She likes to hear them grooving. But, she never said, "Hello." She never said none of that, she never did none of that. She's just walking around the stage until there's a part where she goes to change, and I do a timbale solo on one of these tunes, which is cool. And then she comes back out. And between congas and tambourine, I'm doing all this stuff, depending on the songs. And then for the last song, she introduces everybody, and she gets to me, and I pick up the shekere and I started playing the shekere and flipping it, and she comes over. "No, no, no. Play the congas!" And she comes up and reaches up and beats on one of my congas like she's mad! So, I played the last four bars on congas. And I look at the bass player, C.C., and he looks like "Aww man, I'm sorry."
So then she invited everybody to dinner afterwards. I had to get my stuff, pack up the stuff I brought, and then change, and then go to the restaurant. And now I am sitting directly across from her, and we're supposed to address her as "Miss Ross," and I'm thinking to myself "Yo! What's up, Diana? Diane? How you doin', Diane?' But what I actually said was, "You know, Miss Ross, the first time meeting you, the first thing we ever shared verbally was you telling me 'Stop playing that and play congas,' and you beating on my drum." That's what I told her, and she says, "Yeah, yeah because I like the congas. I want you to play that. I like the congas." So I look at C.C., because C.C. was sitting right there, and I said. "C.C.'s the one who told me to play shekere for you." And she says, "No, I want congas."
Great music is out there. Seek and ye shall find
And the Ritmo Caliente goes on….
Mark Towns is an LA Jazz Scene staff writer and columnist. You can contact him at
http://marktowns.com/writer
Antonio Adolfo
Pays Tribute To The Birthplace Of Brazilian Jazz
On New Album, Samba Jazz Alley
Rio de Janeiro native Antonio Adolfo was just a teenager in the early 1960s when he became part of the bossa nova revolution that was sweeping Brazil and the rest of the world. Not content to spend most of his career backing vocalists, the pianist and many of his peers began crafting a more rhythmically robust instrumental interpretation of the lithe and flirtatious bossa. Influenced by the Bebop, Soul Jazz and West Coast trends that ruled the day in the U.S., the potent result was coined "Samba Jazz." The movement experienced a surge of popularity thanks to the emergence of such soon-to-be-famous artists as Sérgio Mendes, Moacir Santos, The Tamba Trio, Elis Regina, Leny Andrade, Raul de Souza and… Antonio Adolfo.
Samba Jazz Alley is the latest chapter in a series of releases on Adolfo's AAM label that have explored a wide range of stylistic variants of Brazilian music. The session's title refers to an obscure dead-end alley in the heart of Rio's storied Copacabana neighborhood that served as a breeding ground for the city's up-and-coming instrumentalists and singers during the heyday of bossa nova. The alley was termed Beco das Garrafas (Bottles Alley) because residents of neighboring apartments would shower the tiny space with beer bottles to protest the early morning racket produced by Bohemian revelers and impromptu jam sessions. Bottles Bar, the alleyway's main venue, is reputed to have showcased over 100 of Brazil's most noted musicians and vocalists of the day. The budding pianist and composer recalls taking a bus with his 3D Trio companions to perform a set at the bar in 1964. "It's impossible to know how many tunes that became standards were first performed there," he states. "Bottles Bar was like a 'notable peoples' club!"
On Samba Jazz Alley, Adolfo has the luxury of performing with a core ensemble that features the talents of some of the best Brazilian jazz musicians of their generation. The three-horn frontline of trumpeter Jessé Sadoc, woodwind artist Marcelo Martins and trombonist Rafael Rocha provides a muscular ensemble sound that's perfect for this hard-hitting genre. Joining Adolfo in the rhythm section is an equally distinguished crew, including guitarist Lula Galvão, bassist Jorge Helder, drummer Rafael Barata, and percussionist Dada Costa.
The session's nine tracks capture the vivacious character of Samba Jazz via Adolfo's ingenious arrangements of songs by Antonio Carlos Jobim ("Corcovado" and "Passarim"), Johnny Alf ("Céu E Mar"), Edu Lobo ("Casa Forte"), Baden Powell ("Só Por Amor"), João Donato ("The Frog"), and two themes by the leader ("Obrigado" and "Hello, Herbie," a tribute to Herbie Hancock). A particularly mesmerizing take is the gorgeous bossa ballad "Tristeza De Nos Dois" (The Sadness of the Two of Us), featuring one of the song's three co-composers, the legendary harmonica player Maurício Einhorn, in the company of Gabriel Grossi, Brazil's current harmonica sensation.
Samba Jazz Alley is another triumph for Antonio Adolfo and a landmark recording in the still evolving Samba Jazz movement.:
Antonio Adolfo
"Samba Jazz Alley"
(AAM Music AAM 0713)
Street Date: 07/29/2019
Piano And Arrangements: Antonio Adolfo; Acoustic And Electric Guitars: Lula Galvao; Double Bass: Jorge Helder; Drums: Rafael Barata; Percussion: Dada Costa And Rafael Barata (Tracks 2, 6;, Bl Trumpet: Jesse Sadoc; Flugelhorn: Jesse Sadoc (Track 9]; Soprano, Tenor Saxes: Marcelo Martins; Alto Flute: Marcelo Martins (Track 9); Trombone: Rafael Rocha. Special Guests: Valve Trombone: Serginho Trombone (Track 6]; Harmonicas: Mauricio Einhorn And Gabriel Grossi (Track 5]; Shaker: Claudio Spiewak (Tracks 1, 5 And Bl; Acoustic Guitar: Claudio Spiewak (Track 1].
http://antonioadolfomusic.com   http://aammusic.com   Available From: •Amazon •CDBaby •iTunes
The 41st annual Playboy Jazz Festival takes place at The Hollywood Bowl on Saturday and Sunday, June 8 & 9. LA's biggest and best jazz party is a highlight of the summer season for jazz lovers – an all-day party with a soundtrack provided by a diverse mix of top artists from the worlds of Straight Ahead Jazz, World Music, Latin Jazz, Funk, R&B, Jazz Fusion, and more.
Hosted again by comic legend George Lopez, artists scheduled to perform include Kool & The Gang, Boz Scaggs, Béla Fleck and The Flecktones, The Maceo Parker Big Band, Terence Blanchard featuring The E-Collective, The Cookers, Angélique Kidjo, Dirty Dozen Brass Band, Benny Golson's 90th Birthday Quartet, The Family Stone, Sheila E., Terrace Martin, Sona Jobarteh, and a special celebration honoring the late drummer Ndugu Chancler, who passed away in 2018.
Kool & The Gang's band features great LA saxophonist Louis Van Taylor. Hopefully we'll hear him stretch out.
Boz Scaggs is sure to be a crowd-pleaser. Some festival attendees can only take so much Jazz, and the casual listeners in attendance will more than likely perk up upon hearing Scaggs' proto-Smooth-Jazz hits.
Béla Fleck and The Flecktones will be amazing mostly because of Flecktones bassist Victor Wooten, arguably the baddest cat alive on the bass.
Maceo Parker will be magnificent in no small part due to the fact that he carries with him the spirit of James Brown, with whom he played for years. Maceo Parker is the epitome of Funk and Soul saxophone.
Terence Blanchard and E-Collective, at their last Playboy Festival appearance, sounded like vintage 70's fusion-era Miles. If they continue with that route, they'll kill again. And E-Collective guitarist Charles Altura is something special to behold.
The Cookers band features Billy Harper, Eddie Henderson, Donald Harrison, David Weiss, George Cables, Cecil McBee, and Billy Hart. This promises to be one of the most "Real Jazz" sets of the Jazz festival. These cats have been producing outstanding, innovative, and just downright cool Jazz sounds for over 40 years. Really glad to see them on the bill.
Benny Golson's 90th Birthday Quartet promises to be a highlight for two reasons: number one – saxophonist Golson is the composer of the classic Jazz tune "Killer Joe," and number two – he's 90 freaking years old and still out there performing! 'Nuff said.
The Family Stone, featuring original saxophonist and founding member of Sly & The Family Stone Jerry Martini, is a wild card. On one hand, it's commendable to keep Sly's music alive and out there, but on the other hand, it's not Sly.
Sheila E. will be a big crowd-pleaser, as timbale solos and hit songs typically are. Sheila is one of the best drummers in the world, and Latin Jazz on the festival is always welcome.
West African griot and kora player Sona Jobarteh will provide some marvelous sounds, as well as help remind us where most of the rest of the music on the festival originally came from.
Cuban pianist Harold López-Nussa's Quartet featuring Ruy López-Nussa, Luques Curtis, and Mayquel Gonzalez is one of the festival's most-anticipated performers this year. Cuban musicians produce some of the edgiest music in Jazz, and this band is no exception.
The life of drummer Ndugu Chancler will honored with a special performance by a group assembled for the festival which features several of Ndugu's friends and former bandmates, including Patrice Rushen, Munyungo Jackson, Ernie Watts, Alphonso Johnson, Terri Lyne Carrington, Doc Powell, Byron Miller, Rayford Griffin, Josie James, and TC Carson. Ndugu touched the lives of many, and this tribute performance promises to be an unforgettable event.
I spoke with percussionist Munyungo Jackson about the Ndugu tribute. The conversation about his long-time friend Ndugu ended up being a fascinating discourse touching on a lot of wonderful music history of Jazz, Soul, and Hip-Hop. Did you know that Munyungo's mother was writing and releasing some of the first-ever Rap music back in the 70's? Munyungo and Ndugu's musical relationship began with the recording of the 45 (that's a 7" vinyl record, kids) of "What About You in the World Today," a Rap song written by Munyungo's mother Genie Jackson and performed by The Co-Real Artists, a group which featured Munyungo and Ndugu.
Stay tuned to a future edition of "Ritmo Caliente" for the full Munyungo interview.
Munyungo's band performs at The World Stage on Saturday, June 1. The World Stage presents Jazz and more every night of the week.
 
The Jazz Bakery presents Hubert Laws and his band at The Moss Theater on Saturday, May 18.
Catalina Jazz Club presents Pete Escovedo's Latin Jazz Orchestra on Saturday, May 18; Fusion Jazz with Simon Phillips Protocol featuring Otmaro Ruiz, Ernest Tibbs, Alex Sill, and Jacob Scesney on Friday and Saturday May 24 and 25.
Poncho Sanchez Latin Jazz Band will be at Catalina on Friday and Saturday June 21 and 22.
The KJazz 88.1 Summer Benefit Concert takes place Saturday, June 22 at Walt Disney Concert Hall and features veteran Jazz vocalist Dee Dee Bridgewater plus an opening set by Raul Midon and Lionel Loueke (separately and together).
The Baked Potato presents Brothers of the Situation on Wednesday, June 5, an all-star band featuring Abe Laboriel, Sr. (bass), Walter Rodriguez (drums), Mark Gasbarro (keys), Buddy Nuanez (guitar), and Mateo Laboriel (guitar).
Also at the Potato: Frank Gambale (6/8), Larry Carlton (6/12 through 6/15), Don Randi (6/16), and Peter Erskine (6/21 and 6/22).
In addition to the above-mentioned shows, the Baked Potato also has great live music every night of the week.
The Blue Whale in DTLA has great Jazz every night of the week.
Viva Cantina in Burbank has live music every night of the week with no cover charge, including John Pisano's Guitar Night every Tuesday.
Sunspace in Sunland features Experimental Jazz and more on Tuesdays and Thursdays.
Angelo Metz and his Brazilian Jazz Band perform every Sunday at Industry Cafe in Culver City.
Great music is out there. Seek and ye shall find
And the Ritmo Caliente goes on….
Mark Towns is an LA Jazz Scene staff writer and columnist. You can contact him at
http://marktowns.com/writer
By Mark Towns
The weather was great. Luckily, the weeks-long wet and cold spell that has beset LA this year didn't start until after NAMM.
After the NAMM convention hall closes at 6:00 p.m. each evening, the hotel after-parties start, and these are where some of the coolest music performances during NAMM typically occur, with celebrity jams, surprise artist appearances, and big names up close being de rigueur. This year was no exception, although the number of these events seems to be dwindling. In previous years, virtually every ballroom at the Hilton and Marriott (the two closest hotels next door to the Anaheim Convention Center, where NAMM takes place) would have music events going on in the evenings, but this year there were noticeably fewer of these types of events. In fact, some of the hotel ballroom-area hallways were virtual ghost towns on some evenings during 2019 NAMM. Bands, mostly Pop and Rock, and many of them cover bands, still perform back to back all evening in the Hilton and Marriott lobbies, and the hotel lobbies remain packed with a virtual zoo of music industry types of all stripes — it's one of the best places ever for people watching. But many of the ballroom events which used to be open to virtually anyone are giving way to private, invitation-only, or ticketed events. But those who are privy to attend these exclusive events very often find that the music performances at them are the highlights of their NAMM experience.
One event that didn't happen this year, and one that Latin Jazz lovers especially missed, was the traditional Sabian show at the Sheraton, a legendary party/concert which in prior years featured performances by some of the top artists in Latin Jazz, including Joey Heredia, Oskar Cartaya, Alex Acuña, and others. Here's hoping this event can return next year.
Jazz Fusion pioneer/keyboardist Herbie Hancock appeared at the TEC Awards to present a lifetime achievement award to recording engineer Leslie Ann Jones (daughter of Spike Jones). The TEC ceremony (TEC is an acronym for Technical Excellence and Creativity) features prestigious luminaries from the music world presenting awards to honor innovative products, companies, and individuals for their cutting-edge excellence in audio for TV, film, video games, recordings, and live events.
The TEC awards were founded by Mix magazine in 1985 and since 1990 have been headed by the TEC Foundation for Excellence in Audio, a non-profit organization that offers scholarships in addition to working toward advancing efforts in the field of hearing health, especially toward preventing hearing loss in the music environment.
Earplugs these days are a must for music performers and audience members alike. Without hearing protection around loud sounds, hearing damage will occur, and once your hearing is gone, it's gone. Loop Earplugs are one of the best earplug solutions I've seen. Introduced this year at 2019 NAMM, Loop earplugs have a built-in acoustic channel and filter that provides a 20dB equal sound reduction across all frequencies. Music and speech remain clear, but at a lower volume. They look cool, feel great, and they work. Check them out at loopearplugs.com.
Sad to report that the long-running Monday night Fusion/Jazz/Rock/Blues/Funk jam at the Baked Potato has ended. The jam started in 2005, and was led by guitarist John Ziegler until health issues prevented him from performing in mid-2017. Guitarist Jamie Kime took over the jam following John's departure, and the event continued for over a year as a once-a-month event on the first Monday of each month, but now that's gone too. However, Jamie Kime's band plays the first Monday of each month at BP, and they are killer – a must-see.
The Jazz Bakery, long in search of a new permanent home since losing their lease in 2009 on their original Helms Bakery space in Culver City, has finally found a new location. The Jazz Bakery's new home is (drum-roll please): The Moss Theater! This is probably not a huge surprise if you've been following The Jazz Bakery lately, as most of their concerts for the past few years have been at the Moss, but now it is official.
The Moss Theater is an intimate 350 seat state-of-the-art venue with excellent acoustics designed by Yasuhisa Toyoto, who also designed the acoustics at Walt Disney Concert Hall. And by excellent acoustic, I mean you probably wouldn't have to amplify anything there and everyone could hear it. It's an ideal setting for listening.
And more good news from The Jazz Bakery: they plan to add snack and beverage options for concert attendees at the Moss, something that hasn't been available there yet.
Jazz Bakery shows are curated by Ruth Price, and she has impeccable taste in her selection of performers. There's no such thing as a bad show at the Jazz Bakery. One upcoming show at the Bakery that stands out even among all the good shows there – and is a must-see for Latin Jazz lovers — is Omar Sosa on Saturday, March 23. Pianist/Composer Sosa is one of the most inventive and creative expressionists in the world of Latin Jazz today. In fact, let's just say that he's one of the most creative artists in all of music today, because that's what he is.
Rooted in the music traditions of Cuba and Africa, Sosa is energized by influences from all aspects of life, and is a master at expressing feelings and emotions in the form of sound. Omar Sosa plays music from the heart to the heart. He takes Latin Jazz on a journey to places it needs to go, new places, uniting listeners through sonic innovation. He accomplishes the rare feat of being both edgy and accessible at the same time.
Sosa's current touring ensemble includes Seckou Keita on kora and Gustave Ovalles on percussion.
I recently spoke with Sosa at length about his musical influences, African music, the clave, and more, for an interview which will appear here in "Ritmo Caliente" in an upcoming column. Stay tuned…
Great music is out there. Seek and ye shall find
And the Ritmo Caliente goes on….
Mark Towns is an LA Jazz Scene staff writer and columnist. You can contact him at
http://marktowns.com/writer
 
By Mark Towns 
Imagine the world's largest music festival — a multi-day event featuring music royalty milling about among the masses, impromptu celebrity music jams, random performances by jaw-droppingly awesome unknown music artists, secret unadvertised celebrity music shows, out-of-this world new inventions in the form of guitars, amps, drums, lights, and all kinds of musical gear made in every shape, color, texture, and size — a phantasmagoria of musical sights, sounds, and characters representing every genre and every musical era, assembling for 4 days every year in sunny southern California. Although not technically a "festival," this is NAMM, or so it seemingly is to some. To others, it's an out-of-control debacle, a place ostensibly designed for B2B music trade transactions, but instead, overrun with non-money-spending gawkers and barbarians.
Whatever one's perception of NAMM is, the annual winter music products trade show is a raging success, based on numbers, anyway. 2018 NAMM boasted record-setting attendance metrics, hosting 115,085 registered industry professionals viewing 7000 brands among the nearly 2000 exhibiting companies. And this year's event is on track to top those numbers.
NAMM is free to attend for all credentialed and/or invited attendees, but is technically not open to musicians who have no connection to a NAMM member company. Musician attendees must officially be either a sponsored artist, working for a NAMM member company, or be performing at the event. In other words, a musician is not eligible to receive a NAMM pass just because they're a musician. Every year, there are many instances of "name" musicians who are unable to attend NAMM because they don't fall into any of the above eligibility categories, and cannot get a coveted pass.
So although it's ironic that NAMM, the world's largest music event, is not open to musicians per se, the place is naturally swarming with musicians anyway, and most of the buzz at the event is generated by star musician appearances, whether at scheduled autograph-signing events, private showcases, or just by virtue of seeing legends of music walking around, checking out booths on the convention floor.
What is the NAMM experience like for a musician? To some, attending NAMM is a dreaded chore — a necessary evil. To others, NAMM is an exciting annual highlight which has spawned new musical collaborations, endorsement deals, and innovative product discoveries.
For more insight on the NAMM experience from the musicians' point of view, I spoke with several prominent music artists who are also regular NAMM attendees. Here is their perspective on NAMM, in their own words:
Tiki Pasillas — drummer, percussionist (Arturo Sandoval), artist endorser: Gretsch, Zildjian, Vic Firth, Remo, KickPort, Drumdots, Cympads, EarthWorks Mics
Mark Towns: What brings you to NAMM?
Tiki Pasillas: I go to NAMM to sometimes perform for my endorsers, catch up with friends, see new players and products, as well as network. We have to constantly re-invent ourselves to keep up and continue our craft/living.
Towns: What do you like best about NAMM?
Pasillas:  I like to see and try new products, and get new contacts, endorsements
Towns: Anything you dislike about NAMM?
Pasillas:  I get a bit tired of the constant Hollywood fake people. Some are good, but a handful are just overwhelming at times.
Towns: What is your most memorable NAMM experience?
Pasillas:  Performing with world class players like Giovanni Hidalgo, for example.
Brent Fischer — Grammy-winning bassist, producer, composer, arranger, clinician, director of the Clare Fischer Ensembles, TEC Awards presenter, NAMM educational panelist, artist endorser
Mark Towns: What brings you to NAMM?
Brent Fischer: Because my manager tells me to! Seriously though, it's the ultimate way to keep in touch with music industry pros from around the world.
Towns: What do you like best about NAMM?
Fischer:  It's like the proverbial box of chocolate: you never know what you're going to get. You can plan out your schedule, but so many interesting things will happen along the way that you'll constantly have to reinvent your day. You never know what will happen until you are actually there. It's kind of like going to the zoo and a theme park all at the same time.
Towns: Anything you dislike about NAMM?
Fischer:  I wouldn't mind if it were a week long with less activities per day to allow for down time (of course, I can imagine there are some exhibitors who wish the exact opposite). It would also be nice if hotels didn't get "conventionitis" and raise rates so much.
Towns: What is your most memorable NAMM experience?
Fischer: Giving concerts for a sea of musicians from every corner of the globe. It's like reverse touring: Instead of us traveling the world, the world comes to see us.
Eddie Resto — bassist, artist endorser
Mark Towns: What brings you to NAMM?
Eddie Resto: As a professional musician/educator, I feel it's a vital part of my profession to be connected with musicians and the musical instrument manufacturing industry.
Towns: What do you like best about NAMM?
Resto: Being able to shake hands with the people who support me by providing excellence in the area of instrument and accessories manufacturing that are essential to achieve my musical endeavors.
Towns: Anything you dislike about NAMM?
Resto: Honesty, I can't find a thing I dislike about the NAMM experience. If you have a problem with huge crowds of excited people from all over the globe that have this huge grand thing in common, to make great music and to manufacture excellent instruments and products — if this is the thing that makes you steer clear of the NAMM show, then do not attend. This is the only thing that bonds us all together as a species, music! This is special, especially after these tumultuous years we have experienced across the globe.
Towns: What is your most memorable NAMM experience?
Resto: Being invited by Kenny Kirkland (RIP) and Jeff "Tain" Watts to perform as an Afro Latin Jazz trio, not aware the audience in attendance was around 2,000 people. The electricity that I experienced in that impromptu performance lives in me to this day.
Jamie Kime — guitarist, product demonstrator
Mark Towns: What brings you to NAMM?
Jamie Kime: Typically, I'm working at the show in some capacity. demoing for a company at their booth, etc. I'm a native of Southern California and have lived here all my life, so my first NAMM show was in 1983. The novelty of going and being there wore off many years ago. If I'm not working/getting paid to be there, I will more than likely not attend.
Towns: What do you like best about NAMM?
Kime: Seeing and reconnecting with friends and colleagues from around the world once a year, who make the trip into town for the convention, that I don't get to see on a regular basis.
Towns: Anything you dislike about NAMM?
Kime: It feels to me like the concept of a huge trade show like NAMM has become a somewhat obsolete one. I envision all of these music industry folks and retailers (the vast majority of whom live somewhere far away from here, where winters are very real!) paying their NAMM dues as a sort of "vacation fund" so every January they can escape the treacherous weather and come to Southern California where they can party and get crazy under the guise of working.
Also, for a show that is supposed to be closed to the public and open only to members of the trade, it seems that the majority of the people who attend the show and wander through the booths really have no business being there. It used to be easy to get surplus badges and credentials with fake names ("Stu Pidass", "Ben Dover", "Dick Gozinya", etc.) to give out to friends and guests that didn't otherwise have any company affiliations. IDs were never checked and security was extremely lax. 9/11 put an end to all that. Personally, I wasn't disappointed about that extra security byproduct, because I already felt the show was way too overcrowded with end-user types and browsers who took away precious time and resources from those working in the booths. "Finally, the people who are there to work, will be able to interface with actual buyers, reps, and dealers – without having to be crushed half to death by tourists and their girlfriends looking for photos ops!" I imagined. However, it seems like it's only gotten worse. As someone who works at a booth almost every year, I can honestly say that throughout the weekend, a good 90% of my interactions are with end users and time-wasters asking uninformed questions, or telling me that they have "this device", or "that pedal" and how much they love it (or hate it), but are we going to ever come out with "x, y, or z??" Then, they will want something for free — swag of any kind, a t-shirt, or even a guitar pick. A guitar pick! Anything! As long as it's free.
Those who are there in a legitimate capacity generally know the products and don't need to see them at the show (we have internet for that now). Nor do they need to hear them, because they can't. It's impossible to hear anything at NAMM.
Towns: What is your most memorable NAMM experience?
Kime:: Any fond NAMM memories I have are most definitely from many years ago, when I was a bit more starry-eyed. Attending the show had yet to become a drudgery-filled chore. It was an exciting opportunity to glimpse into a world that was, at that time, still full of glamour and mystique. One memory that stands out to me – this would have been sometime in the late 1980's(??) – was somehow getting tickets to a big jam event sponsored by Kramer Guitars (and perhaps another manufacturer or two). It was at the old Celebrity Theatre (a theatre in the round, that is now part of a church facility). The hosts and MCs for the event were Leslie West and Sam Kinison. I can't remember everyone who played but I do recall in addition to some major star power, it was a pretty good lineup of guitarists who had some traction at the time – and were Kramer artists. Paul Dean from Loverboy, Jon Butcher, Dweezil Zappa (who I would go on to work with many years later), and Eddie Van Halen! It was everything you would expect a NAMM show jam event to be in the 80's: drunken, loose, sloppy, unorganized, and debaucherous. But it didn't matter because Sam Kinison was in top form, Leslie West did "Mississippi Queen," and Eddie was there, a few feet away from me, playing "Wild Thing" (with Kinison on vocals) – when such things had meaning.
Ronald Bruner, Sr. – Jazz drummer, composer, artist endorser: Tama, Zildjian
Mark Towns: What brings you to NAMM?
Ronald Bruner: I love new gadgets and stuff as it relates to musicians.
Towns: What do you like best about NAMM?
Bruner:It's an annual gathering of friends and vendors that my wife and I, as well as my children (drummer Ronald Bruner, Jr., bassist Thundercat, keyboardist Jameel) have grown to appreciate over the years.
Towns: Anything you dislike about NAMM?
Bruner: I can't say there's really anything I dislike about it. I've gotten used to the crowds.
Towns: What is your most memorable NAMM experience?
Bruner: Getting cursed out by Jazz drummer Tony Williams around 1994, I think. He was autographing photos at the DW booth for fans that day. I handed him the photo, and he asked who to make it out to. As he did that, I said to him "Man, I really appreciate your work. Would you happen to know where I could get a copy of Lifetime Turn It Over?" He exploded and yelled at me as I stood there with my 11 year old son and said "Do I look like a ****ing record store to you?" which alerted everyone in the near vicinity at DW that somebody pissed off the artist, and they were staring at me. I grit my teeth, stared him in the eye, preparing to shove the picture in his face. After about 8 to 10 awkward seconds, he apologized, and we just walked away. And no, I didn't keep the picture.
Dave Askren – Jazz guitarist, artist endorser: Eastman Guitars & Woodwinds
Mark Towns: What brings you to NAMM?
Dave Askren: To play at Eastman.
Towns: What do you like best about NAMM?
Askren:It's a great time to see and catch up with friends/musicians from out of town, and also see new products.
Towns: Anything you dislike about NAMM?
Askren: Most of what goes on at NAMM is a "necessary evil." I mean, we musicians do need to realize that is IS the merchants' show! But although they have been working on this, the excessive noise IS still a problem. A lot of music is way too loud, so that you can barely hear music at a given booth more than a few feet away.
Towns: What is your most memorable NAMM experience?
Askren: A few years back, I was walking down a sparsely populated aisle. I saw a guy approaching me, by himself – who looked like… "Keith?" It was Keith Emerson, and nobody even recognized him any more! He was not the most famous person I've met at a NAMM, but weird that he was almost an unknown!
Aaron Serfaty — drummer, percussionist, artist endorser: Zildjian, Vic Firth, Remo, LP
Mark Towns: What brings you to NAMM?
Aaron Serfaty: It's always fun to see new instruments and colleagues I get to see once a year.
Towns: What do you like best about NAMM?
Serfaty: I enjoy the smaller manufacturers. They seem to have a level of passion for their instruments that seems to be missing from the larger, more corporate companies.
Towns: Anything you dislike about NAMM?
Serfaty: Some attendees seem to think that it's a showcase for their talent, and that the louder they play, the more attention they'll get from companies. The opposite is true, and they become sound pollution really quickly.
Towns: What is your most memorable NAMM experience?
Serfaty:: Striking a conversation with (legendary jazz drummer) Ed Thigpen while in line to buy ice cream.
Oscar Hernandez — Grammy-winning pianist, arranger, leader of Spanish Harlem Orchestra
Mark Towns: What brings you to NAMM?
Oscar Hernandez: I go to NAMM to see what's new in the music world as it pertains to gear and music equipment and any new technology that is featured that year.
Towns: What do you like best about NAMM?
Hernandez: It's like a huge candy store for musicians. Other than the crowds and traffic, what's not to like? I get to meet new people in our business, and I also get to see people I have not seen and would not see other than for NAMM.
Towns: Anything you dislike about NAMM?
Hernandez: The amount of people you have to deal with, and the traffic.
Towns: What is your most memorable NAMM experience?
Hernandez: I don't have particular one — they're all pretty similar.
Jason Miles — keyboardist, composer, producer
Mark Towns: What brings you to NAMM?
JM: It's really very simple. You want to go and check out the new gear happening. In my case, it would be synthesizers, keyboards, software, and recording equipment. And then the other side is to go and see old friends that I've known for many years and catch up. You never know who you going to bump into, and in my case, that's why I need a couple of days to absorb the show. I have long relationships with many people, and it's good to catch up and tell them what you been up to.
Mark Towns: What do you like best about NAMM?
JM: First coming from the East Coast, you're hoping that you're going to catch a few days of nice weather in southern California in January. There's nothing I like more than taking a lunch break and going to one of the food trucks and hanging out in front of the convention center on a nice sunny day. You're going to get a chance to see new equipment and talk to people who are responsible for it so you can really get the lowdown on it. You also get a chance to do hands-on with various things you may be looking at but haven't had a chance to really check out. And I will come back to seeing old friends, meeting new ones, and for a short period of time being in the middle of all the chaos that is NAMM.
Mark Towns: Anything you dislike about NAMM?
JM: I would say it is what it is when you walk into that place. But when I leave my house at 5 AM in the morning to go to the airport to get on the plane to go to California, and then rent a car and drive, and all the other stuff that you go through, it is trying and sometimes frustrating, and you ask yourself, "Why exactly am I coming to this lunacy that is NAMM?" I also have a distaste for phonies, and there are a lot of them there. It comes with the territory and the business. Otherwise, on a pure basis, no complaints.
Mark Towns: What is your most memorable NAMM experience?
JM: Well there are different ones. From just a short while ago, having a great sushi dinner with the guys from Sennheiser at one of my favorite restaurants out there was memorable. The time I hadn't seen a friend for many years, and we wanted to go out to dinner, and the restaurants all had two hour waits. I remembered an episode of Curb Your Enthusiasm where Larry David couldn't get into a restaurant, and ended up giving the hostess a $20, and got a table. I went over to the hostess and said "I know you can get something done," and slipped her a $20. She got three guys to set up a table with a heater And, bam, we were eating dinner and conversing within 10 minutes. I would also say that when I met Dominec Milano from Keyboard magazine at NAMM in 1987 — he said that the magazine wanted to cover me, and they would be in touch, and that was the first time I got in Keyboard magazine with a nice article.
Angelo Metz — Brazilian/Jazz guitarist, vocalist, artist endorser: Gamechanger Audio
Mark Towns: What brings you to NAMM?
Angelo Metz: Mostly for the work and the people.
Towns: What do you like best about NAMM?
Metz: It's a fun gig and you get to see friends from out of town and lots of big-shot musicians. I also like to check out new gear.
Towns: Anything you dislike about NAMM?
Metz: The noise level is high, then the noise police is annoying, and the gigantic size of it. Too many booths with cheap Chinese stuff. The food is bad and expensive.
Towns: What is your most memorable NAMM experience?
Metz: Meeting and greeting with George Benson and Ted Greene.
Jesus Florido — violinist, composer, artist endorser: Yamaha, D'Addario, Your Heaven Audio, Wood Violins, Airturn, Ultimate Ears, Positive Grid, Xotic Effects
Mark Towns: What brings you to NAMM?
Jesus Florido: I attend NAMM mostly to support my endorsers, network, and thank them for the support they give me year round. It is also a yearly family reunion too, because of all of my fellow artists that attend. We get to hang out and plan gigs and network. NAMM is a "going to Mecca" of sorts.
Towns: What do you like best about NAMM?
Florido: My favorite thing is that I can get business done easily since everybody is there. I can plan meetings and get together with most people I need to see to do business with. And also to see my friends that I would not see normally unless we coincide on the road.
Towns: Anything you dislike about NAMM?
Florido: Well, in the late 90s and early 00s, it was too much of a zoo — too many people that didn't need to be there. But now it's more controlled — still a zoo, but well worth it.
Towns: What is your most memorable NAMM experience?
Florido: I have a lot of these through the years, but one that stands out is the first time I met Jim Marshall and he remembered that custom Marshall amp that they built for me. He said "Yes, you're the fiddle player that plays on one of my full stacks. You're a badass!"
Munyungo Jackson — percussionist, composer, artist endorser: LP, Remo, Paiste, Vic Firth
Mark Towns: What brings you to NAMM?
Munyungo Jackson: I go to NAMM to first of all to give love and respect to the great companies I endorse. And of course, to hang out with the crews who run these companies, develop the new gear, and tell new jokes!
Towns: What do you like best about NAMM?
Jackson:  To check out some new instruments from some of the other companies. Latin Percussion is ahead of the game, and they let us know what new instruments are going to the stores before we even think about NAMM for the next year. But the other thing is to hang out and run into fellow musicians from all over the world who've taken their time to make it to this great musical event.
Towns: Anything you dislike about NAMM?
Jackson:  The parking is ridiculously expensive.
Towns: What is your most memorable NAMM experience?
Jackson:  We did a 2-night Zoom tribute that Nate Watts (Stevie Wonder's bass player MD) emceed. One night was with Sly Stone, the other with El DeBarge, over 5 years ago. It was crazy fun.
Winston Byrd — Jazz trumpeter, artist endorser, Cannonball Trumpets
Mark Towns: What brings you to NAMM?
Winston Byrd: To represent the company I work with, Cannonball Trumpets.
Towns: What do you like best about NAMM?
Byrd: The atmosphere. It's a fun gathering!
Towns: Anything you dislike about NAMM?
Byrd: Not really anything. It's always been a good time!
Towns: What is your most memorable NAMM experience?
Byrd: Every year is memorable in one way or another.
Great music is out there. Seek and ye shall find
And the Ritmo Caliente goes on….
Mark Towns is an LA Jazz Scene staff writer and columnist. You can contact him at
http://marktowns.com/writer
By Mark Towns


Ok, your possum is not dead. Neither is Jazz, nor is Latin Jazz, although it may seem at times that they're playing possum. The above is an example of an "embellished non-story" – a frivolous, gossipy, silly attempt at attention-grabbing. To stir up more interest, maybe what Jazz needs is to jump on the sensationalist headline bandwagon. Jazz celebrity gossip anyone? Latin Jazz clickbait? It works for the rest of the entertainment industry. If you can't beat 'em, join 'em?
Here are some sample story headlines sure to attract attention from Jazz fans and non-fans alike:
The Shocking Truth About Jazz Musicians
Someone Gave Some Kids Some Sun Ra Records – You Won't Believe What Happened Next
12 Things Latin Jazz Musicians Don't Want You to Know – Number 10 Will Astonish You
Herbie Hancock's Skin Care Secrets Finally Revealed
How a Single Bass Solo May Have Gotten An Entire Venue Shut Down
Why Everyone is Secretly Afraid of Jazz
16 Unethical Jazz Hacks You Won't Learn In School – Number 14 Will Blow Your Mind!
9 Things No One Knew About Eddie Palmieri – Number 7 Will Astound You
Eyes Wide Shut: Here's Why You DON'T Want To Know What Goes Into Creating Those Jazz Solos
14 Reasons Pop Stars Hate Jazz – Number 9 Will Shock You
Pat Metheny Terrified As Daughter Begins Dating Man Raised On His Music
Jazz Star Ends Song on a Major Triad – No One Expected What Happened Next
5 Ways Smooth Jazz Artists Use Reverb to Trick You Into Liking a Song
What Latin Jazz Can Teach Us About Toenail Fungus
Wayne Shorter Throws Shade at Kenny G Over Million Dollar Insurance Policy on His Hair
His Band Crossed the Clave – You Won't Believe What This Latin Jazz Band Leader Did Next
21 Reasons to Hate Jazz – Number 19 Will Petrify You
.
Here are some recommended upcoming highlights:
Sunset Concerts at the Skirball – free World Music shows Thursdays at 8:00 p.m. Featuring Peter Mawanga (August 2); The Marías (August 9); Ranky Tanky (August 16); Kishi Bashi (August 23); and Gili Yalo (August 30).
LACMA Latin Sounds Series – free Latin Jazz & World Music shows Saturdays 5:00 p.m. – 7:00 p.m. Featuring Fischer Latin Jazz Quintet: A West Coast Jazz Salute to Clare Fischer and Cal Tjader (August 4); Mongorama (August 11); La Victoria & Farofa (August 18); Los Jaraneros (August 25); and Ricardo Lemvo & Makina Loca (September 1).
Subaru Summer Jazz Nights at Hollywood & Highland Center Central Courtyard, featuring Poncho Sanchez Latin Jazz Band (Tuesday, August 7, 7:00 p.m. – 9:00 p.m.), followed by a Latin Jazz all-star jam at Cabo Wabo Cantina (level 4 at Hollywood & Highland Center, 9:30 p.m. – Midnight) featuring Mark Towns Latin Jazz Band with Oscar Hernandez, Tiki Pasillas, Ross Schodek, Diana Purim, and special guest artists.
Upstairs at Vitello's features Brazilian Jazz by Teka & Newbossa Trio on Wednesday, August 8.
Blue Whale features Latin Jazz by Andy Sanesi & Blanco Diablo y Los Gringos Con Clave on Sunday, August 5.
Baked Potato features great Jazz Fusion almost every night, including notable upcoming shows by Brian Auger's Oblivion Express (Friday, August 10 and Saturday August 11); Frank Gambale (Friday, August 17 and Saturday, August 18); and Jeff Lorber Fusion (Thursday, August 23 and Friday, August 24).
Catalina Jazz Club features Latin Jazz pianist Daniel Amat (Sunday, August 5); Super Jazz featuring Dr. Bobby Rodriguez, Munyungo Jackson, Alex Acuna, Abe Laboriel, Russell Ferrante, and Rickey Woodard (Wednesday, August 15); and Flamenco Fusion guitar masters Strunz & Farah (Friday, August 17 and Saturday, August 18).
The Long Beach Jazz Festival takes place Friday through Sunday August 10-12, with a stellar lineup including Jonathan Butler (Friday, August 10), Marcus Miller and Poncho Sanchez (Saturday, August 11), and Stanley Clarke, Randy Crawford, and Kirk Whalum (Sunday, August 12).
The Jazz Bakery presents Cuban saxophonist Yosvany Terry and The Afro-Cuban Jazz Quintet at the Moss Theater on Saturday­ August­ 4, with a hot band featuring Yunior Terry (bass), Manuel Valera (piano), Michael Rodriguez (trumpet), and Obed Calvaire (drums)
Great music is out there. Seek and ye shall find
And the Ritmo Caliente goes on….
Mark Towns is an LA Jazz Scene staff writer and columnist. You can contact him at
http://marktowns.com/writer
By Mark Towns
Eyedentity is the musical collaboration of wife-and-husband team Diana Purim and Krishna Booker. Diana is the daughter of Brazilian Jazz legends, singer Flora Purim and percussionist/drummer Airto Moreira. Singing in both Portuguese and English, Diana sounds very much like her famous mom, especially when singing Brazilian-style wordless vocal improvisations, first popularized by Flora in the 70's. Booker, who raps in English and is a master Brazilian percussionist, is the son of Jazz bassist Walter Booker, and is also Herbie Hancock's godson and Wayne Shorter's nephew.
Launched
in 1997, Eyedentity's music incorporates elements of Hip-Hop, Trip-Hop, Acid Jazz, Funk, R&B, Afro-Brazilian, and Latin Jazz, taking the listener on an eclectic journey from the Brazilian favelas to outer space, to points in between. Featuring an exciting band of phenomenal musicians, Eyedentity's fusion of styles from around the globe takes Brazilian Jazz and the sounds of their famous progenitors to a new level.
Eyedentity's musical journey continues with the May, 2018 release of their new album, Many Bodies, One Mind, featuring Diana and Krishna at the top of their game, and includes a star-studded cast of friends and family, with Herbie Hancock, George Duke, Airto Moreira, Justo Almario, and Carlinhos Pandeiro De Ouro making guest appearances.
I spoke recently with Diana and Krishna about their new album, their musical upbringing, Latin Jazz, and more.
Mark Towns: How did you learn to play music?
Diana: I first learned to sing watching and listening to my parents on tour and in the studio. I later learned to sing and play by ear, imitating the artists I loved and studying every nuance and inflection of every melody and accent–putting my hands on the piano and hammering out what I was hearing in my head. I had a natural propensity for harmony, so I was able to recreate the things I was hearing with relative ease, but It takes a lot more practice to coordinate the simultaneous playing and singing.
Krishna: I learned how to play music mostly by ear, although I did study music in middle and high school (trumpet, drums). I was always fortunate enough to grow up around the very best of Jazz, Brazilian, and Fusion musicians, being privy to jam sessions and shows. Also fascinated with Hip Hop culture, I began to beatbox for fun after being exposed to the likes of Doug E Fresh and the Fat Boys. Getting my hands on the latest drum machine and recording technology became an obsession. Herbie Hancock would hand down his equipment to me when he had to make room for the latest prototype of the latest "thing." My uncle, Wayne Shorter, would also hand down and even buy brand new equipment for me which helped hone my knowledge and skills of composing and producing music immensely.
LA Jazz Scene: What musical situations have you been involved in that stand out in your mind as being the most memorable or satisfying?
Diana: Any time I am on stage with Airto and Flora is amazing. I particularly love the big festival gigs with lots of people. Last December in Brazil when we were touring for the release of Airto's latest album, Aluê, My mother was in the audience watching and listening to me sing a McCoy Tyner song called "Search For Peace," which she recorded on my favorite album of hers called Stories To Tell back in the mid 1970's. There are so many other memorable musical situations… I love the projects I did with Brian "B+" Cross and Miguel Atwood Ferguson. Those were two shows from the "Timeless" music series, one with Brazilian composer and arranger, Arthur Verocai and another called "Suite For Ma Dukes," which was a tribute to the life works of J Dilla and the original music he sampled from. It was the first time I had the privilege of singing with an orchestra. Most recently, we had the honor of being invited to share the stage a few times with some of my favorite people, Preservation Hall Jazz Band. We played with them a couple of times for Mardi Gras and also at SFJazz where Preservation Hall Foundation was being honored for their outstanding achievements in music and in the NOLA community. Its a rare and amazing thing when music and the people you are creating it with make you feel so euphoric and wonderful–where the sound you create together moves everyone within earshot to ecstatic joy.
Krishna: Performing with Sergio Mendes at the Hollywood Bowl alongside the likes of Q-Tip, John Legend, India Arie, Herb Alpert and Loni Hall was a thrill for sure (2006). Performing at the Preservation Hall with The Preservation Hall Jazz Band in New Orleans was an honor(2017). Performing with Diana in Sao Paulo, Brazil with our own band (Eyedentity) with Wah Wah Watson as our special guest was an accomplishment I was very proud of(2013). Performing with Flora Purim and Airto at Ronnie Scott's in London will be one of my all time greatest accomplishments as well (2003-2005).
LA Jazz Scene:How do you define Latin Jazz?
Diana: To me, Latin Jazz is the "Jazzification" of "Latin" music or the "Latinification" of Jazz. In my mind, its the traditional music of Latin based, Spanish speaking countries interpreted with complex Jazz voicing and instrumentation, and can also be the other way around, where traditional Jazz is interpreted with a Latin feel, rhythm, percussion, and instrumentation. I'm not exactly sure if Brazilian music is considered to be under the "Latin Music" umbrella. For some reason, I feel like Brazil has created its own unique vibe which sets it apart from other Latin-style music. When people hear Brazilian music, they don't think "Hey, that's Latin music," they just call it Brazilian music.
LA Jazz Scene: How do you balance tradition with innovation in your performances?
Diana: We like to use electronic elements both in our recorded music and our live playing. However, we prefer to create an organic musical foundation with live instruments being played by actual musicians. Then, we use the electronic elements as an accent to accompany and enhance the live band. Even the electronic elements are almost always hand triggered by a human, like playing percussion instead of being run on a sequence all the way through the song where the live musicians are being held prisoner by the backing tracks. Also, when we are composing, we like to marry traditionally-themed music with a contemporary and even slightly urban and youthful perspective, often using more complex Jazz and ethnic/folkloric style changes under modern style melodies and poetry.
Krishna: To me it's really all about the music sounding and feeling good! If it doesn't sound or feel good, then you haven't properly balanced the two–it's that simple. Once you've reached the phase of it sounding and feeling good, you've achieved the balance you're looking for. This balance is a very individually-gauged process. I truly believe that if you base it on anything else, you'll be torturing yourself unnecessarily, because when it comes to that, there really is no right or wrong.
LA Jazz Scene: Is there a particular artist, genre, or composer who inspires you to create new music, or to take your own playing to another level?
Diana: This is a tough question, because so many different genres and amazing artists influence and inspire me at different times in my life for different reasons. Aside from my family, there are several who deserve honorable mention, but for the sake of answering the question, I will go with Bjork. She is fearless and unique, and has utmost respect for the music, its origins and its possibilities.
Krishna: Also tough one for me–so many! But if I had to choose, I would have to say Bob Marley. I love the music he made and the reasons he made it. I've always loved his ability to have everybody singing along with him to very politically-driven songs, but having the listener feel likes it's a party even though the very clear message was delivered. Great respect for that ability.
LA Jazz Scene: Do Jazz artists have a responsibility to entertain, or should the music speak for itself?
Diana: Each situation calls for a different position on this question. When it comes down to it, we are entertainers and, by nature, our craft does just that. However, the way each individual is or isn't entertained is subjective. What turns me on may not turn you on in the same way or at all. And then there are those moments when musicians are playing together without an audience or for a very small crowd when they are playing for themselves and for each other. The music speaks for itself and that in itself is entertaining to some. Ultimately, to me, both aspects are equally important.
Krishna: There's no choice but to seek balance on this subject. Being the best entertainer doesn't necessarily make you the best musician, and being the best musician doesn't necessarily make you the best entertainer. Ultimately, in order to endure, you'll need to embrace both responsibilities. How much of each you'll embrace will shape all of this.
LA Jazz Scene:Do you think there is an inverse relationship between musical complexity and music popularity?
Diana: In general, I do believe that there is an inverse relationship between musical complexity and music popularity, but it isn't the rule. I think it depends on the culture of the people listening and also on other things. There are elements in more complex music that a trained listener will be able to identify and appreciate on a deeper level, such as odd time signatures, chromatic and lydian melodies, unusual harmonic voicing, but less experienced listeners can also just listen and enjoy what they are hearing without dissecting the music. Music reflects life. People listen to music for different reasons–to console themselves, to put out pent-up energy, anger and emotion, to celebrate, to motivate and inspire moods. These are basic human elements that everyone feels, and the music that accompanies and stimulates these elements will always be more popular with the masses.
LA Jazz Scene: What would it take to increase the audience for Latin Jazz?
Diana: It's hard to know for sure, but maybe the answer lies with the new generation of players being brought up on the scene today. I sometimes feel like the "old school" mentality can be a bit exclusive, and a lot of the keepers of the knowledge and traditions are purists and somewhat closed minded in regard to the evolution of the art form. In Jazz, we have people like Kamasi Washington, Trombone Shorty, Jacob Collier, and Esperanza Spalding who are working hard to bridge the generation gap with honor and respect for the origins of the music, creating interest and inspiring people who had never been exposed to Jazz before. They make Jazz accessible and welcoming to a wider demographic of people. Maybe if Latin Jazz follows suit and reaches out more with an open mind and a greater willingness to collaborate, it can attract a new and wider audience.
Krishna: As with all music and movements, its a combination of the right promotion, outreach, willingness to adapt, and definitely LUCK!
LA Jazz Scene: What advice would you give someone just starting out in music?
Diana: Hang out with the old guys, learn how to read and write music, learn the social and political history behind the music and your favorite artists and pay specific attention to the stories they tell with their music. Find a common emotional thread between your story and theirs to help you play the music with more passion and authenticity. Learn the language, immerse yourself, find a connection, then practice and listen a lot and enjoy the process.
LA Jazz Scene: What label is your new album on?
Krishna: It's a self-release. Our label is Eyedentitymusic.
LA Jazz Scene: Who plays on it?
Krishna: Legends like Herbie Hancock, the late George Duke, Airto Moreira, Justo Almario, Miguel Atwood Ferguson, Carlinhos Pandeiro De Ouro, Pete Lockett, and many more talented musicians and singers.
LA Jazz Scene: How does this release compare with your previous releases?
Krishna: This release is the first one to ever capture attention outside of our camp since being signed and releasing our first CD in 2000. We have an effective manager and publicist making things work a lot differently than they have before.
LA Jazz Scene: Where was it recorded:
Krishna: Most of it was recorded in our garage in Studio City. Most of the vocals were recorded at EMP Studio in Valley Village. "Tombo In 7/4" was recorded at CA Studio in Oakland. Justo Almario was recorded at Dennis Moody Studios in LA. Some bass and other things were recorded at De Santanna Studios in North Hollywood.
LA Jazz Scene: How many songs did you record before choosing the ones that ended up on the album?
Krishna: We recorded a few new songs before realizing we had some previously unreleased music that couldn't go unheard. We revamped the style of those tracks to fit this release. We also found a gem of a track that George Duke played on, making this release even more important and special than we could've ever imagined.
LA Jazz Scene: How will it be distributed?
Krishna: Through Tunecore, it will be on iTunes, Spotify, Amazon, etc. Links will be available on our website ( www.eyedentitymusic.com) once the album is released on 5/18/18. The first single is already available.
LA Jazz Scene: Are you planning to do any touring with the group who played on the album?
Krishna: We so wish we had a budget to support that. The problem is, there are so many great musicians who played that there wouldn't be enough space on the bus. We are assembling bands in the cities we plan to tour in. For instance, June 7th in San Francisco at The SF Jazz Center during the 36th SF Jazz Festival, we have Gary Brown on bass, Celso Alberti on drums, and Frank Martin on keyboards–all residents of the Bay Area. In LA, it will be a different band, and so on.
LA Jazz Scene: Is there an album release event?
Krishna: Yes! Saturday May 19th, 2018 at The Virgil in Los Angeles at 8:00 p.m.–our official release party!
Great music is out there. Seek and ye shall find
And the Ritmo Caliente goes on….
Mark Towns is an LA Jazz Scene staff writer and columnist. You can contact him at
http://marktowns.com/writer