By Chris J. Walker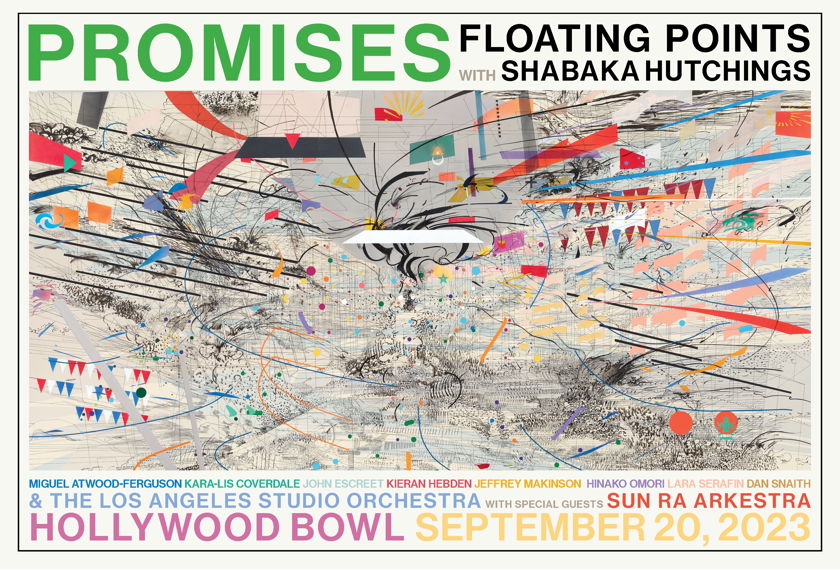 Saxophone legend Pharoah Sanders , who sadly passed away in 2022, last recorded endeavor was Promises featuring Floating Points/Sam Shepherd with saxophonist Shabaka Hutchings. The project, a slowly unfolding mediative, atmospheric and lightly psychedelic suite, was performed in its entirety at the Hollywood Bowl with Hutchings, the Floating Points band, and the Los Angeles Studio Orchestra.
London-based Floating Points consisted of Shepherd-keyboards/electronics, Hutchings-saxophone, Kieran Hebden-electronics, Dan Snaith-drums, Kara-Lis Coverdale-organ/keyboards, Hinako Omori-keyboards/vocals, Jeffrey Makinson-keyboards, John Escreet-piano, Lara Serafin-violin/keyboards.
With the saxophonist resembling Sanders' unmistakable powerful tonality leading, the group and orchestra added layers over a repetitive keyboard backdrop for hypnotic and radiant motifs and harmonies for nine somewhat seamless movements.
The overall sound, which drew a very enthusiastic standing ovation was reminiscent of pioneering groups British prog-rock band Soft Machine, and San Francisco-based Beaver & Krause.Their early 1970's recording Gandharva was especially noteworthy and similar to Floating Points. Sections of it were recorded at Grace Cathedral with jazz notables, saxophonists Gerry Mulligan and Bud Shank, along with blues and rock guitarists Mike Bloomfield and Ronnie Montrose.
The Sun Ra Arkestra donning outer space related clothing, who Hutchings has also a member of formerly opened. Led by 99-year-old saxophonist Marshall Allen, since 1995, two years after Sun Ra died in 1995, the ensemble got the crowd's attention with organic big band swinging Afro-futurist music first conceived in the 1950s. Their standout tunes were "We're Living in The Space Age," "The Cosmos" and "Space is The Place." For more info go to: floatingpoints.co.uk, www.sunraarkestra.com and www.hollywoodbowl.com
The Jazz Bakery presented pianist/composer Gerald Clayton and flautist/vocalist/composer Elena Pinderhughes at the Coburn School's Zipper Hall. Although, the artists have much commonality through being connected to many of the same high caliber musicians in the jazz and related music community mainly through The Manhattan School of Music, the concert was their first collaboration.
Classical oriented "Love You" was their first selection and enchantingly melded the musicians' remarkable artistry. Pinderhughes shined brilliantly on a similarly sounding number having more of a jazz/bossa emphasis. While, Fado flavored "Damunt de tu Només les Flors" from Clayton's latest project Bells on Sand was captivating and drew strong audience response.
Also, in the vein of classical was the duo's new selection "Just Love."
Pinderhughes, whose vocal skills have been featured in her own music and most notably during Herbie Hancock's concerts was featured for the soaring ballad "Milk And Honey." It was written and recorded by her older brother, pianist/activist/songwriter Samora Pinderhughes.
In the jazz tradition and acknowledging the Jazz Bakery's Ruth Price's unrelenting and visionary efforts to present great jazz in LA was a breezy rendition of "All The Things You Are." Clayton and Pinderhughes finished the enjoyable concert with a cool vamp on Thelonious Monk's famous quote "You got to dig it, to dig it, you dig" with the audience singing and clapping along. At the beginning of the concert the pianist played solely standard "Find Someone You Love," and originals "The Deep Dry Ocean" and lengthy Piedmont blues styled "Mama Said." For more info go to: geraldclayton.com, www.thisiselena.org and www.jazzbakery.org
The 2023 Monterey Jazz Festival, number 66, marked both the end and beginning of eras for the world's longest continuous-running jazz festival. Tim Jackson, who cofounded neighboring Santa Cruz's Kuumbwa Jazz Club in 1977, was the festival's Artistic Director from 1993 to the end of this year when he will retire and then serve as a MJF consultant.
The Santa Cruz resident didn't scrap the festival's modus operandi when succeeding Jimmy Lyons, the original Artistic Director. Jackson instead, revived and brought it into the 21st century, with much needed modifications and additions. Jackson's many achievements include:
Expanding the educational aspects of the festival.
Bringing back the Artist-In-Residence program.
Reenergizing the Commission Artist program.
Establishing the Monterey Jazz Festival On-Tour All-Stars for the festival's 50th anniversary in 2007 with new ensembles, mixing seasoned and emerging artists every couple of years.
Increasing the percentage of female instrumentalists performing, in reaction to the #MeToo Movement.
Originating innovative, historic and culturally rich programs for the Jimmy Lyons Stage.
Surviving and adapting to the constraints of COVID-19, and shifting to almost all outdoor venues, except for the Pacific Jazz Café.
Average MJF #66 concertgoers probably weren't too cognizant of Jackson's many achievements. However, they did know he was the nucleus behind programming choices, did the main stage announcing and published his Top Ten set/artist choices in the Festival Souvenir Program. Much like his programming it contained a mixture of established musicians, such as Terence Blanchard, Charles Lloyd and John Scofield, along with red-hot emerging ones, like Louis Cato, Elena Pinderhughes & Lionel Loueke, and Cisco Swank for 2023.
In full swing, the longstanding festival abounded with extraordinary performances. The first night's roster included more than enough artists to fill a single-stage, three-day festival. Trumpeter Terence Blanchard, now also Executive Artistic Director at SFJAZZpresented See Me As I Am: A Retrospective with musical allies the Turtle Island Quartet and included special guests Lakecia Benjamin, the 2023 MJF Artist-in-Residence, Benny Green, Lionel Loueke, Christian McBride, Dianne Reeves, Kendrick Scott and Ben Wendel. It was an exhilarating and astounding set that spanned Blanchard's amazing career.
Blanchard and Loueke were barely able to catch their breaths and played the next segment with NEA Jazz Master Herbie Hancock's multi-genre and generational quintet also consisting of James Genus-bass and Jaylen Petinaud-drums. The set opened with the trumpeter's arrangement of recently passed away Wayne Shorter's (Hancock's best friend) "Foot Prints," and also included funk/fusion tune "Actual Proof," the bandleader's vocorder-laden "Come Running to Me," world-music oriented singing from Loueke and Hancock's Headhunters' immensely popular funk-groove "Chameleon."
Other opening night standout groups were keyboardist Taylor Eigsti's hard-hitting post-bop/contemporary group, the pulsating Latin Jazz Collective with percussionist John Nava, keyboardist Kate Dunton's funk/fusion band, and vocalist Gretchen Parlato & guitarist/vocalist Loueke's soothing selections (played before Hancock's set). The Trio: Gerald Clayton-piano, John Clayton-bass & Jeff Hamilton-drums excelled with standards and some original tunes, and bassist/vocalist Katie Thiroux's Trio was also a standout.
Scary (Larry) Goldings featured Showcase Artist, guitarist John Scofield jamming away with rock-tinged dynamics, and pianist Benny Green solely showcased his easy-flowing mastery. Additionally, violinist/vocalist Lucia Micarelli who was a member of the HBO's Treme series cast, performed classical and world music selections with guitarist Leo Amuedo and Danilo Amuedo-percussion. Rounding things out was Monterey native bassist Zach Westfall's Quartet who played an enjoyable mix of mainstream and contemporary jazz tunes.
Continuing into full-day schedules for the remainder of MJF#66 Thiroux showcased and directed the MJF Women in Jazz Combo sextet featuring Benjamin's scintillating alto saxophone playing. Loueke returned with flautist/vocalist Elena Pinderhughes and rhythm players that included her brother Samora on keyboards for both riveting and easy flowing numbers with bossa and R&B tangents. Trumper Sarah Wilson's Brass Tonic sextet showcased original well-crafted compositions that were intriguing and coolly swung. San Francisco Bay area guitarist Ray Obiedo's Latin Jazz Project with steel pan player Phil Hawkins enthralled the audience with pulsating, vibrant and funky jams propelled by the bandleader and his players' stirring solos.
Scofield & Yankee Go Home leaned more to rock than jazz with sometimes jagged covers of pop tunes from the '60s and '70s with the audience amusingly trying to name them. The guitarist, who also played solely on a different stage and night, included Dylan and the Byrds' "Hey Mr. Tambourine Man," Jimmy Webb/Glen Campbell's "Wichita Lineman" and Hall & Oates "I Can't Go For That." Somewhat related, guitarist/vocalist Chris Cain's Band played blazing unapologetic and raw blues standards and originals that had the audience reeling.
Renowned bassist and bandleader Christian McBride's New Jawn featured veteran cohorts Joshua Evans-trumpet, Marcus Strickland-tenor saxophone/bass clarinet, and Nasheet Waits-drums. The group showcased interesting pieces such as, bass clarinet-driven "Moon Child," and comical Monk-like "Walking Funny." Getting much further out there was Donny McCaslin on tenor, Jason Linder-keyboards, Tim Lefebvre-bass and Nate Wood-drums doing a mix of techno, high-energy and beyond grooves from their new CD I Want More.
Generating almost as much dynamics, but without electronics, was fast-rising keyboardist James Francies' Trio with Luca Alemanno-bass and Jeremy Dutton-drums playing sweeping originals compositions with sometimes funky back beats. Sullivan Fortner, a masterful piano player, best known for his work with trail-blazing vocalist Cécile McLorin Salvant, showcased his own Broadway, stride, vintage blues, classical and jazz mix with Tyrone Allen-bass and Kayvon Gordon-drums.
Benjamin, one of the heirs to the "jazz crown" held court with her Phoenix Band, made up of Zaccai Curtis-keyboards, Ivan Taylor-bass and E.J. Strickland-drums. They captivated the crowd with scorching renditions of "My Favorite Things" that received a standing ovation, Patrice Rushen's "Jubilation" and Coltrane's "A Love Supreme" that was thrilling.
Saxophonist Azar Lawrence whose sound falls between Coltrane and Pharoah Sanders, and has worked with luminaries such as Miles Davis, McCoy Tyner, Elvin Jones, Woody Shaw and Freddy Hubbard in the '70s, kept the energy going with his Experience sextet. It included vocalist Lynne Fiddmont and roared with Tyner's Atlantis, Kamasi Washington-like "All in Love" from recent album New Sky and some hot funk grooves.
NEA Jazz Master and multi-Grammy winner drummer Terri Lyne Carrington & New Standards all women group served up highly stimulating 21st century original compositions by her, Mary Halvorson-guitar, Kris Davis-piano, Linda May Han Oh-bass, with dancer Christiana Hunt beautifully moving to them. The audience's attention was piqued even more by several guest appearances.
They were Samara Joy rejoicefully singing the bandleader's lyrics to Carla Bley's "Two Hearts," a reciting of the Carrington's poem "Black Beauty" with Dianne Reeves lushly scatting afterwards, and funk grooving, soon to be released "Mercy" with Reeves and Benjamin on sax.
Another NEA Jazz Master reedist Charles Lloyd, an important part of the MJF legacy with his live and top-selling recording of Forest Flower taking place there in 1966, maintained his iconic stature. Supported by Gerald Clayton-piano, Reuben Rogers-bass and Kendrick Scott-drums, the legend injected both neo-bop and mystical auras into the festival, with crowd-pleasing "Forest Flower" included. Additionally, Tim Jackson was presented the Downbeat Lifetime Achievement Award during the set.
Although, pianist/composer/arranger Billy Childs isn't a NEA Jazz Master yet, he's achieved just about everything else, such as a multiple Grammys and nominations, a Guggenheim Fellowship and the Doris Duke Performing Arts Award. Joined by trumpeter Sean Jones, Dan Chmielinski-bass and Christian Euman-drums, he blazed away with both hard-hitting and pastoral originals. Saxophonist Lew Tabackin also bound to be a NEA Jazz Master had a similar structure, teaming up with meteoric trumpeter Jeremy Pelt for savory straight-ahead original piece "B-Flat is Where's It's At" and playing flute for breezy "Desert Lady" based on a novel by Japanese author Obe Kobayashi.
Equally fascinating was trumpeter/composer/arranger Ambrose Akinmusire's Commission Isakoso Ara featuring Malian singer Oumou Sangaré and a large assembly of co-conspirators. Although, the work was far from being jazz oriented, it was probably the most original commission and overflowed with dense African rhythms and choruses that had many of the attendees dancing along.
Also, world music oriented was SF Bay Area's Sandy Cressman on flute and vocals with historical footnotes presenting Cantos Do Povo: The Music of Milton Nascimento. With a vibrant band, the set covering some of Nascimento's best-known songs was very much a mesmerizing family affair with her husband Jeff and vocalist daughter Natalie on trombones, along with other daughter Julianna being one of the dancers.
The jazz "superstars" delivered big time and lived up to expectations to thoroughly delight the audiences. NEA Jazz Master Reeves soared to the high heavens with her sensational mix of Afro-Cuban, Brazilian and on-the-spot lyric improvisation that included a stirring version of Shorter's "Footprints." Samara Joy this year's two-time Grammy Winner and recently nominated for 2024, charmed everyone with her personality and fantastic standards renditions. Multi-Grammy-winning in several categories, Snarky Puppy represented their alma matter University of North Texas and Bernard Wright's (fixture on the Dallas music scene) influences. Their varied styles and spirited originals showcased many of the band members and strongly appealed to the younger concert attendees.
Even more oriented to them was Jerry Lee Lewis-like pianist/singer Jamie Cullum, who jumped around stage and on the piano, while doing standards and originals incorporating highly popular melody lines and rhythms of pop and rock hits. Thundercat a bassist and vocalist with a high-energy melding of funk, rock and fusion, perfect for Coachella where he has performed before, rocked the crowd with an extensive set that went beyond its allotted time.
On the other hand, the Next Generation Jazz Orchestra Directed by Gerald Clayton, showcased super-hot younger players with Benjamin, and saxophonist John Handy, who also recorded a celebrated live album in 1965 sitting in for memorable performances.
Taking a break from concerts, Clayton's Listening Space hosted artists Benjamin, bassist Reuben Rogers and drummer Lewis Nash for a topical discussion about jazz, performances and philosophy. Music For Abolition with Carrington, Angela Davis and UC Santa Cruz professor Gina Dent focused on incarceration with arts and culture for better outcomes and socialization. Additionally, documentaries Skin To Skin: John Santos and Inside Scofield covered the percussionist and guitarist's backgrounds and musical explorations.
Overall, MJF covers a lot of ground and is why it ranks as one of the top jazz festivals in the world. Composer, conductor, pianist, record producer, artist, arranger, film composer, vocalist, entrepreneur, educator, and arts advocate Darin Atwater from the Peabody Institute of The Johns Hopkins University is MJF's New Artistic Director. As its third and the first African American, he will indeed have a lot on his plate. Atwater's incredible background and skills, suggests that he will take MJF to even higher levels. For more info go to: montereyjazzfestival.org
Anything to be considered for this column can be sent to: chrisjwalker1@earthlink.net