A great way to celebrate National Jazz Month and International Jazz Day is with BMG's nine album collection of live recordings from Switzerland's long-running Montreux Jazz Festival. Created in 1967 by Claude Nobs, the jazz festival is widely recognized as a premiere international gathering showcasing incredible, sometimes one-of-a-kind performances by the best artists on the planet, spanning, jazz, blues, world music and rock.
An offshoot of the festival is the legacy of its landmark live recordings, beginning with Bill Evans Grammy-winning, At the Montreux Jazz Festival in 1968. Since then, there have been more than 400 Live at Montreux oriented records. Visionary founder/promoter, Nobs passed away in 2013 and over the years amassed a beyond belief private collection of recordings by the performing music luminaries, previously unavailable to the general public.
Nine remastered in superlative audio compilations called The Montreux Years derived from his cache have been curated. Much like the MJF's lineups the recordings encompass a variety of artists and genres. Among them are Etta James, Nina Simone, John McLaughlin, Monty Alexander, Chick Corea, Michel Petrucciani, Muddy Waters, Paco de Lucía and even Marianne Faithfull.
However, unlike many live recordings, these albums are not chronologically or even locationally organized. Therefore, tracks for each of the artists jump around in terms of time, stages/arenas and band configuration. Instead, it seems that impact and musicianship, according to Nobs are the deciding factors. Contrarily, if each set by the artists were kept in tack the Montreux Years collection would be well over 50 albums and far too overwhelming (and expensive), except for the most ardent and dedicated collectors. Recordings of that nature do exist on other labels, and also are represented through bootlegs.
In terms of mainstream jazz, pianists Petrucciani and Alexander's anthologies are the truest to the genre. French wizard Petrucciani masterfully interprets timeless standards in the newest of Montreux collection, such as "Autumn Leaves," "My Funny Valentine" and "Summertime," along with originals "Rachid" and "You Are My Waltz." Jamaican-born Alexander also ventures into high flying blues and reggae intermingling occasionally through "Night Mist Blues," "No Woman No Cry/Get Up Stand Up Medley" and "A Nod to Bob (Marley)."
Corea ingeniously takes eclecticism up several notches with remarkable tributes "Bud Powell" with his Freedom Band and "Dignity" for his mother supported by the New Trio. From a fusion standpoint are "Interlude" through the Elecktric Band and "America (Continents Pt. 4)" with The Bavarian Chamber Philharmonic Orchestra.
McLaughlin dived deeper into fusion by way of "Radio Activity" and "Nostalgia" with his celebrated and groundbreaking Mahavishnu Orchestra. "Acid Jazz" with The Heart of Things and "El Hombre Que Sabia" with The 4th Dimension are more nuanced. While "David" and "Florianapolis" with flamenco guitar icon Paco de Lucía are resounding acoustical gems. Also new to the Montreux Years collection is de Lucía, with liner notes by McLaughlin, for an extraordinary and unadulterated flamenco/classical guitar assemblage.
Simone and James, both personal favorites of Nobs are given the double-CD treatment, and Simone has comparatively 29 tracks to James' 21. Nonetheless, both singers have a wealth of material that profoundly displays their artistry and development. Idiosyncratic Simone is notably the only artist from The Montreux Years collection to have a full recording of a set showcased (debut in 1968). That alone makes the album a must-have, while the other tracks fully reveal the singer's depth and volitivity.
James one of the most influential and impactful blues singers of all time is at ease and in command throughout all her songs and sets. She shows that a consummate "Blues Queen" can be gritty, soulful, tender and also let her band wail away when the time is right. That included Nobs himself playing harp for a couple of songs that additionally riled up the audience.
The "Architect of Modern Blues" Waters' assortment of performances from 1972 to 1977 is almost like his "Greatest Hits." The tunes that aren't by him seemingly become his upon being rendered. Ultimately, it reinforces the singer/guitarist/songwriter's domination of the genre and how so many of his songs are blues standards and prerequisites for any upcoming blues singer or musician. Unquestionably, the Chicago-based icon was truly in his element and audiences witnessed concerts of a lifetime.
Diverging strongly from jazz, R&B, blues and classical/flamenco is Marianne Faithfull, considered one of Rock's 100 Greatest Singers by VH1. Her edgy original songs sometimes detailed her sometimes tempestuous and tragic life, with others related to involvements and connections with rock luminaires. Among them were her hit "Broken English," Van Morrison's "Madame George," John Lennon's "Working Class Hero," "Song For Nico" (Velvet Underground singer/songwriter), Rolling Stones "Sister Morphine" and Ellington/Billie Holiday's "Solitude."
Overall, nine CD-set The Montreux Years encompasses a wide range of incredible concerts and artists, meticulously recorded/engineered and attractively packaged to be nearly as treasured as being at the festival. For more info go to: www.bmg.com
JAZZ APPRECIATION MONTH:
CD'S CAPTURE THE HAUNTING EXCELLENCE OF LEGENDARY JAZZ PLAYERS
By Dee Dee McNeil
APRIL 16, 2023
We lost the great Ahmad Jamal this Jazz Appreciation Month and I celebrate him with this review.
AHMAD JAMAL – "EMERALD CITY NIGHTS/LIVE AT THE PENTHOUSE (1963 – 1966) – Jazz Detective/Deep Digs Music Group
Just a few days ago, I was searching my amazing album collection for an Ahmad Jamal record to enjoy. I found a recent album by Mr. Jamal, one of the world's great pianists and composers, but the newly arranged "Poinciana" tune on that album did not satisfy me the way the original composition and arrangement did back in the late 1950s. So, I was thrilled to receive a double set album release of Ahmad Jamal's Trio performing 'Live' in Seattle at The Penthouse recorded from 1963 to 1966. My favorite song, "Poinciana" was on that CD, the second disc, Track #4, and it was satisfaction for my ears! There is something so hypnotic about that drum lick and that bass line that it makes me pause and just soak up this Jamal arrangement, also featuring his dynamic piano playing. Of course, the 'live' rendition is not exactly like the one on my old licorice pizza album of yore and recorded in 1958 "Live at the Pershing," but it is close and I found great satisfaction listening to music that I grew up with in the 1960s. These recordings take me back in time to 1963 through 1968, when a series of performances at The Penthouse, located not high up in the air but inside a club on the ground floor of the Kenneth Hotel in Seattle. This project was being recorded 'live' for KING-FM radio.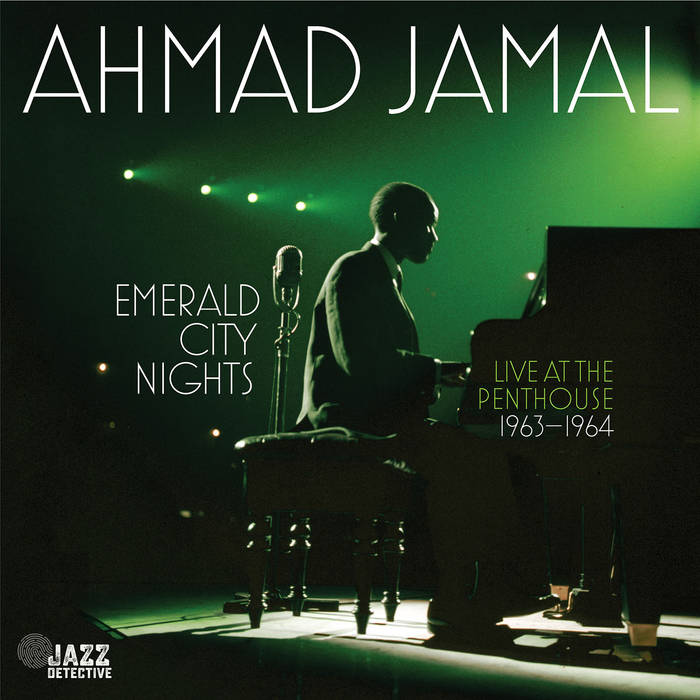 Ahmad Jamal – (born July 2, 1930, died April 16, 2023)
The concerts were hosted by famed disc jockey, Jim Wilke. At that time, Charlie Puzzo Sr., was the owner of the Penthouse and engineered these recordings. Currently, his son, Charlie Puzzo Jr., keeps his father's precious and historic jazz tape collection safe and archived. Thankfully, Mr. Jamal was happy with these recordings and approved their current release.
Born July 2, 1930, Jamal was referred to as a child prodigy. He was trained in both European and American classical music by respected singer and educator, Mary Caldwell Dawson. She founded the Negro Opera Company. Meantime, by fourteen, Ahmad Jamal was playing all around Pittsburgh and was a card-carrying member of the local Musician's Union. Ahmad left home in 1948, touring with the George Hudson Big Band and consequently settled in Chicago, Illinois. He garnered deep respect from his peers, as well as those following in his esteemed footsteps. In fact, Miles Davis wrote in his autobiography:
"All my inspiration comes from Jamal, He knocked me out with his concept of space, his lightness of touch, his understatement and the way he phrased notes and chords and passages … I loved his lyricism on piano," the great Miles Davis praised the jazz pianist.
On records, Miles Davis proved his appreciation for Ahmad Jamal's talents by recording songs Jamal made notable like, "A Gal in Calico," "The Rhumba" and "The Surrey With the Fringe on Top."
Ahmad had his own view on the music he was playing. Quoted in his liner notes of this CD he said, "I studied Ravel, Debussy, Duke Ellington and Art Tatum along with all my other European works, Czerny and so on. So, I never called it jazz. I called it American classical music. I started playing American classical music at three years old … Now, I'm ninety-two," Jamal said.
I can let greater voices than mine speak for Ahmad Jamal's historic and intriguing music. When they asked Ramsey Lewis for his opinion on the iconic pianist he said:
"He uses the whole 88-keys on the piano. With many jazz piano players, the left-hand comps and the right hand does a lot of work. … Ahmad is one of the 'both-hands' piano players. Left hand, right hand. Ahmad can take care of business," Ramsey Lewis sang Jamal's praises.
Jon Batiste said, "When you hang with Jamal, you realize he's a spontaneous composer, in the same way that someone would improvise a solo. He has the ability to compose at that level of hyper speed."
Kenny Barron, an icon in his own right, said, "The first time I heard Ahmad, I was in high school. I was getting ready to go to bed and I had the jazz station on. This was in Philadelphia, where I'm from, of course. And this song came on, "Music! Music! Music! (Put another Nickel in)" which I remembered from having heard Theresa Brewer do it. So, it was a song I knew and somebody was playing piano on it. As I was listening, I was asking myself, "Who the hell is that?" Because it was just so unbelievable. The radio announcer said it was Ahmad Jamal, whom I'd never heard of before. It was on Ahmad Jamal's album, "Ahamad Jamal Trio at the Pershing/But Not for Me." Theresa Brewer's record was a hit when I was in junior high school. And then I heard Ahmad Jamal's version on the radio and the piano trio, and I just couldn't believe it. I immediately went out and bought the record the next day, because it was just so fantastic. And I've been an Ahmad Jamal fan ever since then," Barron affirmed.
That's one thing Mr. Barron and I have in common. Ever since I heard that "Live at the Pershing" album, I've been a solid fan myself!
* * * * * * * * * * * * * * *
CHET BAKER – "BLUE ROOM" – Jazz Detective
Chet Baker, trumpet/vocals/composer; Phil Markowitz, piano; Jean-Louis Rassinfosse, bass; Charles Rice, drums.
Nearly thirty-five years after his passing, people still revere and search for music by trumpeter, Chet Baker. In 1979, possibly at one of the peaks in his illustrious career, Baker recorded at VARA Studio 2 in Hilversum, the Netherlands. Some forty-four years later, thanks to Frank Jochemsen of the Nederland's Jazz Archief, Zev Feldman stumbled across these pristine tapes. With partners Jordi Soley, Carlos Agustin and Elemental Music, Zev has released a double set album of this historic music under the banner of "Blue Room – the 1979 VARA Studio Sessions in Holland." One disc was recorded in 1978 during November and December, while the other was recorded in March and April of 1979. In the 1970s, Chet Baker was particularly prolific and toured non-stop, blazing a trail of recordings across Europe and even when playing the same tunes in concert, they were never identical. Baker continued to surprise his audiences with his creativity and stellar, sold-out appearances. On this album you will hear American pianist, Phil Markowitz, (twenty-something at the time) and he must have been thrilled to be touring with Baker. On bass, Chet invited Jean-Louis Rassinfosse from Belgium (another twenty-eight-year-old) and old-timer Charlie Rice on drums, who had been his drummer in New York in 1964 and 1965. He had recorded the popular "Baby Breeze" album in 1965 with Charlie, after spending a poorly spent year-and-a-half in a Lucca Italian prison for drug use.
Although most of his adult life Chet Baker fought for sobriety, a heroin habit is difficult to break. Still, his artistic fortitude and God-given talent prevailed and is clearly visible on this album. His music hangs, like precious diamond earrings, sparkling on my ears. On the Burke/Van Heusen tune "Oh, You Crazy Moon," Chet's warm vocals are like butter. He sings and scats and plays his horn in an easy, uninhibited way. Baker's interpretation of the Miles Davis tune "Down" is stellar.
Chet Baker
The second disc continues with the same quartet on Chet Baker's "Blue Gilles" composition that lasts nearly eleven well-played minutes. It begins with Baker's solo horn telling its story in crisp, clear tones. When the band members enter, the tune moves from ballad to slow swing. The second tune is the familiar "Nardis" composed by Miles. The bassist, a musician who worked with Baker from 1976 to 1985. recalls playing with the gifted trumpeter on this particular project.
"He was in very good shape. He had good chops on these recordings … being able to record with Chet Baker was an honor. I learned half of what I know in music through Chet Baker," Rassinfosse said.
After the first two tunes on Disc #2, the personnel changes. Frans Elsen takes over at the piano and brings a more bluesy approach to his jazz accompaniment. Victor Kaihatu mans the bass and Eric Ineke is on drums. This group begins with Chet Baker singing Candy in his own inimitable way. They then take a "shuffle" groove on the tune "Luscious Lou" and you hear how blues fused Frans Elsen is, as Chet perhaps turns back the clock to 1956 when he first played this tune with his band and featured tenor saxophonist Phil Urso, who (by the way) composed this song. I thoroughly enjoy this arrangement.
There's a booklet included in this double disc package that gives outstanding, historic information about these various studio sessions. With this new trio of musicians, Chet Baker had no chord changes documented. Like many of the American Jazz musicians, he expected these new players to hear his melodic phrasing and improvise, but it wasn't that simple. The European rhythm section had to figure out what the trumpet player wanted and that took more time than the musicians who were more familiar with his work. You won't notice this, because the playing is smooth and well connected. Baker sings "My Ideal" with his warm, horn-like-vocals and then they close the album out with "Old Devil Moon" played at an up-tempo speed where Victor Kaihatu walks his bass briskly beneath the Eric Ineke swinging drums.
Born in 1929, Chet was christened Chesney Henry Baker Jr. and lived, as an only child, on a farm outside Yale, Oklahoma. His mom had him when she was eighteen and worked at a local perfumery, while his dad was a part time Country/Western musician and jack-of-all-trades to make ends meet. The enclosed booklet tells wonderful and insightful stories about Chet Baker, his history and his musicianship. There are in-depth antidotes given by the various musicians on this historic studio taping. Chet Baker made his tragic transition on May 13, 1988, when he toppled from his second-floor hotel room window to the street below. His legacy is captured in numerous books, recordings and films, and this newly released CD entitled "Chet Baker Blue Room" is another piece of a complicated but beautiful jazz puzzle.
* * * * * * * * * * * * *
SHIRLEY SCOTT – "QUEEN TALK: LIVE AT THE LEFT BANK" – Reel to Real Recordings
Shirley Scott, Hammond B3 organ; George Coleman, tenor saxophone; Bobby Durham, drums; Ernie Andrews, voice.
Since April is Jazz Appreciation Month, here is an archival treasure that Zev Feldman and Cory Weed stumbled upon. Recently, they ran into tapes revered and protected by the Left Bank Jazz Society and former LBJS president, John Fowler. Immediately, the two jazz producers recognized their find as an amazing piece of jazz history. It was August 20, 1972, when the concert was recorded 'live' at the Famous Ballroom in Baltimore, Maryland. Now, here's a double disc set that captures a very special space in time. Shirley Scott was the queen of organ and was a respected musician by the jazz men of that era. In the liner notes, George Coleman remembered Shirley as a talented musician.
"She was great, man. She was wonderful, very intelligent and very knowledgeable about harmony and stuff. She played a lot of different little things that I embraced, like some of the triads that she would play on some of the 13th chords. I was very happy playing those things with her, 'cause she was really great with the harmony, man, and, you know, she could swing, as you can hear on the album. We played together with Johnny Hartman too. She was really wonderful. I miss her a lot," George Coleman sang Shirley's praises.
They open with John Coltrane's famed "Impressions" tune and the trio is hot and swinging. Shirley lets George Coleman strut his stuff first and he shines on tenor saxophone. Bobby Durham is dynamite and lightening quick on drums. When she enters on organ, the spotlight is all hers. Scott's energy blasts through my speakers and her talent is formidable and unforgettable. Shirley Scott was awe-inspiring!
On the "Never Can Say Goodbye" tune, Bobby Durham cuts loose and his solo is absolutely dynamic and vibrant. What a talent on those drums! George Coleman said he was an excellent singer too. I didn't know that about Bobby Durham. Speaking of singers, a wonderful addition to this band was Ernie Andrews. George Coleman said he wasn't a regular part of the band, but from time to time he would sit-in and he did gigs with them occasionally. Whenever Ernie Andrews took to the stage, he lifted the musical experience up a notch. The vocalist was a showman and the audiences loved him. He is featured on "You Don't Mess Around With Jim" with a great lyric and blues melody by Jim Croce. Ernie knows how to sell a song! He follows this with "Girl Talk" and a mixed bag "Blues."
Saxophonist Tim Warfield reflected on hearing Ernie Andrews sing.
"What can I say about Ernie Andrews? I've heard him many times, but I got the chance to play with him at a jam session in Harrisburg, Pennsylvania in my early years. He sang 'All Blues.' I'll never forget the feeling that I got hearing Ernie Andrews for the first time and how intense and beautiful it was. There's a certain sort of life wisdom that comes through in his vocal delivery that is unmatched. He was just very soulful, man, you know? There was a lot of conviction in what he would do. I used to just watch how the audience would respond," Warfield told his story in the album liner notes.
Ernie Andrews, Dee Dee McNeil & Henry Franklin at the historic Maverick Flats in Los Angeles. (2015)
About Shirley Scott he said, "Sublime! … It's really difficult to describe Shirley in one word. There was an honesty in her playing. There was a soulfulness. …. Joyful! Yeah, if I were to use one word, that's probably what I would use. Joyful! Maybe even communal because there were certain consistencies that I just found fascinating. I've never seen people respond the way I saw them respond to Shirley. … Shirley was a sweetheart. She was a nurturer. I don't know if that was her intent, but it's certainly who she was. … She was an elder. She was like my aunt," the saxophonist said.
I've not heard an arrangement quite like the one they play on Jimmy Webb's "By the Time I Get to Phoenix." It's just full of excitement and I feel like when I get to Phoenix there's going to be a big party, for sure. Bobby Durham opens a version of "Smile" with a flurry of drum sticks and a solo that sets the tempo out the gate, like a horse on fire. I have surely never heard Charlie Chaplin's tune played like this before and it's awesome! From beginning to end, this is first class, high energy, unrelenting, honest and Straight-ahead jazz at its best. It is "Queen Talk: Live at the Left Bank."
* * * * * * * * * * *
WALTER BISHOP JR. – "BISH AT THE BANK" – Reel to Real Recordings
Walter bishop Jr., piano; Harold Vick, tenor & soprano saxophones/flute; Lou McIntosh, bass; Dick Berk, drums.
Walter Bishop Junior's group opens with a powerhouse, speedy arrangement of "Secret Love" using the opening verses to feature Harold Vick on tenor saxophone. These are tapes from 1966 and 1967, protected and treasured by the Left Bank Jazz Society, founded in 1964. The group used to put on concerts at a local bar called the Club Owl hole. It drew perhaps one hundred to a hundred-and-fifty people max. The jazz concerts became so popular that they expanded to a dance hall called the Famous Ballroom, on Charles Street in Baltimore, Maryland. At that point, the capacity increased to twelve or thirteen hundred people. The only drawback was that the club was on the second floor, with no elevator, so the musicians hated climbing those stairs to the venue. None the less, once the music began, everybody was happy.
The third track is their rendition of the familiar "Days of Wine & Roses" played as a swing arrangement. On August 28, 1966, Walter Bishop and his talented New York band made their debut appearance for the Left Bank Jazz Society first, at The Madison Club. Luckily, someone was on-hand to record this historic performance. Later, the band would also perform at the Famous Ballroom. Bishop's reputation proceeded him as a bebop pianist with close ties to such icons as Miles Davis and Kenny Dorham who he recorded with, along with Percy Heath and Philly Joe Jones. The Junior of his respected ASCAP songwriting father, Walter Bishop Sr., (from Barbados) seemed destined to pursue music. It's no wonder that a young Walter fell in love with jazz when he first heard Charlie Parker in 1944 at a St. Nicholas Arena jam session. After spending two years in the Air Force, he plunged into the Harlem jazz scene and hung out with Sugar Hill folks like Sonny Rollins, Arthur Taylor and Jackie McLean, who were also young brothers coming up in the music business. By 1948, the great Art Blakey picked Bishop out to join his Jazz Messengers recording session for Blue Note and by 1950, Walter Bishop Jr. was a New York first-call pianist. He was a lover of Bud Powell, and like Powell, Bishop brought dynamic and emotional attacks to the piano keyboard.
"I started out copying Bud lines, and I got to a point where I learned how to think in those terms, so I didn't have to rely on copying any more. One night, Bud paid me a hell of a compliment. I think I was working with Miles and Max and Tommy Potter at the Three Deuces, and he was there. He said, Man – – that was weird. It's like hearing myself play, but you weren't playing the same notes. Bud wasn't quick with compliments. He was telling me that I had branched off on more or less my own path," Walter Bishop Jr. recalled in his liner notes.
This is a two-disc-set that keeps you entertained and mesmerized through every single song. You'll hear gems like "If I Were A Bell" by Frank Loesser and Miles Davis's "So What" and the Davis composition "PFrancing (No Blues)". They interpret "Willow Weep for Me" as a jazz waltz with Bishop's two-fisted approach both dynamic and inspired.
Walter Bishop Jr., died in 1998, but left behind a trail of amazing recordings to affirm that he was here. When he played piano, he brought something fresh to the stage, proficient in style and technique on his instrument. He was one of the first beboppers of his generation to explore jazz fusion before it became super popular. He also wrote poetry and some of that is included in the liner-note booklet that's part of this classic CD release. All you collectors out there need to scoop this historic album up. It is a piece of music excellence you will enjoy playing over and over again.
* * * * * * * * * *
SONNY STITT – "BOPPIN' IN BALTIMORE – LIVE AT THE LEFT BANK" – Jazz Detective
Sonny Stitt, alto saxophone/composer; Kenny Barron, piano; Sam Jones, bass; Louis Hayes, drums.
First of all, I was thrilled to receive this historic album by one of my all-time favorite saxophone players, the great Sonny Stitt and his all-star quartet. What a blessing to hear Kenny Barron on piano, Sam Jones on bass and Louis Hayes on drums. Stitt is a 'take no prisoners' kind of guy. When he walks onto any stage, he intends to burn it up with energy, technique, creativity, and genius. He's like a human asteroid streaking across space. Like Johnny Griffin once said:
"If Sonny Stitt was in town, saxophone players tended to go into hiding."
This recording is from a 1973 performance, a time when Stitt had returned to his all-acoustic performances. For a while, he had incorporated electronics into his work, employing the Varitone attachment on both his horns. I heard that Stitt had appeared at the Left Bank Jazz Concert with Gene Ammons earlier that year and I wish I could get my hands on that recording, if there is one. Ammons is another favorite of mine. On that date, his pianist was Cedar Walton, and L.A.'s own drum treasure, Billy Higgins, with Sam Jones on bass.
Getting back to this recording, although for some time (mostly in the 1940s) Sonny Stitt was compared to Charlie Parker, that was early in his career. Even though he obviously idolized 'the Bird,' on this recording he has clearly mastered his own sound and perfected his outstanding style. The quartet opens with "Baltimore Blues" that's just pure Straight-ahead goodness, like a Sunday morning brunch in the church basement. It is hearty, delicious, and packed with flavor. Sam Jones walks his double bass underneath the relentless and beautiful horn solos. Louis Hayes pushes the piece forward, holding the up-tempo tune in place masterfully on drums and Kenny Barron thrills me with a piano solo that bursts on the scene after Stitt stops playing and matches the leader's intensity. This is energetic, invigorating music that swings harder than a Joe Louis punch. This is how Disc One of this two-Disc set begins, and it never calms down or wavers in offering us the absolute best of jazz. They play "Star Eyes" and then woo the listener with "Lover Man," a song Sonny Stitt has played hundreds of times, yet it is always different and always perfect. They close this set out with "They Can't Take That Away from Me." I slide disc two into my sound system and wait with great anticipation. They open with "A Different Blues" that's another Stitt original composition, like the opening tune on Disc One, "Baltimore Blues." Next comes the popular "Stella by Starlight" with Sonny Stitt's saxophone sounding like a storyteller, rich with range, textures and voicings. Sonny Stitt lights up every composition with his own, multi-colored spotlight, engaging us with his saxophone interpretations. This quickly becomes one of my favorite Sonny Stitt albums.
John Pizzarelli
Stage & Screen
(Seven String Ltd/Palmetto)
Hard as it is to believe, it has now been 40 years since guitarist-singer John Pizzarelli led his first album, I'm Hip (Please Don't Tell My Father). Pizzarelli, whose father was the late great guitarist Bucky Pizzarelli, has always been hip in his own way. He has not just resisted but virtually ignored most musical trends and fashions, simply playing and singing the swinging songs that he loves. There have been occasional departures (including a set of the music of Paul McCartney and in 2020 an unusual solo guitar exploration of Pat Metheny songs) but Pizzarelli has been quite consistent both in his musical output and the high quality of his performances.
Stage & Screen, which is at least his 27th album as a leader, features Pizzarelli with a trio that also includes pianist Isaiah J. Thompson and bassist Michael Karn. The music is a consistent joy and includes such highpoints as "Too Close For Comfort," a rapid instrumental version of "I Want To Be Happy," a surprisingly slow version of "Tea For Two," a cool-toned vocal on "Time After Time" that is a bit reminiscent of Chet Baker, and a well-conceived "Oklahoma Suite" that has instrumental versions of all of the key songs from the classic musical.
Throughout this set, Pizzarelli's guitar is as fluent as ever and his singing is consistently excellent, whether caressing a ballad or scatting in unison with his guitar. Thompson's piano playing (a worthy successor to the guitarist's earlier pianist Ray Kennedy) is versatile, inventive and tasteful, and bassist Karn swings at every tempo.
Although all of his recordings are well worth checking out, Stage & Screen (available from www.amazon.com) is one of John Pizzarelli's most rewarding recordings in recent times.

Walter Bishop Jr.
Bish At The Bank
(Reel To Reel)
While many of the discoveries and releases produced by Zev Feldman (the Sherlock Holmes of jazz) put the spotlight on well-known jazz artists such as Wes Montgomery and Bill Evans, this two-CD set (co-produced by Cory Weeds) focuses on two brilliant but often-overlooked players: pianist Walter Bishop Jr (1927-98) and tenor-saxophonist Harold Vick (1936-87).
Bishop, who came up during the classic bebop era, was a member of Charlie Parker's group off and on during 1951-54. While he led some albums of his own during 1961-93, those were primarily for small labels and his fine playing (which fit easily into hard bop settings) tended to be taken for granted. Harold Vick, while inspired by Sonny Rollins and John Coltrane, developed his own sound on tenor along with an adventurous style of his own. He led eight albums (best are his three sets for RCA Victor during 1966-67) and was featured not only in hard bop settings but with organ, r&b and fusion groups. But he also tended to get overshadowed by the pacesetters.
Bish At The Bank is a two-CD set drawn from the very valuable and previously unreleased performances taped at the weekly concerts presented by Baltimore's Left Bank Jazz Society. Featured on Aug. 28, 1966 and Feb. 26, 1967 are Bishop, Vick, bassist Lou McIntosh (a fine player whose only other recording was with Terry Gibbs in 1964), and drummer Dick Berk.
The quartet stretches out on seven jazz standards and a blues which clock in between 10:10 and 14:55. Vick, who also plays soprano and flute, is particularly brilliant on tenor, dominating a few of the numbers including "My Secret Love" and "Days Of Wine And Roses." Bishop is in top form, showing that he had progressed from the original Bud Powell influence and was quite aware of Wynton Kelly and Red Garland. McIntosh and Berk are excellent in support of the lead voices during these well-recorded performances.
In addition to the enjoyable music, the set's 32-page booklet has excellent notes by Ted Panken and Bret Primack, three of Walter Bishop Jr.'s short stories and poems, John Fowler's warm and colorful memories of the Left Bank Jazz Society, and comments from the two producers.
Walter Bishop Jr. may not have become that famous but his playing and that of Harold Vick is timeless. Bish At The Bank (available from www.cellarlive.com) is highly recommended.

Gabriel Latchin Trio
Viewpoint
(ALYS Jazz)
On Viewpoint, Gabriel Latchin shows that he is a classic bebop pianist of the highest order. While the British musician and his trio with bassist Jeremy Brown and drummer Joe Farnsworth perform 11 of Latchin's originals on his fourth CD as a leader, Viewpoint, the music is very much in the straight ahead tradition.
One can certainly imagine Bud Powell playing such numbers as "Says Who," the rapid (and well named) "A Stitch In Time," "Bird In the Hand," and "Just The Ticket." Latchin has captured the essence of Powell's style without directly copying him, and he also is equally comfortable on the tender ballad "A Mother's Love," creating a Horace Silver-type groove on "Train Of Thought," and paying tribute to Cedar Walton and his brand of sophisticated hard bop on "Mr. Walton."
With fine support and occasional solos from Brown and Farnsworth, this is a highly enjoyable set of swinging bop. On the basis of this CD alone, Gabriel Latchin can be thought of as the British Benny Green, but in reality he has his own sound within the tradition. Fans of bebop piano will certainly want to pick up Viewpoint which is available from www.gabriellatchin.com and www.amazon.com.

Sam Taylor
Let Go
(Cellar Music)
Born and raised in Philadelphia, tenor-saxophonist Sam Taylor moved to New York City when he was 17. Since graduating from Purchase College State University in 2005, he has worked regularly in New York. Let Go is his third recording as a leader.
Fans of bebop can rejoice with the release of this CD. Taylor is featured with an all-star quintet also including trumpeter Terell Stafford, pianist Jeb Patton, bassist Neal Miner, and drummer Willie Jones III. The ten selections that are on the set include lesser-known but superior songs by Barry Harris ("Luminescence" which is based on "How High The Moon"), Hank Jones, Babs Gonzalez ("Getting' Together," a swinging classic that should be played much more often), Benny Golson, and Joe Magnarelli (the "Star Eyes"-based "Philly New York Junction") plus an original by the saxophonist (the medium tempo cooker "Let Go"), three standards, and an obscurity (the joyful "You're Never Fully Dressed Without A Smile").
Taylor has a sound that is a little reminiscent of Paul Gonsalves and his solos sometimes recall Don Byas although he does not copy either and offers a fresh voice on tenor. Suffice it to say, he is not overshadowed by his illustrious sidemen despite there being many blazing trumpet solos from Stafford and consistently swinging statements from Patton. Taylor, who takes "Prisoner Of Love" as a melodic duet with bassist Miner, holds his own in this fast company.
Lovers of bebop and 1950s jazz will definitely want to pick up Let Go which is available from www.cellarmusicgroup.com.

Raymond Fol
Rediscovering Raymond Fol
(Fresh Sound)
Raymond Fol (1928-79) was one of France's top jazz pianists but he remains largely unknown in the United States. The obscurity is probably due to his ability to adapt himself to many different settings as a sideman, and the relatively few recordings that he led in his early years. This double-CD from the Fresh Sound label (www.freshsoundrecords.com) could help change that situation a little.
Fol, whose older brother was altoist Hubert Fol, recorded Dixieland standards on his first recordings in 1946 with clarinetist Claude Abadie's band. However by 1948 he was a member of Hubert Fol's Be Bop Minstrels, one of the first important French jazz groups to explore bop. By 1950, the pianist was in demand by visiting American artists and he recorded on dates led by Ernie Royal, Johnny Hodges, Josh White, James Moody, and Roy Eldridge. He worked with Django Reinhardt during 1951-52 and then really showed his versatility by following a stint with Dizzy Gillespie with a long association with Sidney Bechet and Claude Luter. In 1955 Fol worked with both Lionel Hampton and Chet Baker.
One would think that all of that activity would result in Raymond Fol recording frequently as a leader, but the opposite occurred, probably due to him being so busy during the era. Other than four numbers made in 1950 (and reissued elsewhere), the only studio session that Fol led prior to 1971 (not counting an orchestra set in 1965) was a four-song EP in 1956 that featured him in a trio. Remembering Raymond Fol, which begins with the EP's music, augments that set with two songs on which he accompanies singer Annie Fratellini, four numbers from dates led by Italian trumpeter Nunzio Rotondo, and a variety of mostly previously unreleased radio and television appearances from 1957-67.
Producer Jordi Pujol has done a great service to the musical legacy of Raymond Fol in compiling this set. In addition to the trio numbers, the pianist is featured in quintets (one number includes trumpeter Donald Byrd) and with an intriguing septet. The latter, which is from 1967, has Fol joined by three trumpeters, cello, bass, and drums, performing six of his compositions. Having evolved from Dixieland and swing through bop and hard bop, Fol had also developed into an inventive and somewhat adventurous composer, one whose pieces challenged his sidemen.
While he would lead several albums during 1971-76 (mostly as a solo pianist), the music on Rediscovering Raymond Fol is definitive and shows what a major if unsung talent he was during his prime years.

Michael Arbenz
Reflections Of D
(Jazz Fuel)
At first, this appears to be a straight forward Duke Ellington tribute record by Swiss pianist Michael Arbenz. He performs five Ellington pieces and two by Billy Strayhorn. When confronted with such numbers as "Take The 'A' Train" (mistakenly attributed to Ellington rather than Strayhorn), "Solitude" and "It Don't Mean A Thing," jazz fans would not be blamed for thinking that they know what to expect. After all, the front cover has a silhouette of a famous Duke Ellington photo. But the back cover, which has Arbenz wearing a mask, gives one a more relevant clue.
For, although the pianist seems to be performing a set list of familiar Ellington and Strayhorn pieces, the music is very well disguised. The chord changes are altered or completely buried, there are only slight hints of the original melodies (it is doubtful if anyone could guess that the opening number is "Take The 'A' Train" until its conclusion), and Arbenz's dense ensembles and unique chord voicings completely reinvent the songs. Certainly "Duke's Place" ("C Jam Blues") no longer sounds like a straight ahead medium-tempo blues. And in addition, Arbenz often uses overdubbing to have two or three of his pianos playing and interacting with each other to create surprising new music. Only the closing "Lotus Blossom" reveals much of its melody, so this project can be considered a tribute to Duke Ellington's creativity and musical curiosity rather than a revival of some of his songs.
Michael Arbenz is a brilliant player with his own sound. If one comes to Reflections Of D without expectations of what it might sound like, they will be able to appreciate his constantly surprising and virtuosic inventiveness.
Reflections Of D is available from www.jazzfuel.com.

Lucy Wijnands/John Di Martino
Call Me Irresponsible (The Songs Of Jimmy Van Heusen)
(Night Is Alive)
Jimmy Van Heusen (1913-90) was a major composer from the mid-1930s until he retired in the late 1970s. He wrote around 1,000 songs (many of which were used in movies) and approximately 50 became standards. Among the main lyricists who he worked with were Eddie DeLange, Johnny Burke, and Sammy Cahn. Van Heusen's songs are still regularly recorded these days.
Pianist John Di Martino, who knows thousands of tunes, heads this project which pays tribute to Van Heusen's songwriting abilities. Ten of Van Heusen's songs are revived and revitalized in melodic arrangements. Vocalist Lucy Wijnands (born in Kansas City, the winner of the 2021 Ella Fitzgerald Vocal Competition and an up-and-coming talent) performs eight of the numbers, displaying an attractive voice, swinging phrasing, and a real feeling for the lyrics. She is joined by an all-star lineup consisting of Di Martino, tenor-saxophonist Harry Allen, guitarist Dave Stryker, bassist Peter Washington, and drummer Willie Jones III.
Allen, who can sound pretty close to Stan Getz but also hints surprisingly at the thoughtful style of Benny Carter in places on this date, is well featured and in the spotlight during the instrumentals ("The Second Time Around" and two equally rewarding versions of "Imagination") and Di Martino is also excellent whenever he solos. The repertoire includes well-known numbers ("Deep In A Dream," "Suddenly It's Spring" and a memorable rendition of "Call Me Irresponsible" with its classic Sammy Cahn lyrics) and obscurities ("So Help Me," "Only The Lonely," and "The Secret Of Christmas").
Everything works well on this delightful set. Call Me Irresponsible is easily recommended and available from www.nightisalive.com.

Gerhard Graml
Everything
(Allessa)
Austrian bassist Gerhard Graml composes pieces that set a mood, sometimes have a groove, and are picturesque. He consistently challenges his sidemen to stretch themselves. Sometimes they improvise fairly freely or participate in creating dense ensembles but generally they keep the composition's theme and mood in mind. The results, heard throughout Everything (the bassist's fifth recording as a leader), are both lively and unpredictable.
The sextet (comprised of trumpeter Joe Herrara, Bobby Muncy on tenor and alto, Abram Mamet on French horn, keyboardist Chris Stiles, drummer Julian Berkowtiz, and the leader on bass) performs music that often fits the song titles. For example "Prayer Meeting" is a gospellish romp, "Layover Flyover" gives one the impression of an overlong plane ride, the piano solo on the brief "Everything (That's Lost Will Never Come Back)" is a bit mournful, and parts of "Westend Row" sound like the interaction of several drunks.
The 11 pieces on Everything could have been designed as a suite for one selection is logically succeeded by the next one. A wide variety of moods are explored, the musicianship of the players is top-notch (tenor-saxophonist Muncy and pianist Stiles are particularly excellent soloists), and the medium-slow groove piece "Sprout" (which could pass for 1970s fusion) emerges as one of the highpoints.
Throughout Everything, Gerhard Graml (who has several worthy solos) clearly inspires the other musicians with his sophisticated and often-catchy bass lines. Everything (which is available from www.amazon.com) is well worth acquiring.

Eva Cassidy
I Can Only Be Me
(Blix Street)
What a strange afterlife Eva Cassidy has had! Cassidy (1963-96) only released two albums during her lifetime before passing away at the age of 33 from melanoma. During her life she was mostly known in the Washington D.C. area. Her eclectic tastes in music and her diverse programs (which included jazz, rock, blues and folk songs) made it difficult for her to get a record deal (she was almost signed to Blue Note) and her early death would seem to have sealed her obscurity.
But two years after her passing, the airing of some of her songs on BBC radio resulted in a great demand for her recordings and soon she was much more famous than she had ever been during her life. Since that time, the performances from her two albums have been reissued in many different ways (including in the best-selling compilation Songbird) and every existing recording of her has been unearthed and released. She has had three #1 albums, a number-one single, and has sold more than 10,000,000 copies.
I Can Only Be Me consists of nine songs that have Cassidy's voice accompanied in recent times by the London Symphony Orchestra. The tasteful arrangements of Christopher Willis put the focus on her beautiful renditions of ballads including "Songbird," "Waly Waly," "Time After Time," and "You've Changed." Even such spirited numbers as "Autumn Leaves" and "People Get Ready" benefit from the lush setting. Evan Cassidy's singing comes across as powerful, soulful and very sincere. And due to modern technology, it really does sound as if she were singing with the orchestra.
One can only imagine what she would have thought of all this! I Can Only Be Me, which casts some new light on Eva Cassidy, is available from www.blixstreet.com.

Sue Palmer and her Motel Swing Orchestra
Movin' Along
(Self-Produced)
Sue Palmer, who is billed as "The Queen Of Boogie Woogie," has been a fixture on the San Diego music scene for several decades. Her latest EP, Movin' Along, is a blues-oriented set comprised of eight songs that feature her Motel Swing Orchestra, a rollicking septet.
The program begins with the slow atmospheric Nina Simone blues "Do I Move You?" Singer Liz Ajuzie who is on most of the selections, proves to be an effective interpreter of this piece. The cooking medium-tempo blues "Whoo Wee Sweet Daddy" has hot solos by Sue Palmer, Jonny Viau on tenor, and guitarist Steve Wilcox while "Locked Up In Georgia," which starts with the Dragnet theme, is similar and full of energy.
"Last Call" has Ajuzie's fine vocal on a minor blues while Sue Palmer is showcased a bit on "Movin' Along." "Swango" (a bit reminiscent of "Sway") has the group utilizing a tango rhythm. "Killer Tiki Boogie," which sounds it could have been the theme song for a television detective series, is played for laughs with an odd vocal from David Mosby. The set concludes with a real change of pace, a feature for Liz Ajuzie (while accompanied by piano and guitar) on "My Favorite Things."
While I wish that Sue Palmer had given herself more solo space, Movin' Along is a fun set of swinging bluesy music. It is available from www.suepalmer.com.

Paul Marinaro
Not Quite Yet
(122 Myrtle Records)
Paul Marinaro, a top jazz singer based in Chicago, has overcome some serious health problems and the impatience felt by everyone during the COVID period to emerge triumphant on Not Quite Yet. Accompanied by guitarist Mike Allemana's tasteful arrangements for a variety of instrumental combinations, Marinaro is in top form on a diverse program of swinging performances. Some songs have four horns (giving the singer a big band backing) and seven of the numbers utilize a string quartet.
Among the highlights are the deeply felt "Born To Be Blue," a heartfelt rendition of Jobim's "Someone To Light Up My Life," a duet version (with Allemana) of "Remind Me," a passionate "Invitation," and an exuberant and reinvented "Taking A Chance On Love." Marinaro is in fine voice throughout, even on a pair of David Bowie songs ("5:15 The Angels Have Gone" and "No Plan") whose lyrics spoke to him during the pandemic.
Paul Marinaro's deep, mature and expressive voice is heard in excellent form throughout Not Quite Yet. His sense of swing, versatility, and very appealing phrasing combine to uplift the material. Not Quite Yet, available from www.paulmarinaro.com, serves as a perfect introduction to the jazz singer for those not already familiar with him, and as additional confirmation of his artistry to his fans.

Hadar Oshalimy
Witchcraft
Self-Produced
Hadar Oshalimy was born and raised in Tel Aviv, Israel and has been based in New York since 2008. She has had a diverse career which includes working as a singer-songwriter, performing commercial music, and having some of her songs placed in film and television. However after she discovered the large contributions to the Great American Songbook that were made by Jewish songwriters, she expanded her horizons and developed quickly into a fine jazz singer. Her first album, It Never Was You, consists of ten jazz standards written by Jewish songwriters.
Witchcraft, which is subtitled "The Women of the Great American Songbook" isa logical follow-up. The nine songs that Hadar Oshalimy performs were each at least partly written by Jewish women, most notably lyricists Dorothy Fields, Betty Comden, Carolyn Leigh, Ann Ronell, and Ruth Lowe. Ronell and Lowe not only wrote the words but the music for their big hits "Willow Weep For Me" and "I'll Never Smile Again."
Hadar Oshalimy has a friendly and expressive voice, and her interpretations are straightforward, doing justice to the lyrics and the melody while also swinging. She is joined by pianist Yaniv Taubenhouse who takes many concise but satisfying solos, Sam Sadigursky on clarinet and tenor, bassist Danny Weller, and drummer Ronan Itzik. Among the highlights are medium-tempo renditions of "Just In Time" and a joyful "Young At Heart," a rhythmic rendition of "The Party's Over," and Ms. Oshalimy's duet with Taubenhouse on a touching version of "Some Other Time."
Witchcraft serves the dual purpose of putting the focus on female Jewish songwriters and the appealing voice of Hadar Oshalimy. It is available from www.hadarmusic.com.

Lizzie Thomas
Duo Encounters
(Dot Time)
Lizzie Thomas is a very good jazz singer who puts her personality into her singing while doing justice to the lyrics that she interprets. Her swinging phrasing is quite appealing and she uses space very well. The latter quality is particularly in evidence throughout Duo Encounters which consists of a dozen intimate duets, each with a different jazz artist.
While the emphasis is on ballads, Lizzie Thomas cuts loose on several occasions, displaying a beautiful voice and the ability to hold long powerful notes without wavering. She performs "Love For Sale," "After You Who?" and a lightly swinging "You're Getting To Be A Habit With Me" with pianists Helio Alves, John Di Martino, and Rossano Sportiello, and also teams up with guitarists Russell Malone ("My Foolish Heart"), Ron Affif (on a passionate "Both Sides Now"), and Guilherme Monteiro (a bossa nova rendition of "Smile"). Three songs ("Willow Weep For Me," "Have You Met Miss Jones" with the rarely heard verse, and a slightly faster than usual "Ev'ry Time We Say Goodbye") has her interacting with bassists: Ron Carter, Dezron Douglas and Norikko Ueda. Most intriguing are her duets with percussionist Café da Silva on "Nature Boy" (a bit reminiscent of Nat King Cole's recording of "Calypso Blues" with Jack Costanzo), cellist Mairi Dorman-Phaneuf during "'Round Midnight," and tenor-saxophonist Wayne Escoffery on "Lush Life." It is enjoyable hearing Lizzie Thomas (whose pitch and sense of time are flawless) performing in such sparse settings, and it would have been nice to hear her have more duets with horn players.
Duo Encounters makes for an enjoyable listen and features the singer in top form. It is available from www.dottimerecords.com.

Mann Sextet
Standard Issue
(Self-Produced)
Ed Mann is a trumpeter based in Los Angeles who certainly deserves to be much better known. He has worked in the studios, performed frequently as a lead trumpeter, is a member of the Rex Merriweather Big Band, and has been a radio disc jockey. Most importantly from the jazz standpoint, he is the leader of the Mann Sextet which makes its recording debut on Standard Issue.
The core group consists of the leader-trumpeter, tenor-saxophonist Dan Hefferman, Michael Parlett on baritone, tenor and percussion, trombonist Duane Benjamin, keyboardist Paul McDonald, bassist Jeff Takiguchi, and drummer Sammy Kestenholtz. In addition, bassist Kevin O'Neal is on two numbers ("Inner City Blues" and "Take Out"), pianist Patrice Rushen guests on "Inner City Blues" and "Mambo Inn," and there is one appearance apiece for trumpeter Didier Reyes and percussionist Tiki Pasillas. The musicians mostly perform the arrangements of Pal McDonald.
Mann is skilled at picking out great songs for the band to play. The program begins with Horace Silver's "Strollin'" which finds the leader utilizing the middle register of his trumpet like Chet Baker. "Bouncing With Bud" has fine tenor and trombone solos, and the group follows up with Mann's original ballad "Lullabye-Bye" and Shorty Rogers' uptempo blues "Short Stop." While this version of "Inner City Blues" is a bit forgettable (funk is not the band's strong point),
Cannonball Adderley's "Wabash" (based on the chord changes of "My Honey's Loving Arms") and a spirited "Mambo Inn" more than compensate. The remainder of the program consists of a light funky groove on "Do Nothing Till You Hear From Me," Clare Fischer's "Morning," Duane Benjamin's cooking blues "Take Out," and a short reprise of "Lullabye-Bye."
Standard Issue is an easy set to enjoy. The musicians are top-notch, the arrangements leave plenty of room for solos, and the ensembles are often heated. It is recommended and available from www.mannsextet.com.